Wedding Photography
FAQ
What is your photography style?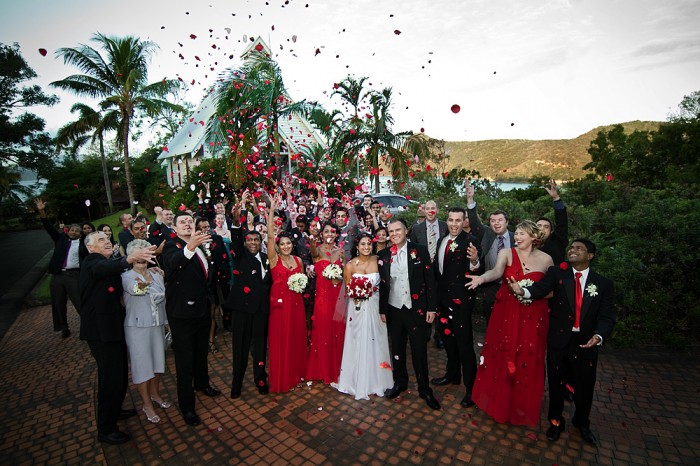 At Serendipity, on each wedding day we will generally shoot a variety of styles depending on the emphasis you wish– this varies from serious or not so serious photojournalistic photography, or wedding shots influenced by glamour and fashion photography, but — an absolutely Serendipity basic — always including a comprehensive record of your day. At a meeting before the day in the Serendipity Studio in Malvern East, we look at folio samples and discuss which styles you most like, as well as other important aspects of your wedding photography. This meeting helps us to develop a comprehensive understanding of your stylistic and logistic needs, and helps us to optimise your photography coverage to suit your vision of your wedding day.
Serendipity clients often want a mixture of styles. Perhaps a balance between a more animated and candid style of photography and a more directed, graphic style. From couple to couple, there will always be a changing emphasis; we will always do some styled and some candid pictures, but the proportion of each depends upon your personal preferences. For some photography clients it can be a balance between the desire for very real natural photography and those other moments where you want to look glamorous. At Serendipity we have years of experience balancing the slightly mutually exclusive wish for stunning style, and the very real desire for authentic photojournalism.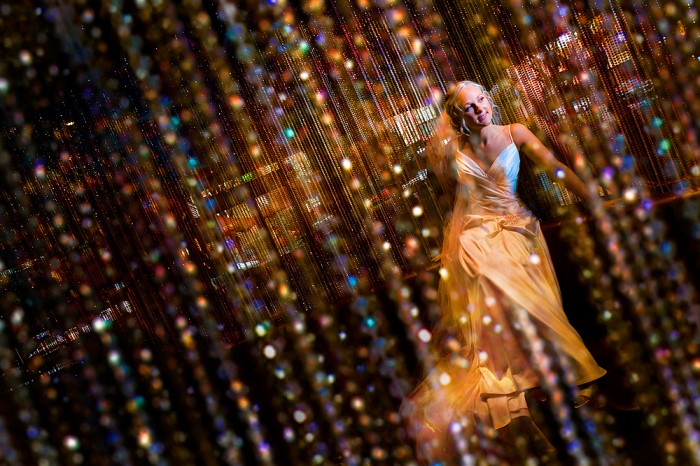 No one style is more correct than the other—and either style could be equally expressive of any one wedding day. After 20 years of shooting our experience allows us to be flexible and to really go for the style you have in mind, which may well vary as the day unfolds. By thoroughly understanding your needs we can move through your wedding day with you to capture every unique moment.
The art of wedding photography has many dimensions. It is often a balancing act—the photographer must ask on the day: is the bride better when she moves or is posed? What is her best feature? What is her worst? When does she look her best? What is the best light to complement her face? What makes her smile? (Well, usually the groom, of course.) And then there is the consideration of the locations…
How many weddings has Serendipity photographed?
At Serendipity we have photographed over 2150 weddings in 21 years, giving us a wealth of experience to bring to your wedding. We are familiar with ceremonial styles of many cultures, traditions and have catered to a vast variety of unique requests, allowing us to work with you in a very personal way.
We also have a very multicultural experience with wedding styles, and have shot hundreds of Asian weddings; amongst them many Vietnamese and Indian weddings. We have also shot ample Orthodox style weddings such as Greek and Serbian.
How many photos do you generally take on the day?
We usually shoot about 2000 to 3000 images. We find that brides and grooms are so sensitive to their looks and expressions it is nearly impossible to shoot too much of them. They see very personal qualities in the images adding value to the shoot, so having more choice definitely improves the "fit" of the final product.
What is
RAW

— why does Serendipity shoot in

RAW

despite the much larger amount of work?

While most wedding photographers shoot the simple JPEG format with its limited latitude—we shoot RAW. This allows us to shoot more freely and in situations that would be other wise impossible for good results. This results in a happier more flowing wedding day—less adjusting of the camera and more concentrating on the couple.

We also shoot in the superior RAW format, one of Serendipity Photography's strongest selling points — more work for us later, but the colours are so much better, the files are more malleable and forgiving. RAW allows us to shoot in extreme circumstances where many photographers shooting JPEG would fail. Also the photographs from regular conditions are better!

RAW allows for better post production allowing us to have fine degrees of control over the details of the final image. RAW is the foundation for Serendipity's exquisite colour work.

If you are interested, check out this website for a quick introduction to RAW.

 
Do you photograph weddings beyond the Melbourne metropolitan area?
More couples are considering options outside the Melbourne metropolitan area such as wineries and farms. At Serendipity we loves the real ambience and character found in these wedding locations that are close to Melbourne. Your day can be very memorable, full of rustic charm, boutique food and wine, its automatically a place to relax and spend quality time in conversation catching up with long lost soulmates. Also it tends to be the case that once that you are there, there is no further travel so at Serendipity we do not charge extra for locations up to 100km from the CBD such as Sorrento on the Peninsula or Geelong.

Paris, Rome, Bali and Singapore?
We love exciting travel and we're more than happy to try and help you organise great travel wedding photography deals. With the Australian dollar very high, destination weddings are now an exciting option and we are often able to put together wedding packages at special rates for particularly beautiful wedding locations. This not only allows us the flexibility to meet the needs of our clients, but gives us more opportunities to build and improve on our photography. We have often done "Resort-style" packages, where we fly in on the morning and shoot until the next day, leaving in the evening having covered all the events in between, and we offer around 40 sides of a full album, in an advantageous price structure.

Do you do Sydney, Brisbane and Adelaide weddings?
Absolutely.
Just add in the cost of the flights and we can do the job.
What happens if I want more photos later on for friends or relatives?
At Serendipity we're enthusiastic about supplying our photos to you in a way that will fulfil you
r needs in the years and decades to come. Packages at the moment generally come with 1000 JPEG files with copyright for you to print elsewhere or use however you see fit. We can also provide you with extra copies of large photographs at good prices.
Does Serendipity put the photos on line?
If you wish. We can arrange photo gallery on-line of a set of photos you request. Serendipity can put some of your pictures on Serendipity's new facebook site.

What types of albums?
Our standard albums are 30cm x 45 cm (12″ x 18″) edge to edge borderless albums where the prints are mounted down on to the album. The images are shot digitally of course—designed and then retouched by us. The production of Serendipity's photography albums are strongly inspired by fine art, which are hand finished to suit our client's specific tastes or individual needs. Serendipity photography takes great pride that all of our wedding albums are printed with the very best professional paper available, Kodak Enduramax, which is vastly more expensive than the inkjet paper used by run of the mill studios. Kodak Enduramax has soft supple skin tones, clean highlights and rich brilliant midtones, and holds tone and detail well in the shadow areas. Kodak Enduramax, printed the traditional way, handles moisture and doesn't require laminating unlike inkjet which is much less resistant to water. To be technical, Kodak Enduramax has a much richer gamut than inkjet, allowing us a greater range of creative possibilities in creating stunning wedding photographs!
How long do these albums last compared to traditional matted albums?
Our experience—since we have albums mounted this way that are now 15 years old—is that they last very well. The photographic paper, infact, wears less that the cardboard sections of the albums. We find that there is no special treatment that is needed for the photo mounted pages. The opposite is true of the matted album where the card tends to soil easily and gloves are best worn. The edge to edge album however is easily cleaned with a microfibre cloth perhaps slightly dampened with turpentine. It is good to look at your album on a clean table, well away from the coffee and chocolate you are serving your guests — remember to roll your ring inwards, diamonds are definitely harder than photographic paper!
How many locations do you go to?
As many as you like.  Although more locations don't always yield better results. At Serendipity, we have found that more leisurely relaxed time to photograph you at location will help us get the most natural photos of you. More varied and happy photography time is what we are usually after. Often what that means is going to a couple of places where we can have a variety of settings and themes, instead of rushing through several photography locations.
How much location photography time do I need?
One hour of actual photography time with the couple is a good starting point. Some times this can take some time to get after we factor in makeup time, travel time, eatimg time, etc. It can vary on many factors. For some couples it takes a little time to get the hang of being photographed and we need to have some game playing and just plain goofing around, while others are just too plain being in love, being on a wedding or just plain goofy to care about if a camera is being pointed at them or not.
In an hour of location time we could shoot between 200 to 600 images—providing a lot of choice when it comes to selecting images for the album. With more time we would shoot a bit slower and vary the style of the shots and back drop more. With even more time we could jump in the cars to get some completely different looks and even get a bite to eat. It is best during the location photography that you have some time alone away from you bridal party and guests as this photography will be more natural and relaxed—
it will be the only time during the whole day that you are nearly alone.

Do we go to the groom's place?
Absolutely. It can help with the running of the day. We can shoot family pictures and we also break the ice with being photographed making it so so much better during locations—
At Serendipity photography we have a solid committment to photographing the groom because it is important, and it helps with making the rest of the day happens so much more easily.
Do you take family pictures?
Of course. In fact, at Serendipity, we think that family photography is very important. At the pre-wedding planning session one month before your wedding we go into some detail about how best to organise these shoots.
Will I get a copy of the family pictures?
Most packages come with a disk of all the family photographs for you and your family to print as you like. These are the family pictures shot at each of the houses, after the ceremony and during the reception.
What gear do you use?
The short answer is we use Nikon at Serendipity photography. The long answer is always take a large range of gear on a wedding and it changes from wedding to wedding. Quite of a reasonable proportion of our photography gear is just backup — it just days in the boot of the car, just in case.
Actually with us.. always 2 professional camera bodies, 2–4 flashes, at least 100 gigabytes of memory and 4 or more lenses. Remote lighting techniques is a large part our look so there are always some slaves, stands and then other technical photography bits and as well…
Do I have to think of location ideas?
Usually not. Just think of the themes that you want. We will think of some location ideas to get the look that you want while optimising the drive time and available light. Feel free to take advantage of our experience garnered over the thousands of weddings we have been on. Often with out of town locations a kick start is useful with a few location ideas for us to check out when we arrive in town.

Are there photography locations you like best?
Yes there are places where we like to photograph—some areas are a little secret and others are quite popular. We often scout out locations ideas as Melbourne is constantly changing, and also to see if we find new inspirations in old locations. We check out if a limo can get there, parking, how the light falls during the day and season and what is near by so we can get some other looks in.
With private property such as cafes we introduce ourselves and ask permission and about their attitude towards wedding photography—some venues love it, some not so much. We try to resist venues that charge for wedding photography; often they are just more fashionable than more photogenic. Cafes can be brilliant for a pick-me-up, and of course on wet and cold days café photography can be a perfect solution. At Serendipity, we have good relationships with a number of St Kilda and other bayside cafes, the trick has been to buy a little food as well as coffee and not stay too long. Many hotel foyers or restaurants provide marvellous wedding photography locations, again try for a glamourous cocktail, or coffee and tempting chocolates.
One Serendipity's strengths has been our appreciation of and understanding of Melbourne's "bad boy" modern architecture– Corrigan et al. We love the crystalline spaces and fractal jewels hidden within Federation Square, the web bridge, Docklands — all one thousand and one sculptural facades, even the much maligned Vault (aka The Yellow Peril) can provide strong golds with which to highlight your veil, your figures twining in a still modern poetry of place.
Do I need to provide a meal?
Only if you have asked us to stay through mains at the reception.
What is the best sort of day for wedding photography?
While an excessively bright sunny day may be many peoples ideal wedding day— the day you would naturally choose to go to the beach—it will hardly appeal to most photographers. A continuously rainy, freezing day also would not. The perfect day would have cloud or soft light from time to time for portraits and then some sunny conditions for wider landscape and more graphic shots. A bit of rain and wind will add interest and variation in the photography (as much as this idea may not appeal to you). You can find many Serendipity of our favourite albums with photographs set on a rainy day against magnificent clouds.
What if there is rain?
As a Serendipity Photography client you will have the benefit of our experience with many hundreds of winter weddings. At Serendipity, we love the special drama of winter skies. Serendipity albums shot in winter look fabulous and can be quite wonderful. Usually if there is rain during locations it makes for great shots with great light, engaging clouds and great theatricality. Interesting things can happen on a winter day, and become features to be utilised in photography: examples include raindrops, reflections and refractions, puddles, and wonderful car shots.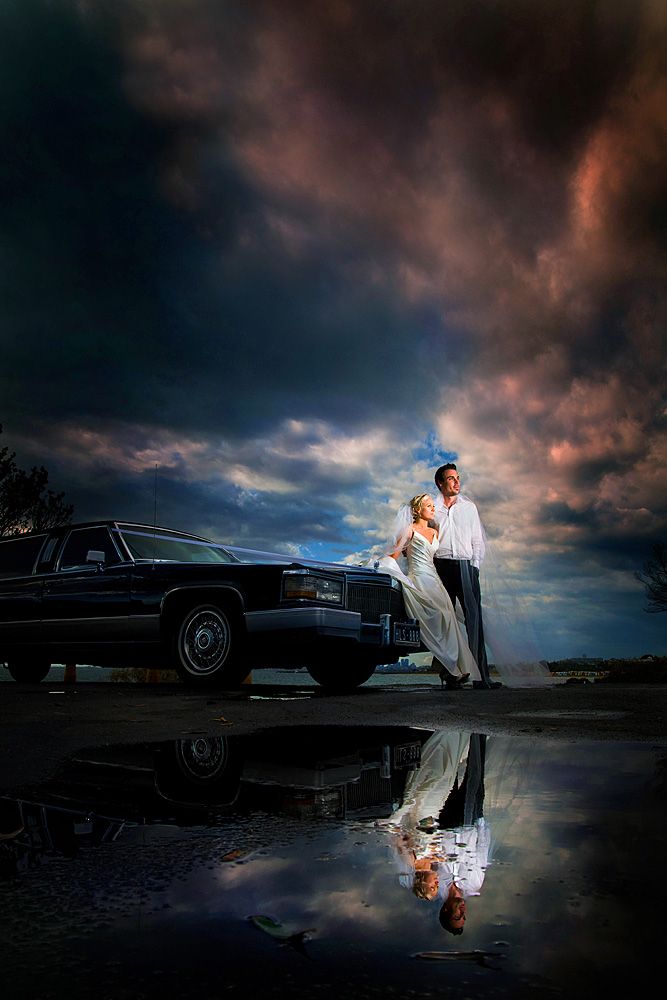 Although in winter weddings location photography can be a bit more challenging because there can be less photographic time, however location photography can often more swiftly beause of the softer light. This makes better, more even portrait lighting and can sometimes give you more photographic opportunities and or the option to shoot many ideas in quick secession than a sunny day.
As for "PlanB" locations: Serendipity has lots of options around town; some generally known and some less generally known -
indeed there are winter locations, that you would never use on a sunny day, that become full of potential. At Serendipity we love the shine and graphic potential of wet stone steps, the fresh greens of foliage, reflections in puddles, and the wonderful skies of winter. In general, popular photographic spots in the city become less busy with tourists and people and thus more accessible. In the suburbs or if it is a passing shower then railway station, inside the cars, local town halls, an underpass for a grungy look, or often under cover at a suburban shopping strip where the bridal part can grab a spot to eat and use the shop fronts as a back drop.
So we may shoot, it rains, we bundle into the cars and move. And so often when we arrive at the next location the rain has stopped, allowing for a huge variety in your album. We usually know enough locations around town to find a good wet weather location to make pictures. If it looks as if there is going to be continuous drizzle then we can make our way to the city where there are a huge number of location ideas for both a modern and older romantic looks.
A very important consideration is wet weather gear — matching shawls, stoles or raincoats will keep the bridal party warm, and consider bringing along hot drinks as well as the traditional champagne. Having a preprepared meal and snacks for the bride, groom and bridal party will help you to maximise photography time. Being prepared for the possibility of rain will save you much precious photography time on your wedding day. Bring along things for the bridal party to do in the car.
Are you experienced in photographing Asian weddings?
We're really familiar Asian weddings, and we understand the different ceremonies, customs and traditions of various Asian wedding days, as well as their different emphasis especially compared to a traditional Western wedding. Serendipity photography has shot over 600 Asian style weddings. We are very accommodating when it comes to pre-shoots on an earlier day. These can often be added in at minimal charge. Asian wedding days can be long with early morning starts for groom then bride preparation and ceremonies before the door ceremonies and then tea ceremonies. Then there is lunch. Often a further civil or church ceremony then follows. Then location shoots into the afternoon.
We understand that an Asian reception has a variety of ceremonial events through out the night including a change of dresses. There a couple of options for the reception. We can go straight to the reception and do the door entry photos and the first hour or so. Or we can come back late such as 8pm for a couple of hours and photograph the cake cutting, first dance and other ceremony when all the guests have arrived. All in all, we like to be really flexible in meeting even subtle differences in your needs.
What about Sri Lankan and Indian weddings?
An Indian style wedding is a great photographic opportunity with the fantastic saturated colours, decorations and emotions. The Hindu Ceremony has hundreds of details and moments that need capturing. Also we find that there is also lots of great food at Indian weddings but we hardly ever get time to try it!
In India, weddings generally last for four or more days. We understand that each day has essential elements and we try to be accommodating with timing on Indian wedding days—especially if one of the days is a weekday. We can often cover both days within the standard package. If possible we will try to incorporate the Mehndi (Henna) day as well.
Serendipity have photographed many Hindu ceremonies and they have all been different. We have shot also shot Muslim, Punjabi (Sikh) and many Sri Lankan ceremonies as well. We have a number of slide shows in the studio that we are proud of.

What should go in the Golden Box? Serendipity answers your queries!
The Golden box as we call is is a box that couples start filling 3 months before their wedding day with all the odd bits and pieces they may need on the wedding day. Here is a list to start with from our experience with 2200 wedding couples!
Presentation.….….….
liquid paper — touch ups for spots on white dresses. (Soda water also works well for removing small spots near the hem)
bobby pins — extra pins for hair touchups later
french pins
extra foundation and powder
extra lipstick
lip moisturiser/gloss
brush and combs
shoe polish for mens shoes — winter
shoe cleaner for womans shoes –winter
deodorant — summer
spare  shirt, sox etc — summer
wet ones — great for summer!
Survival .….….
sun cream
paracetamol
aspirin
band aids for shoes
cash
tooth brush etc..
Food and Drink.….….…..
PLENTY of water bottles– 2–3 per person at least in summer
non staining museli bars
school lunch bars — apricot and mango NEVER banana — soft, soothing, and in plastic!
liquid breakfast like Up and Go
non alcoholic drinks — summer
more food — you are unlikely to have eaten well in the morning.
(From our 
website
)