Tints and Tones — Copper Blue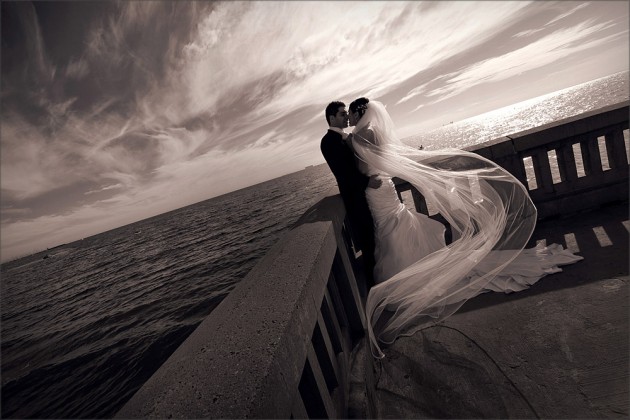 Serendipity Photography has been shooting weddings for well over 20 years! Over this time we have made the incredibly exciting transition from analogue to digital photography. Digital technology has been one of the most revolutionary developments in the last few decades and we have been very fortunate to be a part of such a wonderful advancement in the ways in which we produce images. Using new technology and cutting edge techniques in digital photography give so much more expressive freedom, but, given our history, we also look back on the film-age with warmth and fondness.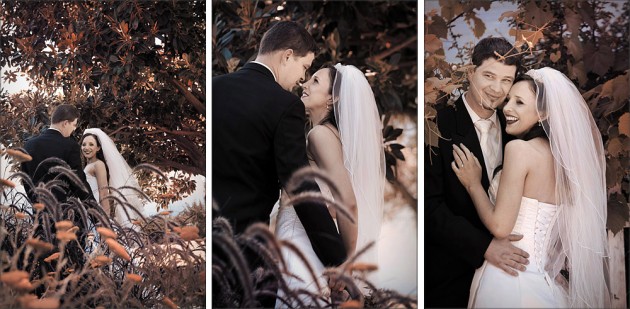 Inspiration from the Historic Days of Dark Room Processes!
At Serendipity Photography we have been working hard on our red sepia techniques to create new moods of contrast and light for new and interesting effects. Our copper blue technique is inspired by dark room poly toner effects. We look back to our early days, spent in the dark room, moving trays around and experimenting with exciting material processes. These moments of wonderful excitement we had when developing wet prints were some of our happiest darkroom memories, and this experience with the history of photographic technologies makes the images we produce today a sophisticated pairing of rich histories and vibrant contemporaneity.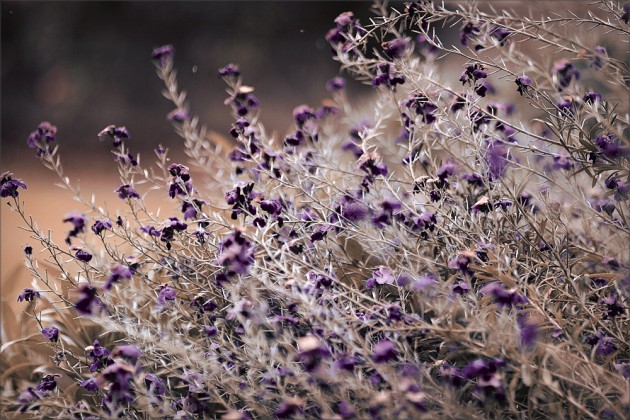 From our happy memories of being in the darkroom, to our enthusiasm for current and state of the art photographic technologies, we have developed another range of tonal techniques that we refer to as 'Copper Blue' that is inspired by the processes of the past. Some of Serendipity's first brochures in the early to mid 1990s were produced using these techniques and then scanned for reproductions. To create dynamic tones we used warm/cool splits produced with poly toners and litho film. Shadows are over printed in cool tones using registered multiple exposures with litho film, or else splitting colour tones to create images where the highlights are warm and the shadows are cool with laborious successive baths of sepia, polytoner, bleaches, blue toner etc in various combinations and recombinations!
Tone and Texture
With the image below we have brought out a sense of movement, texture and shape, compared with Serendipity's softer more romantic basic red sepia.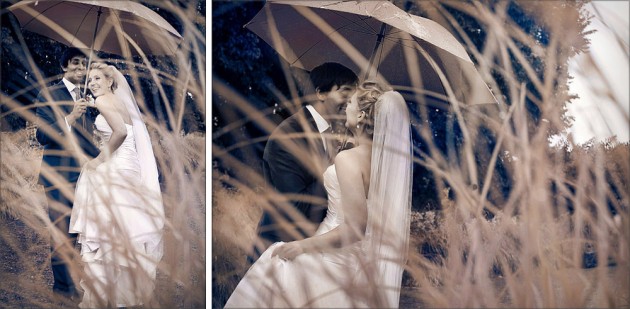 Sometimes a more textural approach is exactly what is needed! This image emphasises the drama of the day by using informal, photo journalistic methods for a fresher, energetic result.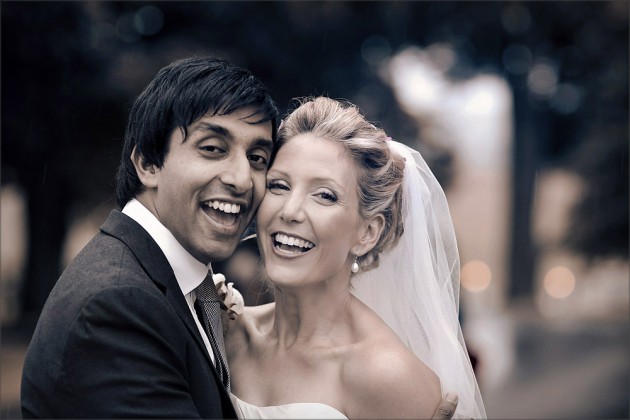 Warm/cool splits can also be applied in reverse to breathtaking effect. Here is an image where warmth is selectively applied in the shadows  and faces to help increase the drama of the image.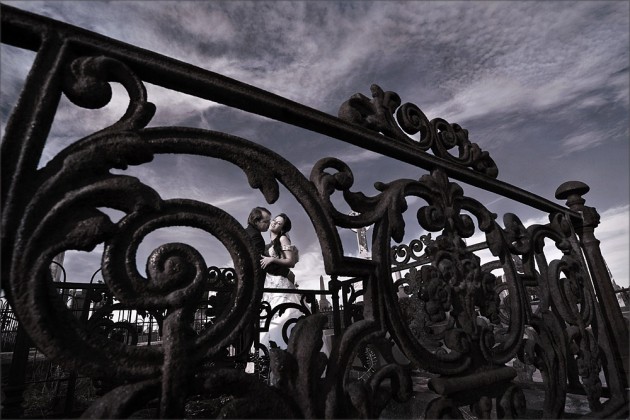 These effects can be subtle in colour or quite saturated and vivid.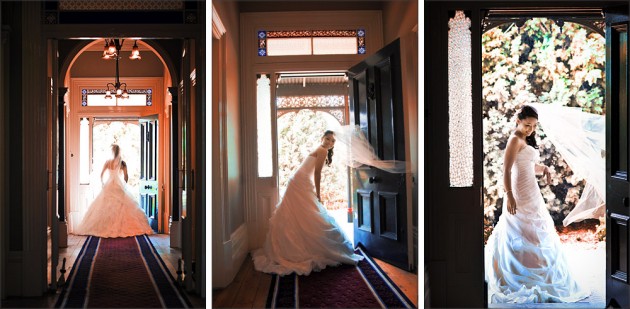 Current Modern Practice
What a relief! Today these effects can be achieved in under an hour, instead of the gruelling 4 to 8 hours required to produce large prints using poly toner/blue toner with bleach, given the multiple tests and successive toner baths and washing, or alternatively multiple coloured exposures on a registration board with lith masking. Digital photographic technology means that the possibilities are literally limitless, and the potential for creativity in photography can now reach new and specific high points.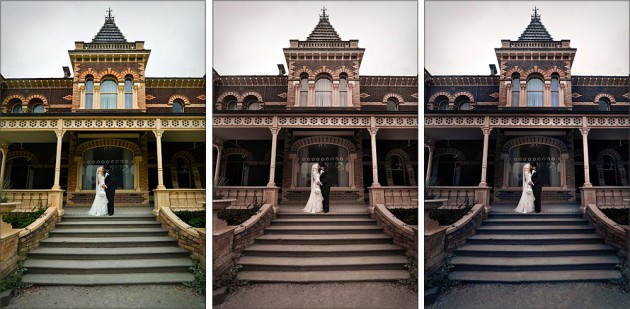 These days it's much easier, but a careful eye, patience, a creative spirit and excellent technical skill is still a must when producing new and innovative photographs. At Serendipity we enjoy using black and white, colour contrast and highlights to produce very finely tuned results via digital technology.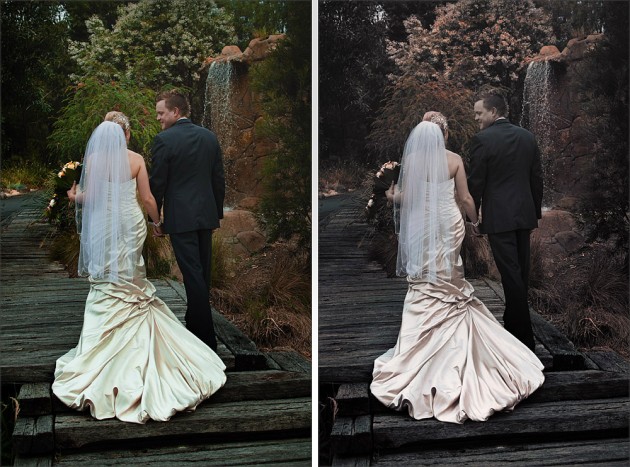 Today we create dramatic copper blue tones by using a control contrast colour split and hand rubbing a pre-shaped layer with the aid of channel density algorithms. This technique is infinitely more precise than was ever achievable using dark room processes.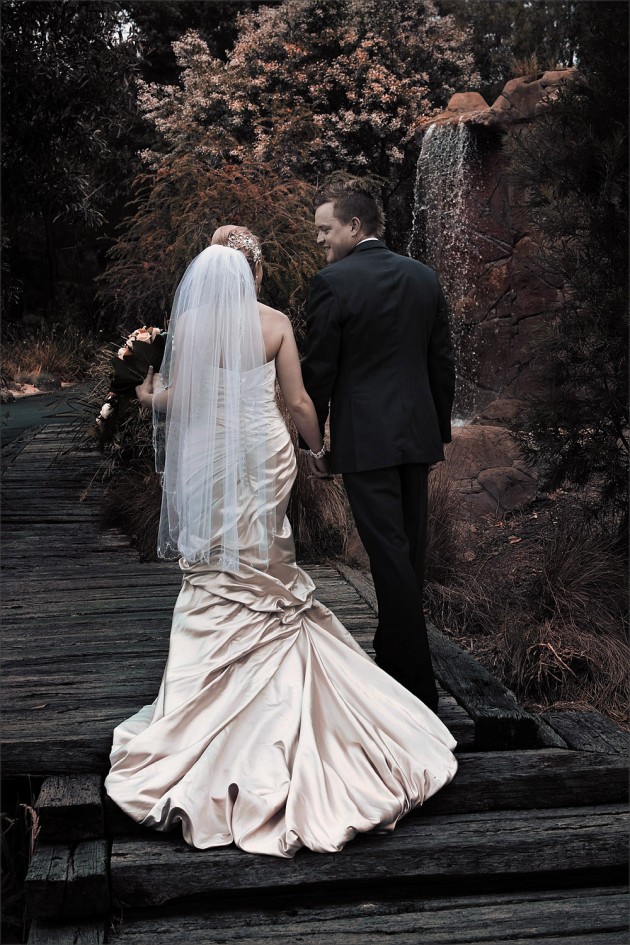 Serendipity has created long chains involving over a hundred actions to split up colours which we carefully recombine. This allows us to create magical landscapes inspired by the Blue Rider Group and the aesthetics of Tim Burton.

Copper blue treatments don't only bring out cool tones: with the right touches they can make the reds, oranges and yellows intense and metallic. The effect on skin tone can make people seem classic and statuesque in their surroundings.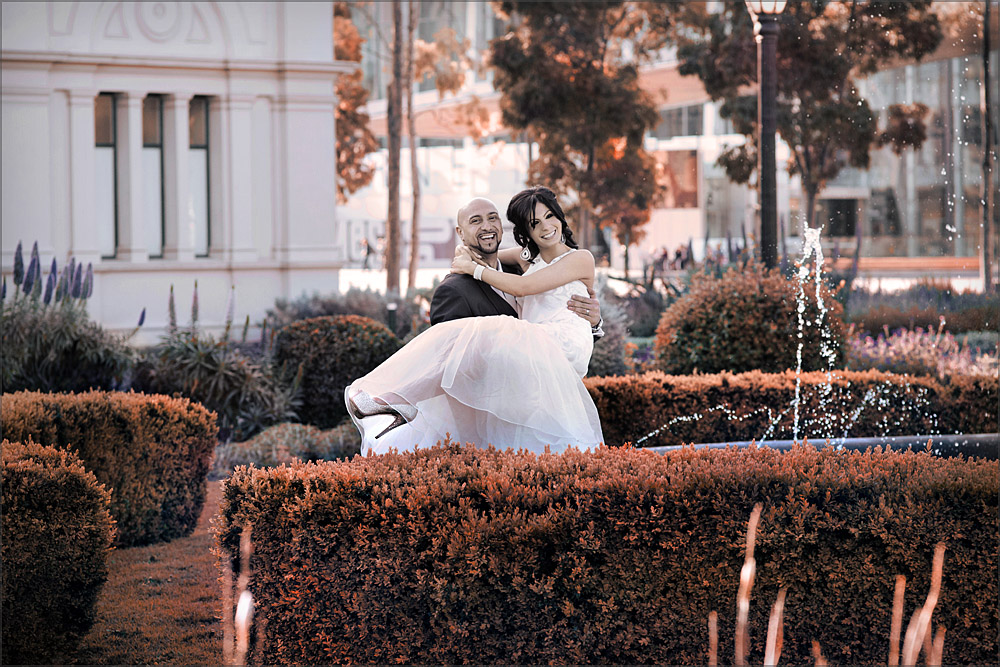 Our copper blue technique creates a sculptural quality and a 3-dimensionality within the photographs. Using these processes we are able to create subtle effects or to add drama to an historical gothic occasion. In the process of hand masking and blending layers, subtle changes in emphasis and colour can help direct the eye in a way that is far less obvious and a lot more pleasurable than typical wedding industry hand-colouring.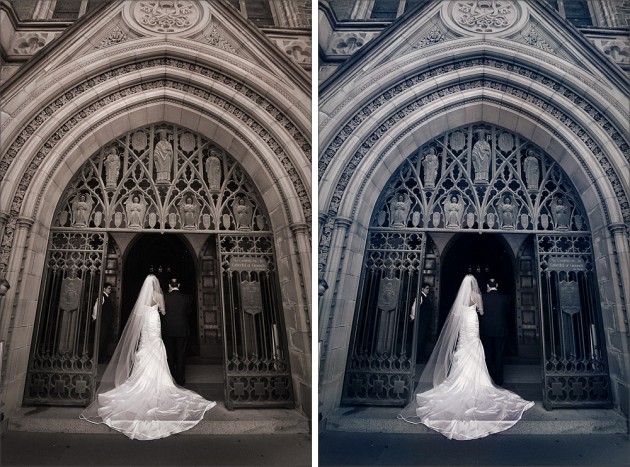 The copper blue technique that we have developed uses the lure of historic practices in a new and interesting way for surprising results!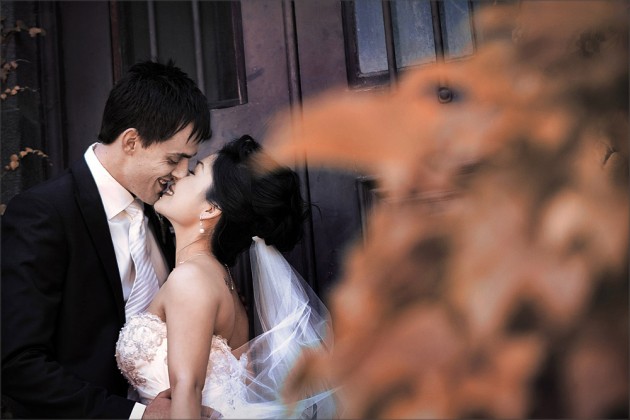 The copper blue technique is not just about the warm/cool split. By using subtle hand rubbing with tinges of magenta and a small amount of hand applied magenta tints, this photograph has a far more sculptural quality than the regular sepia. We use these methods in order to unify the image and to bring attention to the figures.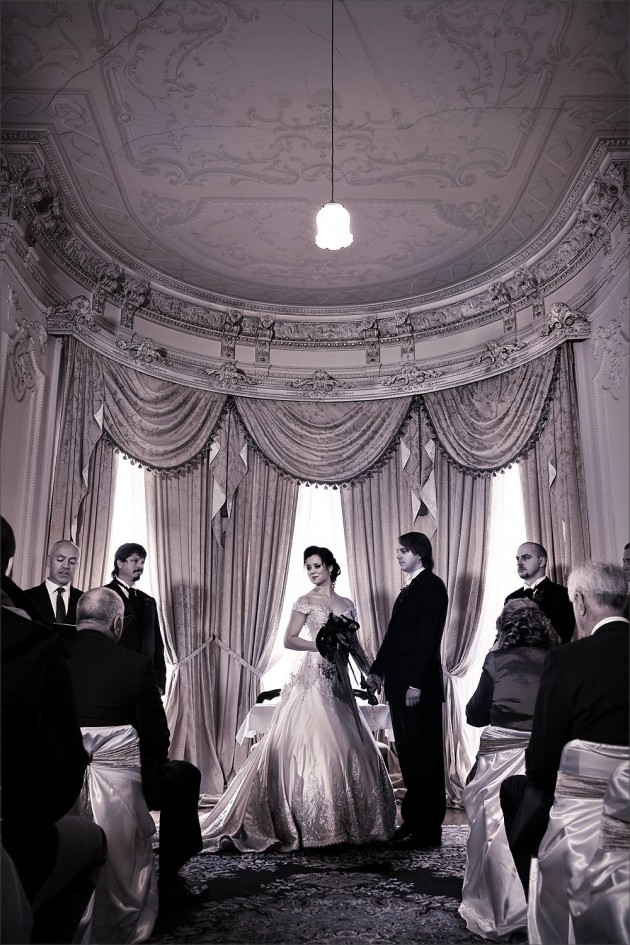 More Tints and Tones Pages
At Serendipity Photography we are proud to present our array of wonderful pages on our favourite photographic techniques — you are welcome to browse through more of Serendipity's Blog pages on tints and tones and colour effects!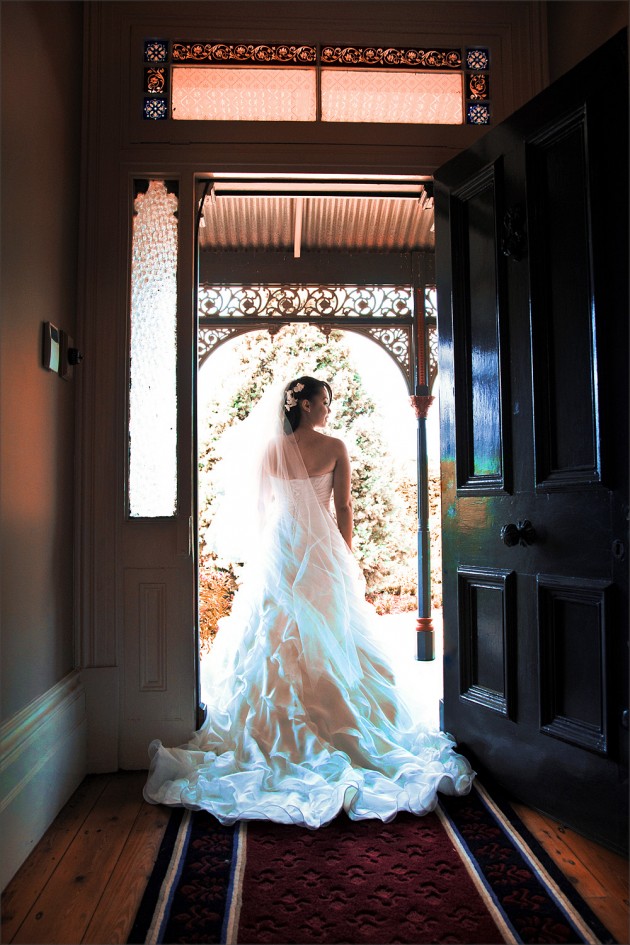 High saturation gives photographs a vibrant and dramatic feel, drawing out the colours that are already present in order to create an almost magical moment. To emphasise the light and shade of your special day we use high contrast to bring out the complex and dynamic mood of your wedding. Lilac, purple and gunmetal grey come together with beautifully subtle results and slight tonal variations to capture intimate and personal moments. Selective colour works by enhancing the feature colour of each photograph. Red sepia is the perfect way to bring an historical and graceful ambience to your photographs, giving them a warmth and richness as well as allowing for complex textures. Monochrome uses black and white photographs and subtly incorporates coloured tones to create depth and complexity. Warm tones can also add a new layer of intensity and sophistication. At Serendipity we use a wide range of techniques to adjust, create and enhance tints and tones.