Samantha's Bridal Blog — the Brooch Bouquet
 The Story of the Brooch Bouquet
Initial Inspiration
I'd heard a little bit about brooch bouquets before I started planning my wedding, they have such a sparkle factor they were bound to catch my attention in the end! What I like the most about the brooch bouquet is the opportunity it gives you to create a really unique, personalised object. Even though the glittering, shimmering look is pretty unmistakable, no two bouquets are the same, as each bride as so much input into the design and pieces which make it up, thats the beauty of them.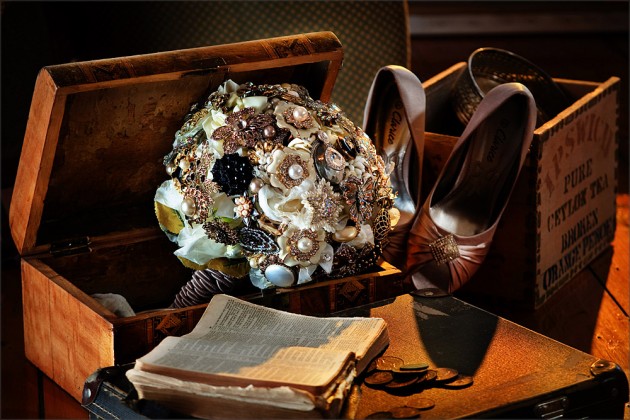 I actually got the idea for my bouquet when I was relaxing at home watching a movie of all places! I can't even remember the name of the film now, but it was one scene in particular which inspired the thought. As the vision formed in my head, it quickly began to make so much sense to have it at my wedding.  I wanted to hold the bouquet close to me as I was walking down the aisle, holding elements of my two grandfathers and that was the perfect way.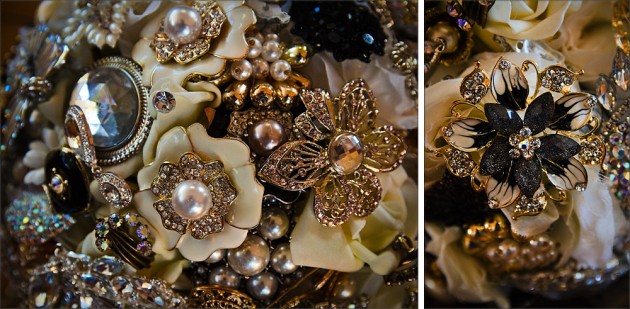 Collecting all the Ingredients
Once I had the drive there was no stopping me! I became a real bower bird; with frequent visits to antique stores and second hand markets (it was quite a fun process I'll admit!) I started to collect brooches and earrings from antique shops, thrift stores, on-line auctions, family and friends and internet sites, I even posted a status on facebook! I also sourced brooches from about six different countries, including a very special piece from England.
Before I knew it I had collected over 1000 brooches! (as well as other jewellery such as rings, earrings, charms, some coins, medallions and necklaces) Luckily they don't wilt and lose their natural sparkle the same way flowers do! 1000 brooches was a few too many for the bouquet I had in mind, so I began the difficult task of narrowing my selection down. I reassessed the pieces which caught my eye a second time, choosing the ones I loved the most — until I'd reduced it down to about 300.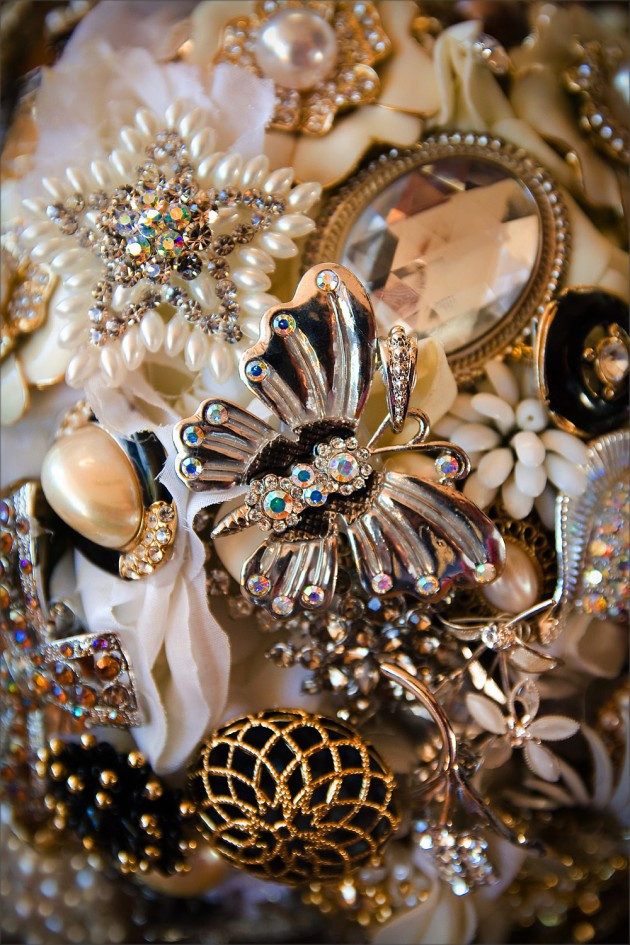 Making the Bouquet
Then began the laborious task of constructing the bouquet. I used over 100 metres of wire to make the base (and that was only the first step) I then stuffed the wire frame with silk material and artificial crème roses which I'd made out of silk and paper. Once the insides were even and secured, I carefully choose each piece one at a time to become part of the bouquet. Lots of the pieces didn't have the right sort of backing, so I needed to physically attach each brooch to the wire frame — a feat which drove me mad at times! The finished product was a meaningful vintage, modern yet glitzy work of art which took over 100 metres in wire, eight months to complete and about a year and a half to compile brooches. A LOT of work and A LOT of love, however when I see the finished product it makes all that time more then worth it.
My bouquet holds special meaning to me, as well sourcing, designing and making it myself, the finishing touches were my grandfather's charity cross and my other grandfather Sam's war medallion.
Because my brooch bouquet is so heavy I've decided rather than carry it with me all day I'll treat it like a special treasure (which it is!) I'll have the bouquet as I walk down the aisle at the ceremony and as Fernando and I enter the reception, the rest of the time I'll spare my arms and carry a simple white floral bouquet.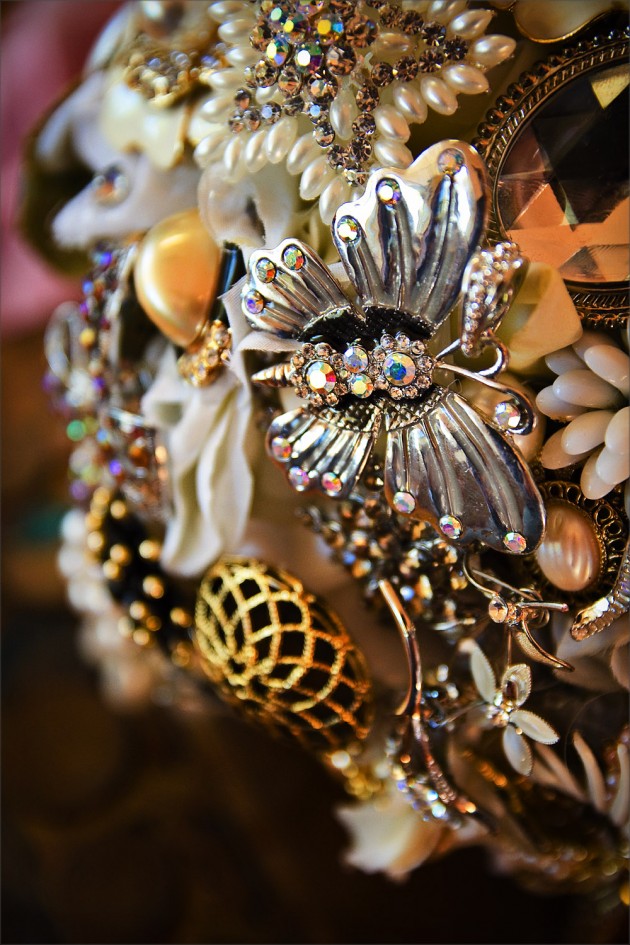 More on my blog. Follow the story so far on the proposal, amazing engagement photography featuring three favourite gowns and Melbourne city at night, the story of the designing and making the custom invitations. More to come includes a sexy dynamic bridal shoot at Silk Road featuring my dress by Ania G, and more detailing on the accessories and thoughts on hair and makeup, I have chosen Magical Makeovers to create the perfect look!