Block Arcade
The Block Arcade is ever popular among couples and wedding photographers, and has been a major feature of Collins Street for over one hundred years. Originally designed by architect D.C Askew. It is renowned for its impressive etched glass roof with decorative wrought iron and timber supports and has the largest mosaic floor area in Australia. The complex is classified by the National Trust and is on the register of the National Estate. Serendipity Photography highly recommend this arcade as one of the many elegant Collins St venues, if you are after photographs that are classically unique.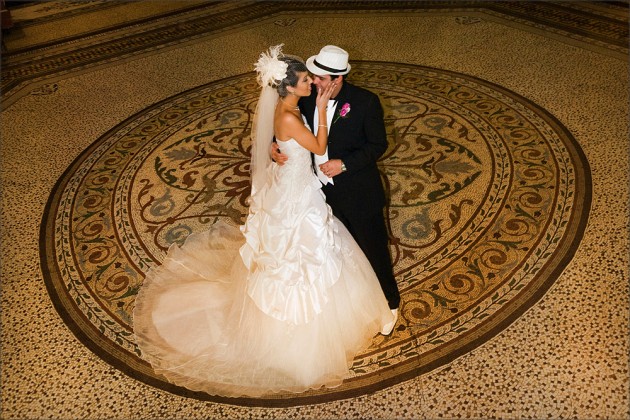 The arcade was restored and refurbished by the Buchan Group, which upgraded the complex to modern retail and commercial standards while remaining faithful to the original Victorian vision. The work involved the reinstatement of original timber shopfronts, the repairing, cleaning, painting and illuminating of the upper facades to Collins and Elizabeth Streets, and the design of a new entry canopy for Elizabeth Street. A popular venue within the arcade is the Hopetoun Tearooms.
The arcade was constructed in two sections in 1891 and then 1893. It derived its name from the tradition of "doing the block", or parading around Melbourne's fashionable shopping streets. You will truly be 'parading' in style as you stroll under the domed glass ceiling and the exquisite glass chandeliers. If you feel an affinity with the 1920's, then the Block Arcade would provide a wonderful, and historically suggestive backdrop to your wedding theme.
Because of it's rich architectural variety it continues to be a place couples can go for photographs that are elegant, sometimes mysterious and uniquely Melbourne.