'

Forward Surge' — The Arts Centre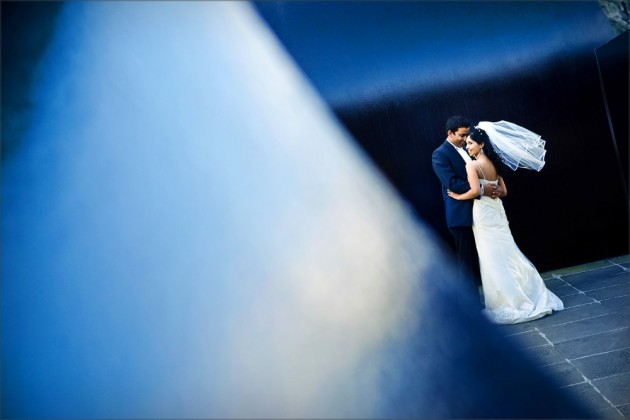 For couples who wish to soak up the unique architecture and elegant lines of Southbank's Arts Centre Complex, as well as the well known aesthetics of the main theatre building, the National Gallery of Victoria and Arts Centre Spire iconic, there is another exciting backdrop to add to your location repertoire: 'Forward Surge'. This public sculpture was commissioned in 1974, and is the work of prominent Australian Sculptor Inge King. At Serendipity we love the ingenuity of this one of a kind sculpture, although only a short stroll from Melbourne's CBD, the piece is suggestive the gentle waves of the bay. The poetry of this monumental sculpture provides a delightful addition to wedding day photographs. Feel transported as you stand beneath these four huge waves of steel, frozen in time, at the peak of their ascent, powerful black arches forever on the verge of crashing.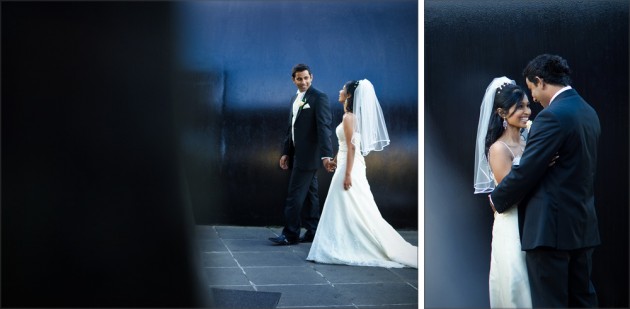 Inge King was born in Berlin and travelled widely before she came to Australia in 1951. In her early sculpture King worked with a variety of materials, although the modern media of arc welding and industrial steel characterise most of her work after 1960. King's geometric abstractions challenge the viewer to explore the formal relations of space in and around her work and to consider the figurative allusions made in her titles. When Inge King executes monumental projects, such as Surge Forward, she works with a team of engineers and welders to enlarge and install her Marquette's.
'Forward Surge' is the major sculptural drawcard for the Arts Centre precinct and one of their most prominent and valued works of art. It has been listed on the National Trust Register since 1992, and is noted by the National Trust as King's "most monumental work of art, and probably most significant". The painted black steel sculpture, standing 5.2m high, 15.1m wide and 13.7m deep, is designed to give the feeling its waves are surging towards the City, setting a contrast with the imposing vertical buildings that surround it. The glossy black surface contrasts dramatically with the attire of the bridal party, and can be a gorgeous aesthetic in the photographs captured by Serendipity. As you stroll down the tree lined St Kilda Road, the unusual elegance of this fine sculpture offers an interesting alternative location on your way to one of Melbourne's exciting reception centres.