Inge King — A Biography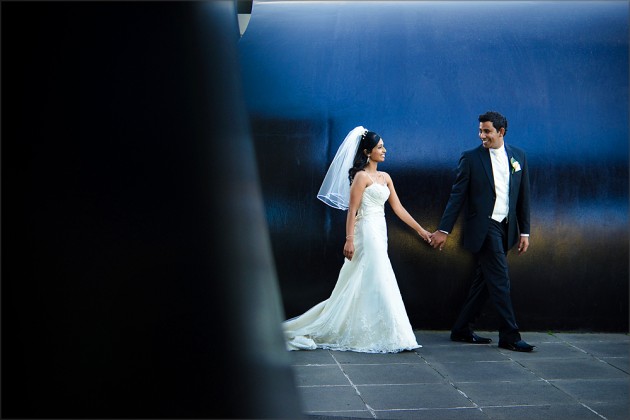 The artist Inge King stands today as one of Australia's most prominent and beloved sculptors. Her work over the 20th century include public, commercial and private sculptural commissions. One of her best known pieces is the large public sculpture: Forward Surge, see Serendipity photography's separate page on this monumental art work, which is a beautiful component of Southbank's Arts Centre complex. 
Inge King experience a tumultuous, yet inspiring journey before she arrived in Australia. She was born in Berlin, Germany in 1918, under the maiden name Inge Neufeld. She began studying sculpture at the Berlin Academy of Fine Arts in 1936, amongst her peers was the artist Hermann Nonnenmacher. Like many others, King was forced to leave the academy only one year into her studies, due to the outbreak of war around Europe. The artist travelled to England in 1939, and was lucky enough to spend a few terms at the Royal Academy London, before it closed its doors to escape war-time bombing. Despite these setbacks, King continued to pursue her artistic study. Further travel in the United Kingdom allowed her to undertake sculpture classes under the tutelage of Benno Schotz at the Glasgow School of Art. This proved the longest period of study for the determined artist, who remained at the Glasgow art school until 1943.
After completing this course, King eventually returned to England. A decision that proved serendipitous, for it was here Inge met her future husband; the Australian artist Grahame King. The pair crossed paths at the Abbey Arts Centre in Hertfordshire, and after a romantic courtship, were married in 1950. Following their time in England, the newly wedded King's returned to Australia in 1951, choosing to settle in Melbourne. The pair built their home in Warrandyte, enlisting the services of architect Robin Boyd who designed the house and expansive grounds to include spacious studios for sculpture, painting and printmaking. As well as building a peaceful home and raising two children with her husband, King went on to pursue her career as a well regarded artist. 
In her early sculpture King worked with a variety of materials, however the modern media of arc welding and industrial steel, characterise most of her work after 1960. King's geometric abstractions challenge the viewer to explore the formal relations of space in and around her work and to consider the figurative allusions made in her titles. Whenever Inge King executes monumental projects, such as Surge Forward, she first builds small Marquette's, to serve as a illustrative mock up of the proposed work. She then works with a team of engineers and welders to enlarge and install her Marquette's. King quickly built an sturdy reputation within the Melbourne art world, and was considered to be at the forefront of non-figurative sculpture in Australia. In 1961 she joint the likes of artists Lenton Parr and Clifford Last, as a founding member of small art community: The Centre 5 group. Their aim ( according to member Julius Kane) was to "help foster greater public awareness in contemporary sculpture in Australia."
Although King works primarily with strong industrial type materials such as steel, many of her works possess strong connections to the natural world. If you have had the pleasure of encountering any of her works in public gardens, such as McClelland Gallery and Sculpture Park (Jabaroo 1985, Island Sculpture, 1991) you will be able to appreciate how beautifully these expansive works respond to their lush green surrounds. Indeed, the titles of many of her art pieces hint to the possible source of inspiration: such as the National Galleries: Flower Dancer (1948), or Moonbird (1991) a commission by the Australia Fund. Many of her large scale works are found in public plazas, including Forward Surge (1974) at the Victorian Arts Centre, on numerous university campuses around Victoria and interstate, in fact some of her latest works can be glimpsed along Eastlink!
Inge has held over 26 solo exhibitions including a 1992 retrospective at the National Gallery of Victoria. She has also participated in over 60 group shows in London, New York, Australia and New Zealand. After her husband's death in 2008, Inge King is still creating innovative, beautiful and exciting sculptures in bronze, steel and stainless steel. In 2009 she was awarded by the Australian Arts Council: 'The Visual Arts Emeritus Award which recognises Inge's pivotal role in raising the profile of modern sculpture in this country. Serendipity are honoured to provide this short description of the work and life of Inge King, who is a real treasure to the arts. We're happy that the beautiful work of this artist is accessible to the wider public, a spectrum of her pieces are scattered around the Melbourne area, and might just be the perfect feature as a setting for romance or as a backdrop in your wedding location photographs!