Filipino Wedding Ceremonies
We at Serendipity Photography are honoured to bring our readers a new section focusing on unique cultural traditions within Melbourne wedding ceremonies. Our beautiful city is a constant source of inspiration as it harmoniously combines world class architecture with a vibrant multicultural community. The result is wedding celebrations as distinct as the couple's themselves. One such tradition is the Filipino custom. This culture
Filipino ceremonies this cultural practice  is often associated with the Catholic Church, and contains a number of historically sacred rituals. Like many other religious and cultural practices, the Filipino tradition is strongly centered around family. Joining the bride and groom at the alter are sponsers. Rather like Godparents (in the Catholic faith) sponsors provide moral, spiritual and often financial support on the wedding day. Their presence is very important as they represent the surrogate parent figures for bride and groom
Generally, the wedding ceremony proper in the Philippines includes the celebration of a one-hour long mass. The Filipino groom arrives one hour earlier than the Filipina bride for the purpose of receiving wedding guests at the church.

Four important customs follow one another during the ceremony. First is the exchange of rings, bride and groom exchange wedding bands, gently placing them upon the finger of their partner. This symbolises the eternal commitment the couple are making to one another. With the exchange of rings comes a unique Filipino custom: the passing of the arrhae. The arrhae is a symbolic gift (traditionally 13 pieces of gold or silver coins) that the groom presents to his bride. The gifting of the arrhae represents the pledge of devotion the groom has made to the well-being and contentment of his wife and future offspring.
Next is the lighting of the candles, the chosen sponsors hold the responsibility of lighting a pair of candles– one on each side of the couple. Many weddings add the ritual of the unity candle which signifies the joining of their two families. Here the couple takes the two lighted candles and together light a single candle.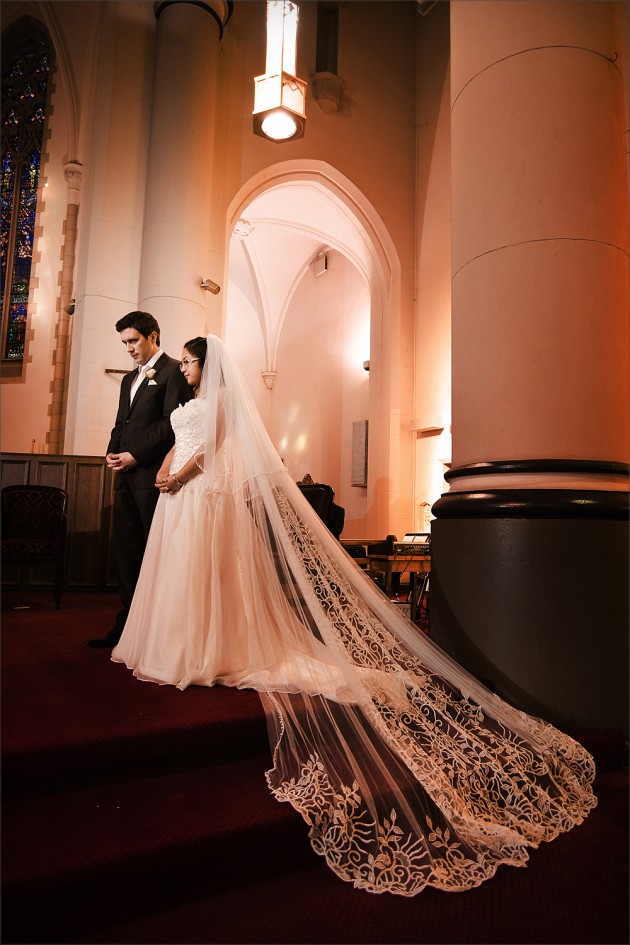 Wedding Veils
After the ritual of lighting candles, a pair of secondary sponsors known as the veil sponsors pin a veil cloth and beads on the couple. Traditionally the veil is draped over the shoulder of the groom and above the bride's head. The veiling ritual signifies the clothing of two individuals who have become one in the union of marriage.
Wedding Cord
Lastly the pair of secondary sponsors, known as the cord sponsors, will then drape a cord over the shoulders of the groom and the bride. This decorative beaded cord is called the yugal, its figure 8 form symbolises "everlasting fidelity."