Poruwa Ceremonies
Sri Lankan Poruwa Ceremony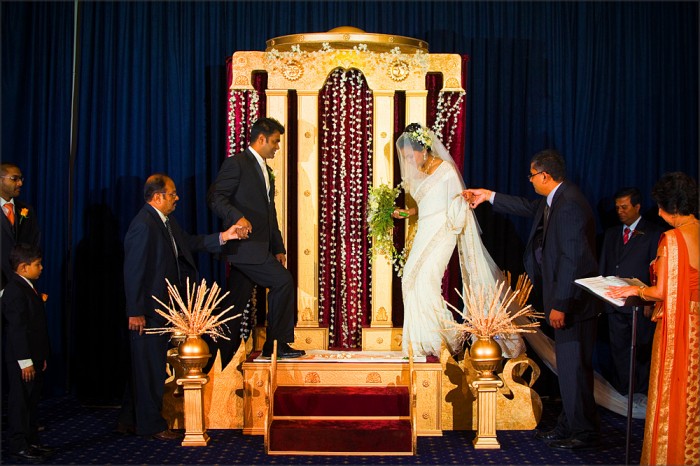 In Singhalese culture, and, indeed for many Sri Lankans, the Poruwa ceremony is the most important part of the entire wedding ceremony. Throughout the ceremony sequence the bride stands on the right, with groom and relatives on the left. at first it is important to find the auspicious time. This is something worked out through a complex set of computations involving matching the horoscopes and times of birth of the bride and groom, and the stars on the wedding day. The Marriage is not just two people together, but the union of two families.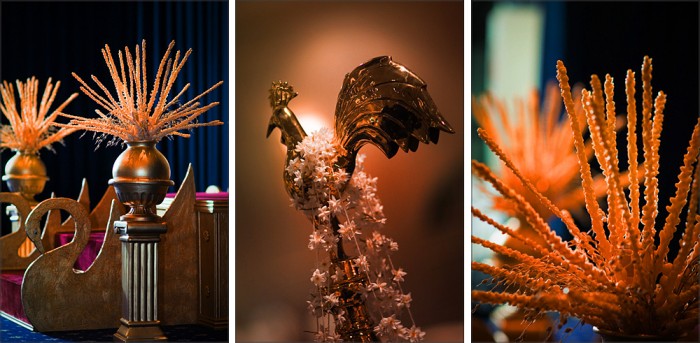 The ceremony is made up of an array of components that symbolise the couples transition to the next stage of their journey together. First the couple ascend the Poruwa with Ashtaka chanting and the Pali Ashtaka blessing. It is exceedingly important to ascend the Poruwa with the correct foot forward. the couple greet each other, welcoming each other into their lives. The bride's father then places the right hand of the bride on the hand of the bridegroom as a symbolic gesture of handing over the bride to the bridegroom. The couple drop 7 betel leaves on to the Poruwa – remembering the 7 generations before them, and paying respect to their ancestors. A close family member (often an uncle, or other male relative) ties the small fingers of the bride and bridegroom with a thread in a nuptial knot, then the groom's father pours water over the fingers – as a symbol of their strength in the face of difficulty. The necklace is a gift by groom, promising to look after the bride forever. After the civil ceremony with the exchange of rings, Jayamangala gatha – 3 verses – is sung as a blessing promoting future health and a good life. Next is the Kiribath feeding. Kiribath is a special type of rice prepared to mark special occasions, and carried out by the bride's mother and the groom's mother. Following this, gifts for the 2 mothers and often the 2 fathers are presented. This is a intended as a sign of gratitude to the parents who gave the couple life, and supported them always. Following this exchange of gifts, the traditional Asian plant: Betel is offered to parents and close relatives as mark of worship and respect from the newly wed couple to their elders as they receive a blessing. As the couple descend down from the Poruwa, music accompanies this ritual. Finally is the lighting ceremony, as the lamp gives light.,  this custom carries important symbolic reference. All of this is coördinated with the auspicious times.
Up until 1870, the performance of the Poruwa ceremony registered a marriage formally. For most Sri Lankans the Marriage ceremony is influenced by Buddhist traditions, important values include respect, harmony, peace and love. the couple's relationship is set within the larger community, and the ceremony reflects their respect for the elders within the community.