National Trust Locations
Serendipity Photography offer: book a National Trust Venue and we will give you two free 20″ x 30″ romantic poster portraits of your wedding location photography at that venue!
At Serendipity Photography we are passionate about art and architecture, and very grateful for the very hard work of conservationists, such as the members of the National Trust, who have worked tirelessly to give bridal couples the ability to have beautiful portraits at some of Melbourne's absolute best location photography locations. We are enthusiastic about the architecture, glamourous detailing and gorgeous interiors of Melbourne's fine old mansions, and we want to match your contribution to the National Trust of Australia for these venues with wonderful portraits in these settings.
Wedding Photography at Montsalvat
Montsalvat is a unique venue, registered as part of the national Estate, and classified by the National Trust. Montsalvat was built by Justus Jorgensen, an artist trained by Frederick McCubbin and part of the Heidelburg school, and his artists collective in the 1930's in a completely romantic French mediaeval gothic fusion medley. Treat yourself to exquisite gardens, hidden arches and rough stone walls or stand in front of stone and stained glass tracery in the simply gorgeous Upper Gallery or enjoy the gothic ambience of the bluestone chapel. At Serendipity we are completely enthusiastic about Montsalvat and will offer you a helping hand with a further matching four matching 12″ x 18″ A3 portraits from Montsalvat to give to your family, and and 30–50 images in a free ceremony paparazzi from ceremony entrance onwards till the kiss if you book your ceremony at Montsalvat. We can't recommend Montsalvat highly enough; each turn of a path opens new delights, and at Serendipity we are of the opinion that an hour at Montsalvat for your wedding location photography is will give you more beautiful photographs than two hours almost anywhere else. We can vouch for the food and splendid ambience of Montsalvat receptions! Please call 03 9439 7712, book in early!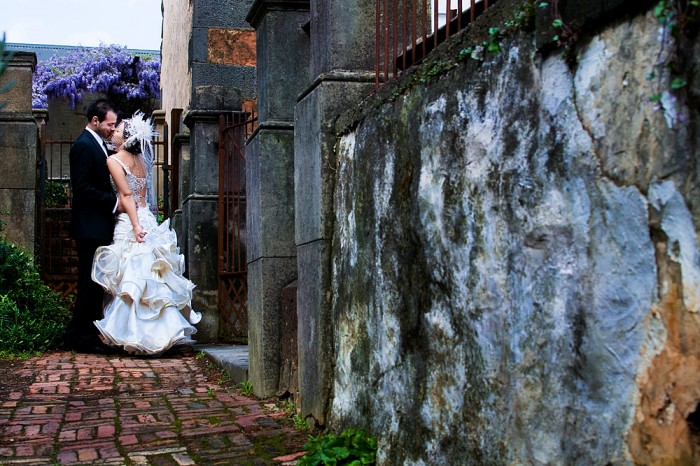 Wedding Photography at Werribee Mansion
Think of the vast lawns at Werribee Mansion, the first in Melbourne built in the glamour Italianate style, the mansion itself sprawling seemingly over acre after acre — the photography opportunities are endless! Note the exquisite staircase, colonnades and tower. Built by wealthy pastoralists, the Chirnsides, in 1877, Werribbee Mansion has many beautiful places for wedding ceremonies — consider a garden ceremony, or a marquee, or on the grand staircase itself — and hosts receptions at the Werribee Park Reception Centre. Werribee Mansion IS opulence on the grandest of scales —  the largest private residence built in Melbourne, set in 25 acres of gorgeous grounds — everything that you and your guests need in one place.
Werribee Mansion couples can enjoy the traditional elegance of the Mansion ballroom with its grand 23 feet ceiling for their reception. Please call 03 9742 3792 to enquire. The Mansion Hotel and Spa, located in the 1926 Seminary buildings, also welcomes wedding bookings, call 03 9731 4001 for details. At Serendipity Photography we appreciate  the sensitive renovation — The Mansion Hotel and Spa buildings benefit from the subtle contemporary elegance of a Woods Marsh luxury hotel refit, while retaining strict link to the past heritage. Setting and place, Werribee is a venue offering design excellence from three centuries!
Wedding Photography at Rippon Lea
Given our inner east location, it is not surprising that Serendipity Photography has photographed over fifty Rippon Lea weddings in the last twenty years! Named after Frederick Sargood's mother Emma Rippon, Rippon Lea, an Italianate  mansion, was built in 1868 with Lombardic Romanesque stylistic features. It is notable for its polychrome brickwork, and beautiful cast iron porte cochere.
Rippon Lea Estate's beautiful and extensive gardens still retain Robert Sangster's influence, at Serendipity we love the elegant lawns and placement of trees; Rippon Lea hosts wedding ceremonies at the lakeside or on the front lawn.
The Rippon Lea mansion was used for entertainment in the grand style right up until the 1930's and was continuously modernised, latterly in the Hollywood style.  Wedding couples can create their own poolside entertainment in these luxurious surrounds, hosting their event in the stylish surrounds of the Rippon Lea ballroom. Catering is by the renowned Peter Rowland. Ring 03 9532 8822 for details.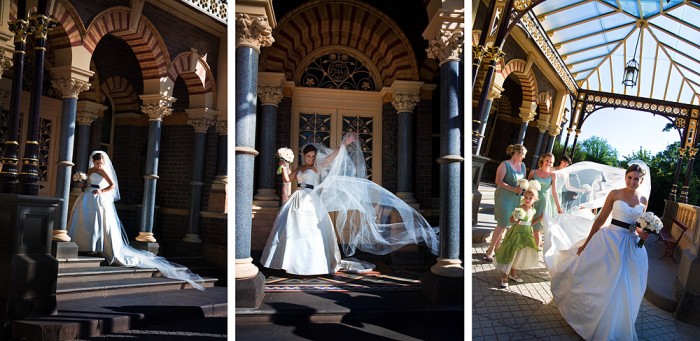 Wedding Photography at Labassa — $1000+ ceremony photography Serendipity Labassa promotion
Because of its extreme elegance, proximity, and because it is not such a well known National Trust venue, Serendipity Photography is offering this quarter a special Labassa ceremony promotional package as a substantial contribution to the National Trust  ceremony fee! This offer applies to couples to book with Serendipity. Of course, the regular promotional offer applies to wedding location photography at Labassa too!  Serendipity Photography hopes that many more wedding couples and their guests will be able to enjoy their ceremonies in the splendid surroundings of Labassa Mansion, and offer this special "reimbursement" promotional package to further this aim.

Please read Serendipity's post about Labassa for more images and page on Labassa for images and some fascinating history of this opulent mansion!
All clients who hold their ceremonies at Labassa and book with Serendipity this quarter will receive:
One album panorama ceremony image featuring, for instance, your kiss against the beautiful window surrounds or gilded interior surfaces.
One album ceremony paparazzi, laid out in a mix large impressive shots and smaller details, thirty to sixty pictures, from walking down the aisle to the vows.
Two extra large album pictures and 20 smaller album pictures during signing and congratulations.
From your Labassa ceremony images one 12″ x 18″

A3

portrait for your wall, and two corresponding 8″ x12" for your parents mantelpieces. (note Serendipity wedding packages already contain a large number of wall portraits)