Gothic Weddings with Serendipity Photography
Do you love the sweeping majesty of the Gothic period? Are you a traditional romantic, who adores the timeless romance of Tennyson, Byron, and Wordsworth? Perhaps you are fascinated by whimsical details and unexpected decorations. If so, a gothic style wedding might be the one for you.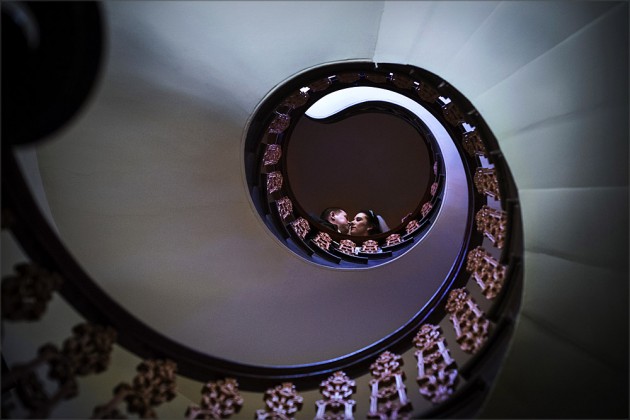 Gothic style, and Victorian Gothic style, is typified by it's eclecticism. Majestic spires and grand sweeping staircases create beautiful backdrops that Serendipity Photography loves to photograph, and hearken back to the nostalgic romanticism of the past. The passionate and eternal love of Cathy and Heathcliff, or Jane Eyre and Mr. Rochester, are powerful examples of Victorian romances, unending and fiercely beautiful.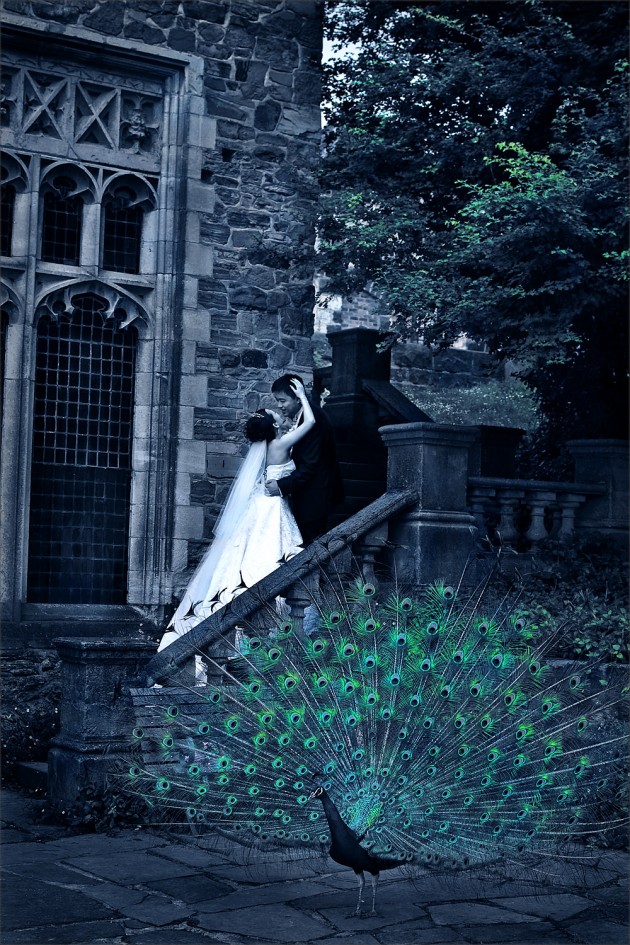 And yet, Gothic style is full of tiny eclectic details. The beauty of the style is in it's attention to small curlicues, intricate cast iron moulding, rich carvings, and elaborate stained glass windows. The expansive windows found in Gothic architecture flood light into rooms, which, with their high vaults and soaring ceilings, create stunning settings for a dramatic and majestic wedding!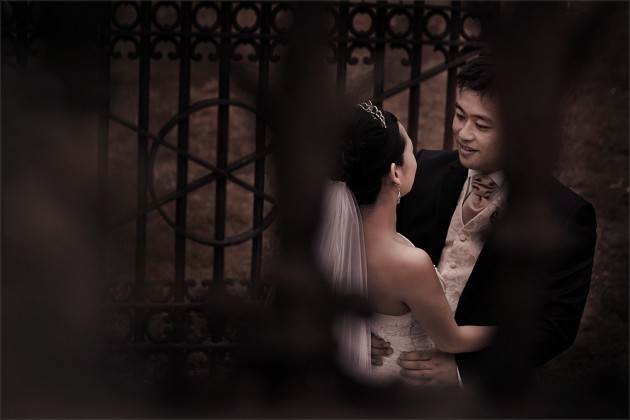 The picturesque style of old Gothic buildings, which are full of the delicacy and charm of an Arthurian romance, or the lavishly ornate style of the Victorian Gothic period, full of the consuming passion of an eternal Byronic love, are combined in a beautiful Gothic style wedding, the perfect setting for your most memorable day.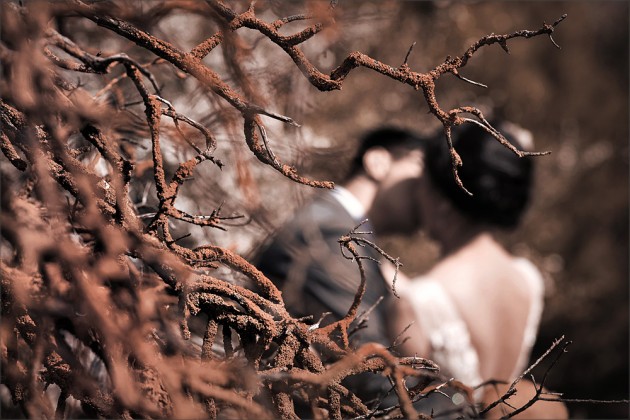 The emotional impact of the traditional architecture hearkens back to a nostalgia for the past. Gothic architecture caught the end of the Romanesque period, and built on the late medieval aesthetic of the large European cities. Considered at the time to be primitive and vulgar, due large to the advent of the Renaissance and it's obsession with rationality and the cleanliness of Classical refinement, Gothic architecture nonetheless flourished. The traditional style of soaring ceilings, spires, gargoyles, and miscellaneous details seen mostly nowadays on ecclesiastic buildings is one of excess and lavish decoration. The grandeur of it's rose windows, many paned and brilliantly coloured, is a stunning example of Gothic's devotion to creating a majestic environment of worship.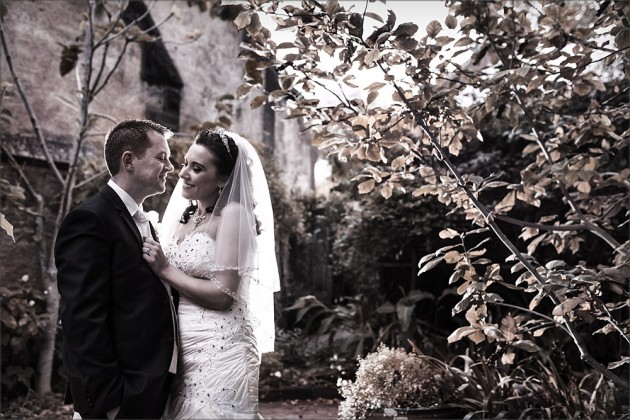 Victorian Gothic grew out of the same nostalgia for the traditions of the past. The Victorian period saw the Industrial Revolution take hold, and machinery overwhelm the lovingly hand-crafted nature of the past. In response to this, antiquarian concerns were predominant in the minds of Victorian architects. The ugly factories that sprung up were repellant to Victorian sensibilities of the picturesque quality of their environment. The diversity of Victorian inspiration, drawn from the extent of travel available and the search for the new conversely inspired the Victorians to look towards the past and to cling to their traditions. Literature and poetry began to explore love and passion as both elevated, elegant, and spiritual, as well as passionate and all-consuming.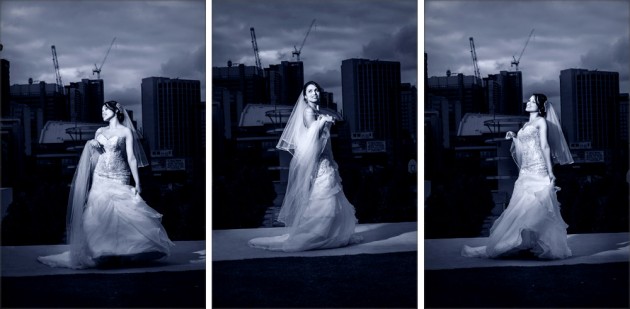 Literature took a turn for the dark, incorporating a medieval sensibilities of eternity and purity, the elegant courtly romance of the Arthurian tales, as well as developing on the violent and raw nature of love.This dichotomy is seen in Victorian Gothic as it draws from the ornate decorative nature and powerful presence of Gothic architecture, but adds it's own elements of whimsy, spirituality, and emotive architecture.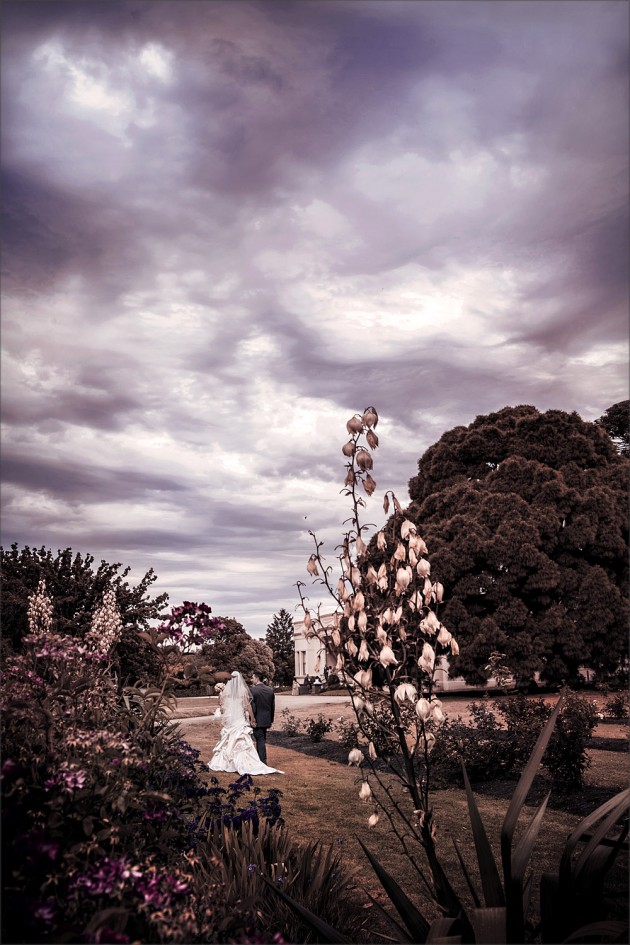 Gothic Style Wedding Locations
At Serendipity Photography we support National Trust locations, including our very generous Labassa Wedding Ceremony Special Offer ; we can't recommend Labassa highly enough for Gothic themed weddings. Labassa has an interior to die for, including 24 carat gold detailing, sumptuously ruined wall paper, one of THOSE staircases, and now you can be married in the setting of the latest 30's inspired Underbelly series!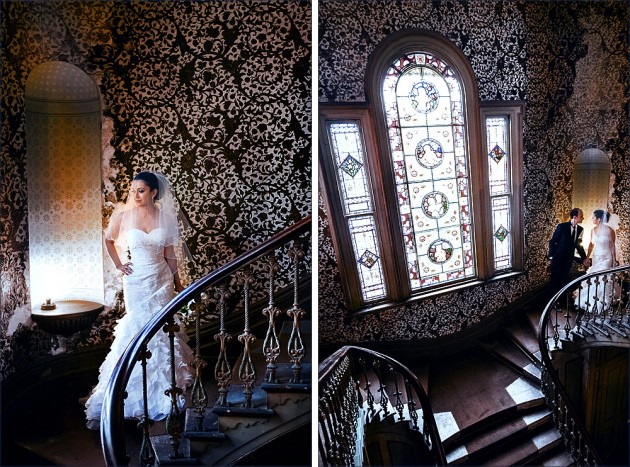 A gorgeous heritage property, Labassa is a sumptuous structure built between 1863 and 1890. It's opulent rooms, gilded and embossed wallpapers, stunning stained glass windows, create a lovely location for ceremonies as well as a stunning background for photography. It's eclectic blend of styles and influences makes Labassa perfectly suited to creating a timeless and majestic setting for your special day.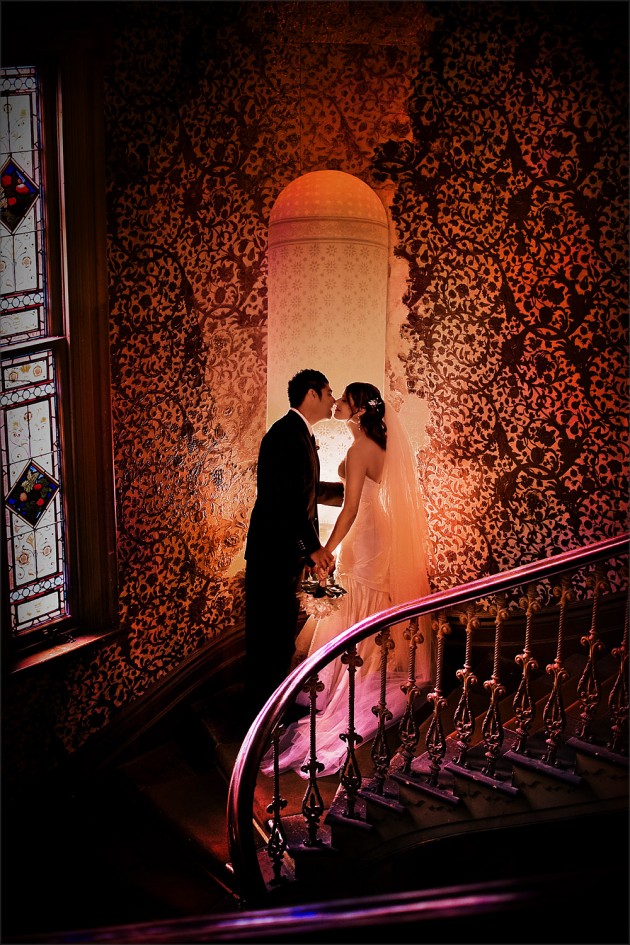 Please read about Romance and Sophistication at Labassa here.

Montsalvat's magnificent Great Hall, with it's gargoyles and details of lead-light windows and stone fireplaces, amongst others, creates a perfect traditional romantic location for your wedding. It's subtle details and devotion to re-imagining it's medieval elements creates a beautiful blend of rustic and gothic styles.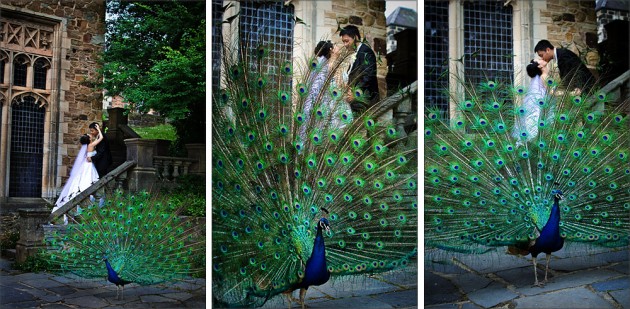 The grand Overnewton Castle, with it's immaculate grounds and tranquil atmosphere would be a magical option for your wedding day celebrations. With it's Victorian style, the Heritage listed property hearkens back to a bygone era of timeless romanticism.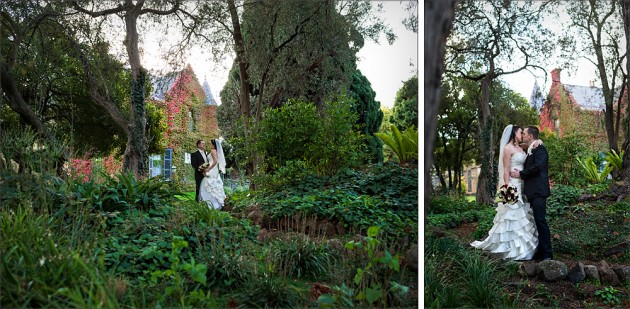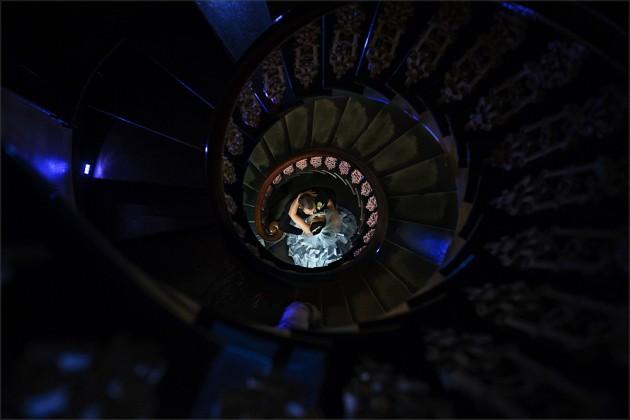 Rupertswood, famously the birthplace of the Ashes, is an impressive Victorian mansion. The architect's attention to detail and devotion to opulence is demonstrated especially in Rupertswood's 100-foot tower, which soars dramatically up from the entranceway. A splendid location in which one can feel all the class and elegance of the Victorian era, Rupertswood is perfect for weddings and sensational wedding photography.
Gothic Interpretation — Serendipity Photography Post Production
Its not just a great shot with the right mood and texture, the feeling of gothic can be carried so much further with art work in Photoshop. Art Serendipity we have developed suitably extravagant and excessive post production processes that with carry your images to a new place. Our custom artwork ensures that the feeling of your wedding images can move with your vision, bringing out shape and focus, further exploring the content inherent in the image.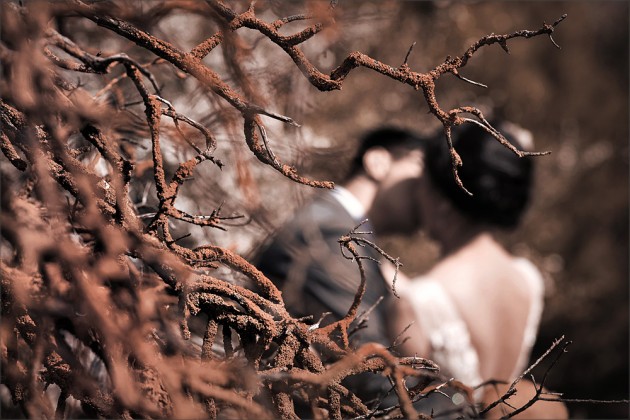 The Copper Blue tint is certainly one of Serendipity's more extravagant (very long) processes!
Focussing interest by really bringing out texture to enhance composition with breathtaking effect, a copper blue tint splits up warms and cools in a process akin to the old dark room poly toner to shape the direction of the eye through localised warm and cool areas. This is something that occurs in nature just after dusk, when you see a beautiful richness of tones through the warm and cool spectrums that has been much emulated in painting through the last four centuries. We often refer to Velázquez, and the light and shade of the silk on his dresses. Like many of Serendipity's tints and tones processes a finalised colour image is converted to black and white by rubbing a variety of black and white layers that have been derived from the colour channels rubbing together. This allows fine control of the softness and lightness of skin, while allowing deeply sculpted stonework and dresses. The black and white layer is then tinted and rubbed back into the colour layer, which is usually quite modified. This brings the image to the level of a red sepia.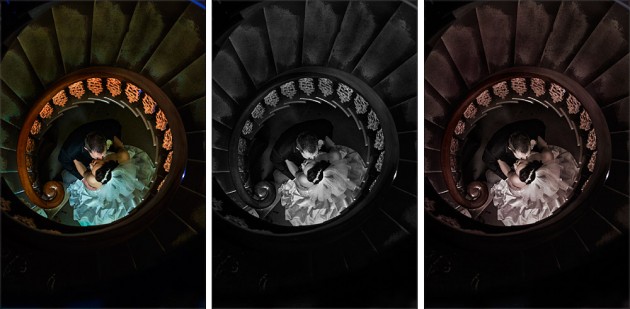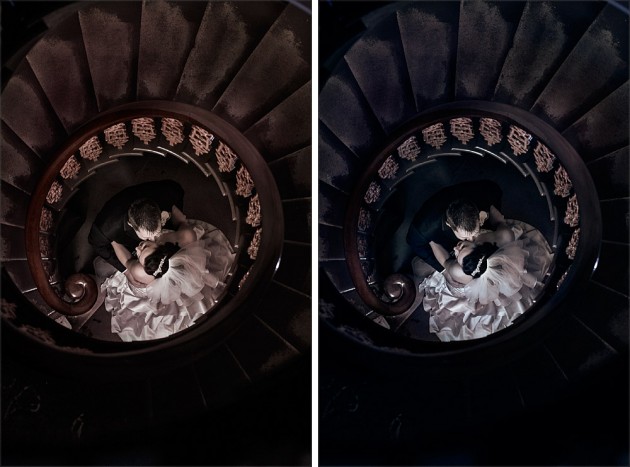 The resulting image is then worked on further, adding cool tones to specific parts, then more work on density, saturation and further colour modification such as sliding in magenta or cool tints in specific areas to bring about the final Copper Blue artwork.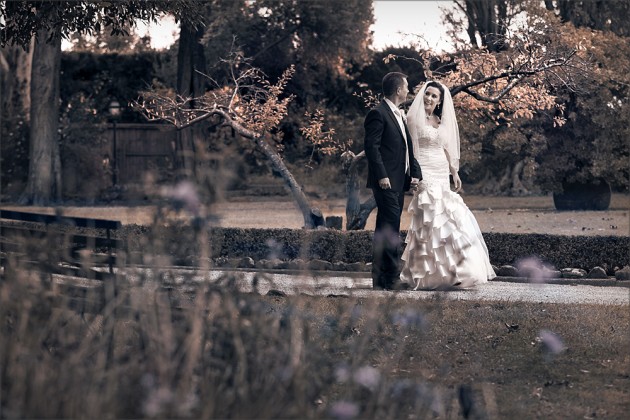 Lilac tints  with partial colour can evoke feelings of mystery and desire . To create the look a sculpted black and white layer is blended with an altered colour layer, and further enhanced in contrast and saturation.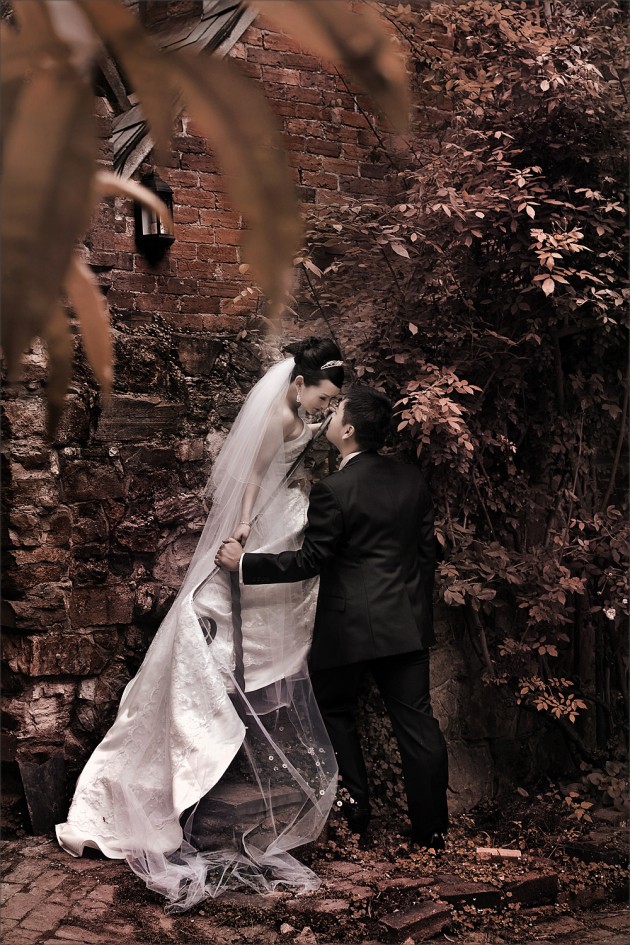 Gothic Style — Literature and Inspiration
The Serendipity Gothic client cares about style, about texture and content as ends in themselves rather than just as clothed form. Life is an event not just a process. When it comes to weddings, it may not be necessary to have an entire corner of a wardrobe devoted to artistically bejewelled tailors dummies in various stages of undress; or an entire section of your bookshelf devoted to Nick Cave, however, at Serendipity we are committed to providing photography that is expresses your sense of your day. Your wedding, naturally, will be remembered– interesting and evocative, and interpreting your vision is our mission.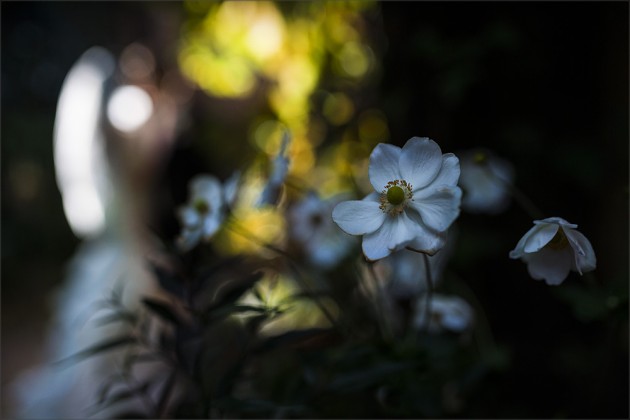 Charles Baudelaire's Invitation to the Voyage perfectly captures the flavour of romantic, opulent Victorian Gothic:
"Treasure galore — ornate,
Time-glossed — would decorate
Our chamber, where the rarest blooms
Would blend their lavish scent,
Heady and opulent,
With wisps of amber-like perfumes;
Where all the Orient's
Splendid, rich ornaments -
Deep mirrors, ceilings fine — would each,
In confidential tone,
Speak to the soul alone
In it's own sweet and secret speech."
Whether you love the grand and majestic nature of Gothic style, or are drawn to it's whimsical details, there is definitely a way to incorporate it's passionate and romantic elements into your big day. Get inspired by some of the stunning Gothic style architecture around Melbourne, or immerse yourself in the passionate poetry of Victorian literature, and blend the unique flavour of Gothic style into your perfect wedding day!