Kerford Road Pier: ten top tips from Serendipity Photography!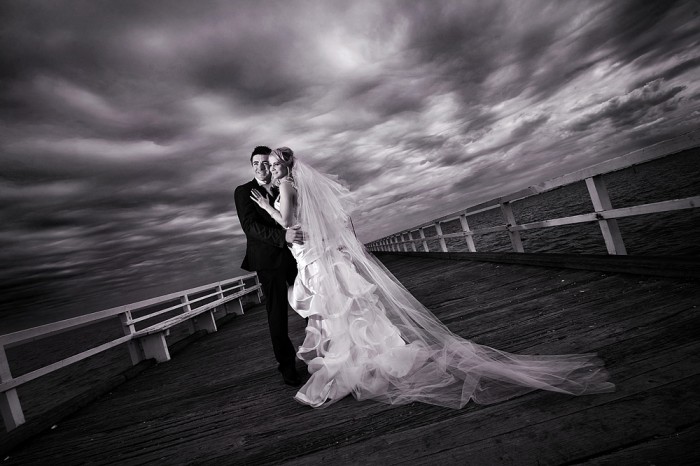 Kerford Road Pier has been a top beach wedding location photography at Serendipity Photography for over twenty years! Here are ten good reasons why:
1) Surprise! It's not really the sea that is the main attraction its the skies! At Serendipity we continue to develop in Photoshop expertise — some of you may have heard us waxing lyrical about our very latest Photoshop script, the all new 52 steps of "the splitter" that brings us 20 layers of variously masked and altered layers to play with and rub together, the ultimate tool for shaping skies, texturising timbers and sculpting your gown.
2) Kerford Road Pier has everything (well almost everything). a) Pier  b) View  c) Water  d) Waves  e) Boathouse (hence shade)  f) Sand  g) Steps to get down onto the sand  h) Palms  i) COFFEE!!!!  j) Coffee house (has food as well)  k) toilets  l) car parking  m) car parking  n) car parking  o) car parking  p) car parking .….….…
3) More about carparking. Kerford Road Pier is accessible. You can drive in and drive out and shoot all in ten minutes; the onsite parking at Kerford Road Pier can make the difference between some beach photography with gorgeous expanses of clouds or no beach photography at all for those with late weddings, or on market Sundays, or busy festival weekends.
4) Even more about carparking. Imagine the scenario, your wedding is on July the 6th, and in true Melbourne style the day has oscillated between patches of sun and periods of damp, with a few breezes thrown in probably straight off the Southern Ocean all the way from Antarctica. You are travelling along Beach Road from a St Kilda café to your reception at the Docklands. The phone rings– (sound effects) –hello… its that very enthusiastic Serendipity photographer!  Yes, the clouds are to die for. Yes right, no precipitation just at this minute, and maybe even a streak of sun. Yes, sure, it will only take two minutes… What did you say, out of the car for just two minutes?????.  [Truly, two minutes total elapsed time for the bridal party, 3–4 for the couple]    Here's to Serendipity Photography's well practiced winter wet or damp great clouds and sky and you will hardly feel it at all beach location photography routine courtesy of Kerford Road Pier!
5) The boat ramp and pier timbers create interesting framework that can add graphic interest, especially on sunny days, hence the three in one effect: pier, beach, ramp/timbers locations all in one stop.
6) Pier locations bring you some of the best possibilities for drama and romance, and a chance to show off, play, twirl and spin with dramatic backlight and, yes, given one of our strong Serendipity photography points of difference, piers allow you the best and easiest location and lighting for the very best in dramatic veil shots. Kerford Road Pier's accessibility means that it is often our top choice for sunset shots, its quick for a winter sky, and these is less carrying of lighting gear, than say, St Kilda pier.
7) You can fit your entire bridal party easily across Kerford Road Pier, or park everyone around on the benches. Kerford Road Pier allows group photography on multiples levels, and its spaciousness is great for walking shots or catering for those with very big numbers.
8 ) Back to the café, at Serendipity we enjoy working with its reflective surfaces, a sense of the wide spaces being carried inside, and the contemporary fittings work well with skies as a backdrop for glimpses of friendship and romance. There is good coffee and food as well.
9) A reminder to bring your kit bag. Yes, piers can be the place where small tendrils of hair escape, so an obvious wedding tip is that it is best to have instant access to your pins, clips, spray, even to a few extra hair accessories just in case. At Kerford Road Pier all these essential are right there, and also the car, as a place of retreat for bridesmaids to keep it all together while you just finish off your twirls and spins.
10) Right there, just over the other side of the road, are other great shoot possibilities for when time or light are in short supply and travel must be minimised. Or else the weather is closing in. The Victoria Hotel tower makes a great backdrop through a long lens, or you can cross the road and enjoy this beautiful building with its historic facades and contemporary fit-out.
For more beautiful photography and a sense of history (the pier was constructed 1887–9 was was an important part of the infrastructure supporting the very popular Beaconsfield beach resort area in the boom decades at the end of the nineteenth century) please visit Serendipity's page on the Kerford Road Pier.