Bridal Veils in wedding photography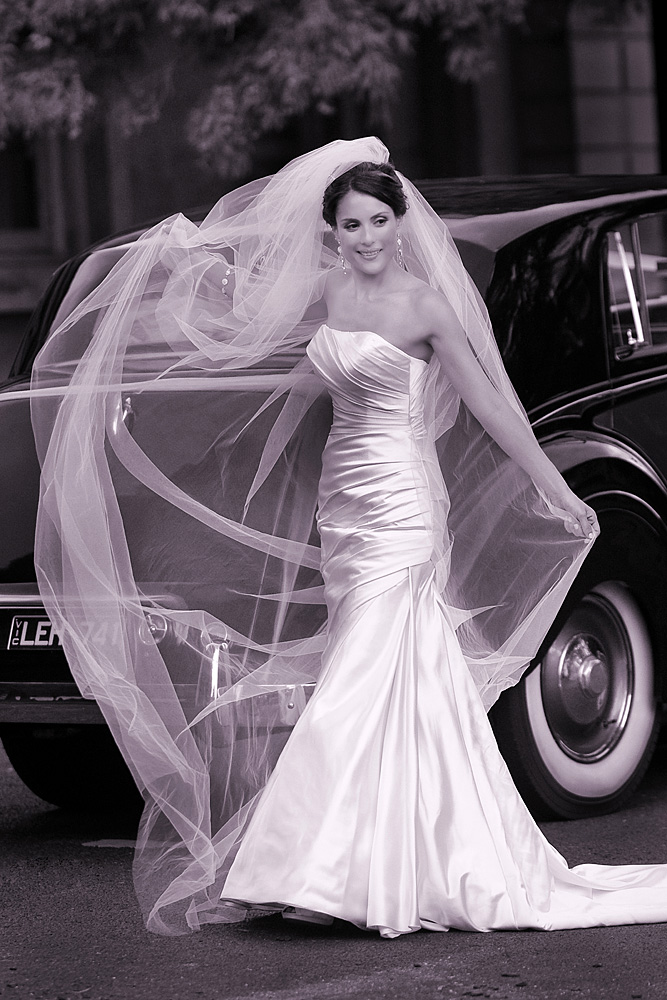 Veils are our favourite bridal accessory at Serendipity Photography , they're fun and dynamic and add fantastic drama to wedding photos.
We see so many wonderful opportunities for brides to explore personal unique clothing and accessory styles as wedding photographers. While it might be popular not to have non-traditional themes in your wedding don't forget your big day might be the only opportunity you get to wear a ball gown-style dress, a tiara or a veil. Although veils may not be quite so universally popular as a the top wedding accessory right at this moment, at Serendipity Photography we see veils used in exciting, visually stunning ways at so many weddings. It gives brides the perfect prop to add sophistication and an element of play to their wedding photography.
A veil can add so much to a photo shoot, and can have major effects on the style of a bride. The perfect veil will complement your dress and hair, create a beautiful silhouette and be fun, floating and light. What style of veil you have depends on how you want to look and how you want to use your veil. Imagine the classic scene of a bride walking down the aisle with her face covered with a veil and then revealed by her groom. What could be more romantic than seeing your bride for the first time as your wife?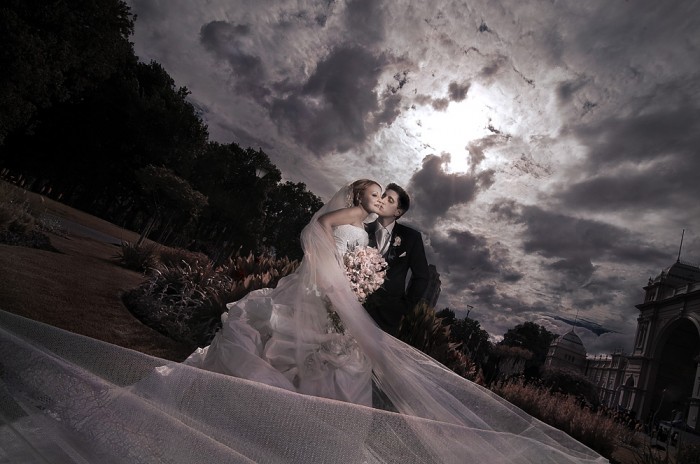 At Serendipity we have found that the perfect length for most girls for dramatic veil shots is cutting your veil so it falls one meter on the ground. The much longer veils at four metres on the ground create even more drama and allow cascades of folds down steps or incredible shapes like your own personal cloud against the sky. Serendipity recommends the lightest bridal tulle with a plain cut edge for the maximum lift and float. If your gown style suggests a preference for a shorter length, try at least for mid calf — fingertip is an awkward length! Veils longer than this give so many more possibilities in terms of holding and teasing the edge, throwing the veil, or let its folds softly wrap your face. At Serendipity we celebrate the joyous possibilities of veils for flattery and suggestion. The strong vertical lines written by the heavy lace edging of a mantilla veil can describe leanness, gently curving down your length or framing your face. Veils mid calf or longer will sit when the edge is draped through the width of an upper arm, visually placing your face and bust in a thinner framed shape. Even if your style is severely corporate and ballet plain; or heading past vintage to gangster and you want only the drama of a serious headpiece, let let us beg you to consider a longer veil for locations, or even just a length of tulle as a wrap or stole. Four to five meters of the lightest bridal tulle can be just pinned under your head piece or shorter veil or held out to catch the wind at the beach. At Serendipity we are experts in help you catch that bridal magic when your veil creates breathtaking shapes against the sky!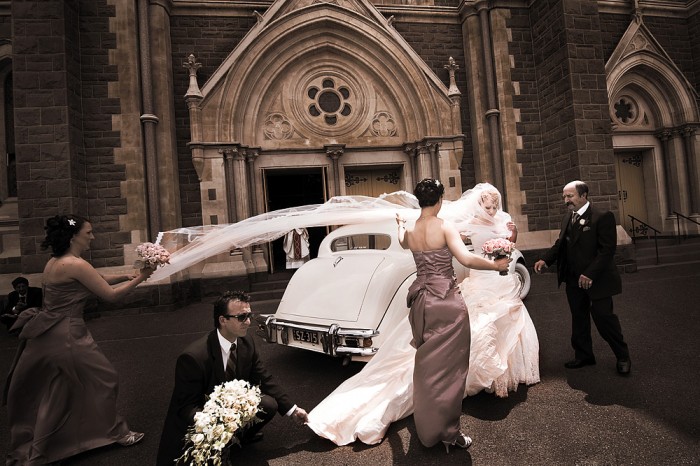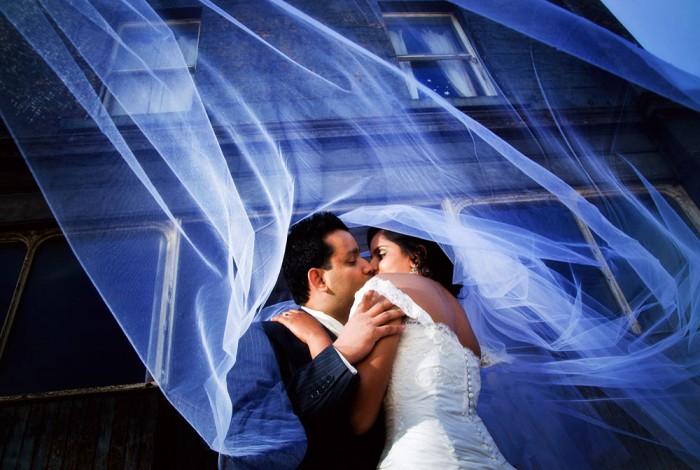 But more than that a veil can be a great accessory for photos. Throwing a veil up and around yourself can make incredibly dynamic physical images that contrast perfectly with the stillness and intimacy of a kiss. Below you can see a great shot of Jean and Jeryl kissing on the beach. The kiss is passionate but still and the moving veil and the crashing waves give it a real feeling of power and intensity. Jean's veil was around five meters long, enough to flow along her dress and drape behind her, as well as having a lot to play with in shoots.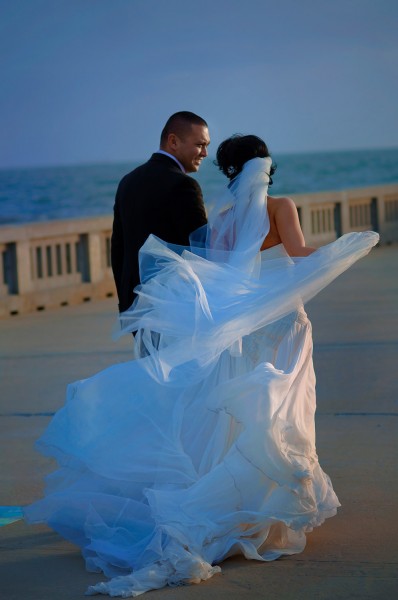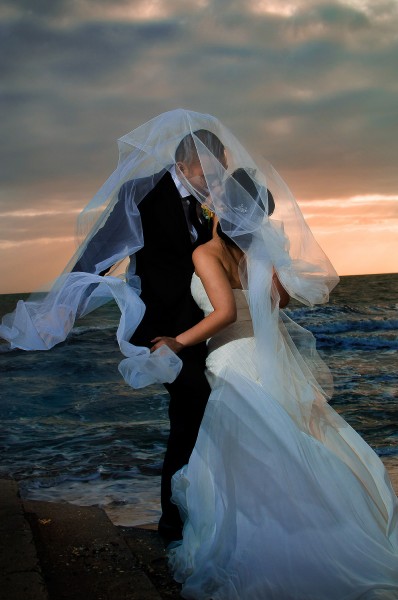 Fabrics, trim and beading are another factor to consider when choosing your veil. The tulle that is right for you will sit well, sit where it is put, create interesting folds, and have enough stiffness and crispness whilst still flow. It will be able to lift and soar with a little encouragement. Satin trims and light beading or pearling are options available, to either complement or contrast with the lines and textures of your dress or surround the figure with exquisite beads and pearls. For most brides, with a strong accent on your dress, the simplest veil is often best. Keep in mind that it's often preferable to have as light as possible a veil, for its soaring and floating qualities.
Veils are also symbolic of many of the most important aspects of a marriage, trust, respect, and love. There's a lot to the history of the veil in western and Jewish culture, but predominantly it shows the devotion of the groom to the brides inner as well as outer beauty, his commitment to protect her and her trust in him. Brides of any faith can get behind such profound and significant principles.
A veil is more than just another bridal accessory, it is a fascinating piece of cultural tradition, but also a great choice to help make unique and vital wedding photography.