New location pages from Serendipity Photography!
Serendipity is excited to present to you many new pages on our favourite top wedding photography locations! Enjoy browsing our great range of pages full of wedding photography tips and advice, snippets of local history and enjoyable gossip, and the very best wedding photography location ideas from a Melbourne photographer's perspective!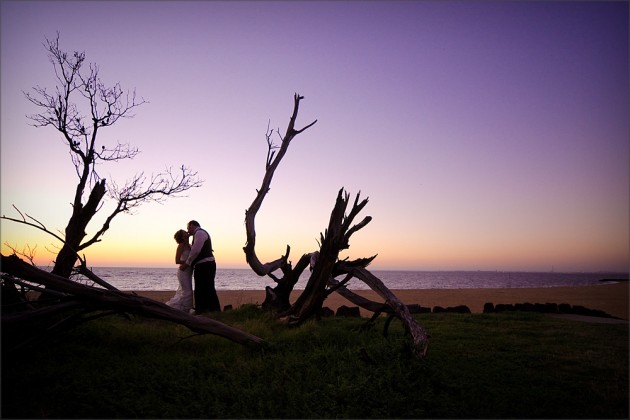 Melbourne is a grand dame, skirted about by the waters of Port Phillip Bay, and set about by many precious pearls, heritage buildings, all fine and beautiful settings for your wedding day photography. It is only fitting to begin with the Bay, bright sun skimming across to Melbourne's piers and scattering in jewelled profusion in the windows and walls of Melbourne's new contemporary glass cathedrals on the water. For a dramatic backdrop, have a look at our page on the architecturally striking Webb Bridge, located at the heart of the newly developed Docklands, or consider Jeff's own shed, the Melbourne Convention and Exhibition Centre. At Serendipity we celebrate the raw power of the modern design of the MCEC held in tension with the more refined colour and detailed glass elements, that produce a huge rainbow of pattern, scale and shape, perfect for couples with a keen sensitivity to design and an appreciation of abstraction.
Moving away from the city, behold the elements of water light and air, staples of wedding photography and good portraiture the world over. You are welcome to explore Serendipity's pages on Kerford Road Pier — a classic Victorian pier with just the right amount of convenience; Ormond Pier  — monumental lines and textural contrasts and Point Ormond itself. If bride and groom are are looking for the drama of sea and sky along with a splash of contemporary design just across the Esplanade, in the middle of Melbourne's picturesque bayside heritage, consider Port Melbourne's Lagoon Pier, close to both historic Port Melbourne and a contemporary colours, design and coffee (!) only a hop over the Esplanade right opposite.
Statement: Serendipity has photographed several thousand weddings in Melbourne in twenty two years. Conclusion — Serendipity has photographed several hundred brides at Parliament House in twenty two years. Quod Erat Demonstrandum!  We do not tire of Parliament's splendour, nor weary of the carved doors or ample classic porch, stunningly floodlit at night. Our own palace in truth, reaching back to the glories of the Forum and the heart of the West.  Ours is the right and the responsibility, judge and jury, a sacred place for your troth, set in within finest traditions of our sacred honour. And adjacent, but reaching forward a mellenium and half, couples can enjoy the cleaner, lighter lines of classicism rediscovered — Old Treasury's magnificent, well balanced, Renaissance Revival frontage offers so much for sheer wedding romance. Melbourne Town Hall allows wedding couples the best of Melbourne's classic past along with convenient access to so many wonders, from cosmopolitan ambience and glorious iron lace of the Melbourne GPO, to the generously ample wedding locations of Collins St, rich in history, at once a temple to the classic past mixed with more modern offerings of coffee and retail therapy.
Dear to Serendipity's heart, the joyous poetry of Monsalvat, sweet stones and vines; Labassa's magnificence — our National Trust fee reimbursement offer stills stands — a grand for the grandest house of the 1890's. We must make mention of Werribee Mansion, and Rippon Lea, Butleigh Wootton, all Italianate, all splendour, all with the strength of belief in the worth of our golden city, Melbourne. Now damn near two centuries later we can walk in our forefathers footsteps, tracing that proud lineage on your day of days.
Often the Melbourne's west is overlooked: Overnewton Castle is steeply rooved splendour — "And naught was green upon the oak, But moss and rarest mistletoe:", a gothick picture in a Scottish Boronial fashion: "There she sees a damsel bright, Drest in a silken robe of white." 
Across the other side consider the charms of Stones of the Yarra Valley, a mix of whitwashed walls and airy spaces, and the essential rustic crumbled stones and tumbledown doorways lightly figured in wrought iron lace.
Billilla Mansion, in Brighton, with its gracious Art Deco exterior, is another favourite Serendipity wedding photography location — one of the few in the inner east that allows ceremonies with some level of wet weather cover, and with gorgeous foliage in the extensive grounds that are maintained as a public park.  Nearby Kamesburgh Gardens also allows ceremonies, with Anzac House offering sweeping steps and a traditional strong architectural focal point, again with deep porches allowing a level of wet weather cover.
Please enjoy our homage to Melbourne's gorgeous ceremony venues, architecture and history of  St Ignatius, Richmond; the glorious St Mary Star of the Sea; St Patrick's Cathedral and little on the architect, the visionary William Wardell.  
For  a classic example of Victorian period architecture, with the added luxury of ample surrounding grounds, Serendipity highly recommend having a look at our brand new page on The Gables.  This picturesque garden setting is simply perfect for a myriad of gorgeous wedding day shots. Click here: The Gables
After recently capturing some simply breathtaking weddings at St Mary's Church, we are pleased to bring you a wonderful new page celebrating the charming church: St Mary's, in Windsor.
Stay tuned as Serendipity will soon be adding to our wedding photography locations pages with plenty more ideas and images of some of the gorgeous array of wedding locations around Melbourne.