Sunrise, Sunset — Serendipity Photography loves the light!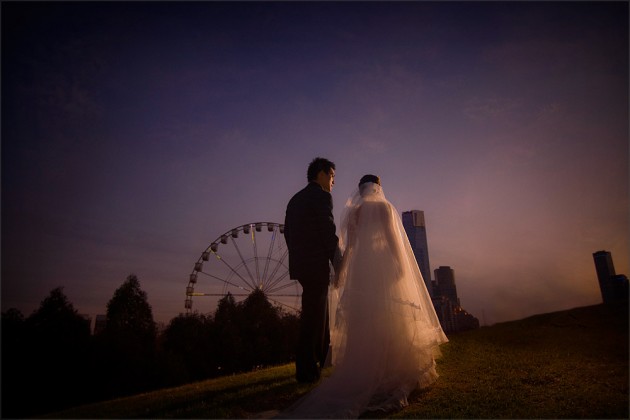 We at Serendipity Photography are overjoyed to share with our readers a new post focusing exclusively on sunrises and sunsets and weather, with an associated information page with links to useful websites, to help you in the important task of optimising times allowing you to be at the right spot for the particular lighting, state of the weather and photographic looks you like on your wedding day. Most people like to ring the changes and have some traditional classic buildings, and some beautiful natural backdrops and perhaps a more contemporary look. Knowing the angle and path of the sun can be very helpful in finding the right patch of shade in a harshly lit summer's day, while being able to calculate sunset, and working back to allow that little bit of extra time to be right there feeling good when the light is just perfect, will be another helpful factor in facilitating a large range of moods and colours in your wedding location photography!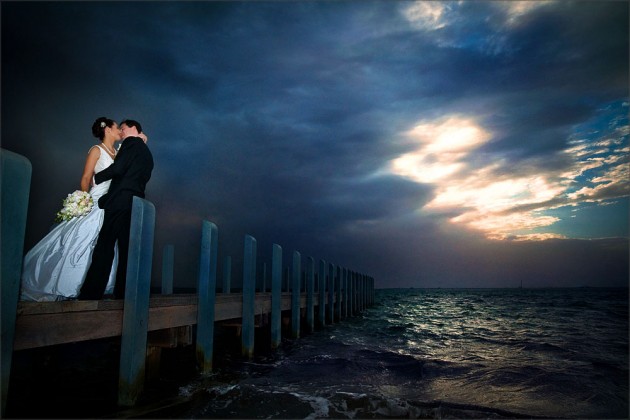 In our 22 years of experience capturing  weddings, we continue to be inspired by what many photographers refer to as the 'golden period' of the day. The spectacular range of colours that harmonise in the sky during the beginning and end of each day, provide much more than a gorgeous backdrop for your wedding day photographs, the light which emulates as the sun gently meets the horizon is as fleeting as it is beautiful. Good planning and good timing on the is the key to catching those very best moments. If you're planning a early morning location shoot, or an evening reception, why not take advantage of this natural phenomenon — the daily ritual where the sun transforms the pattens of foliage into richly etched patterns or descends to kiss the sea?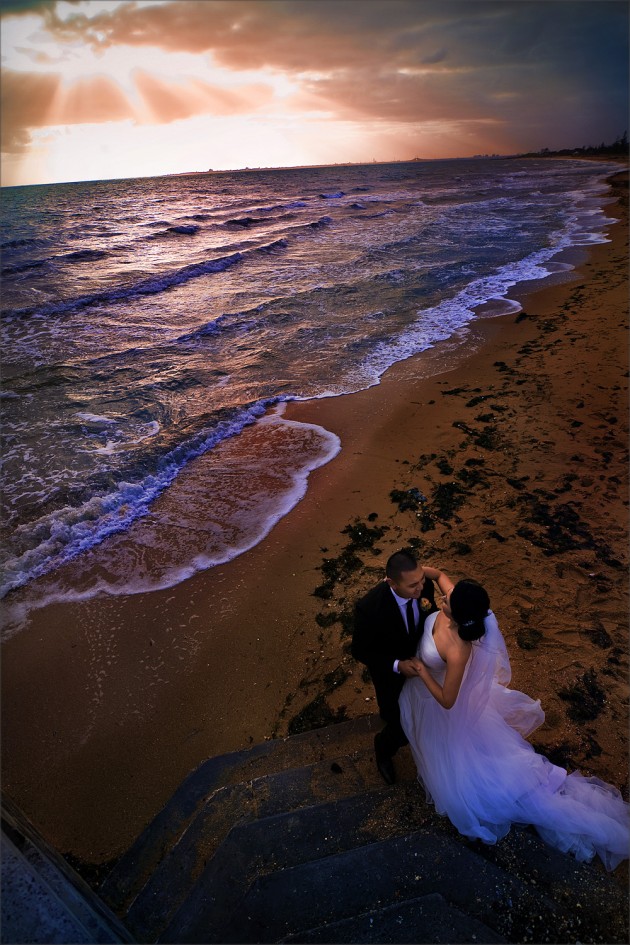 Colour, striped, washed in orange to pink and beyond or in soft wisps; we long been seduced by the incredible tones and rich light which is cast during these windows of time. At Serendipity Photography we consider sunset the perfect time to capture exquisitely romantic wedding day photographs. While sunrises and sunsets become iconic for their overwhelming beauty, like each new day and the individuality of every wedding, each sunset and sunrise is entirely distinct. From the soft pink which rises to meet the fading stars of morning light, to the vibrancy of yellows, oranges and even purples during twilight, the glow which fills the sky provides a breathtaking range of options for wedding day photography. Bask under the ambient light which gives complexions a subtle rosiness, or feel enchanted by the silhouettes which are beautifully achieved against the changing sky.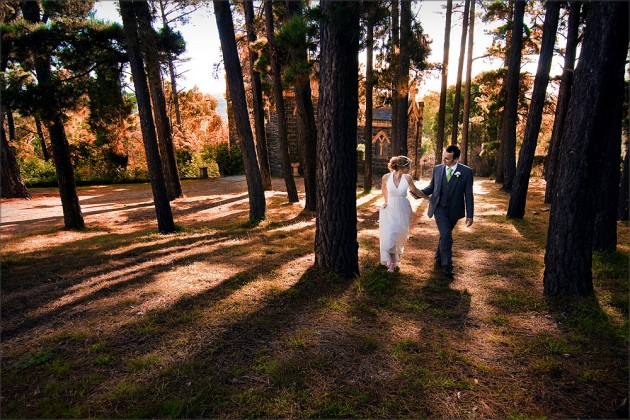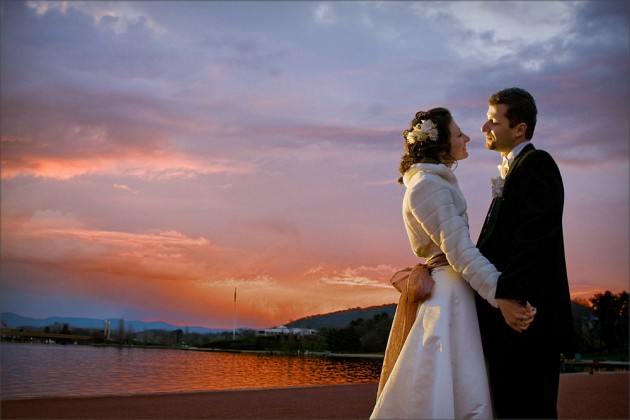 New Time and Weather Page
We would love you to visit Serendipity's page on wedding timing information. We have put together collection of useful website links to help you optimise the timing and light direction and quality in planning your photography locations your wedding day. 
These include:
sunset timing
travel timing,
sunset rate of change
long range forcasting 
detailed weather information. 
Location planning might seem a little bit complicated at first, but remember we have only shot over 2000 weddings at all parts of the year and types of weather (!) so there is plenty of experience in helping you craft the perfect wedding photography location schedule. Serendipity hopes this information and the links help you to find the perfect spots for romance and fun.
What about the possibility of rain?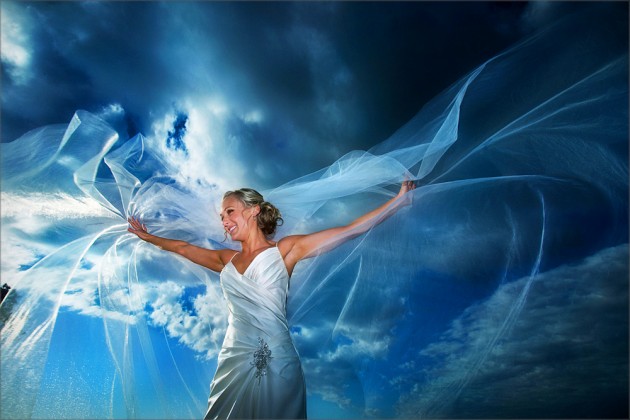 Even if the light dims and the rain falls, don't worry — some of our most famous and well loved images come from the most difficult of days. Chrissy braved one of the worst days in ten years for this stunning image with her arms outstretched against the rain. It was shot in a brief 5 minute window of sunlight (with water still descending) on a wildly wet and cold day!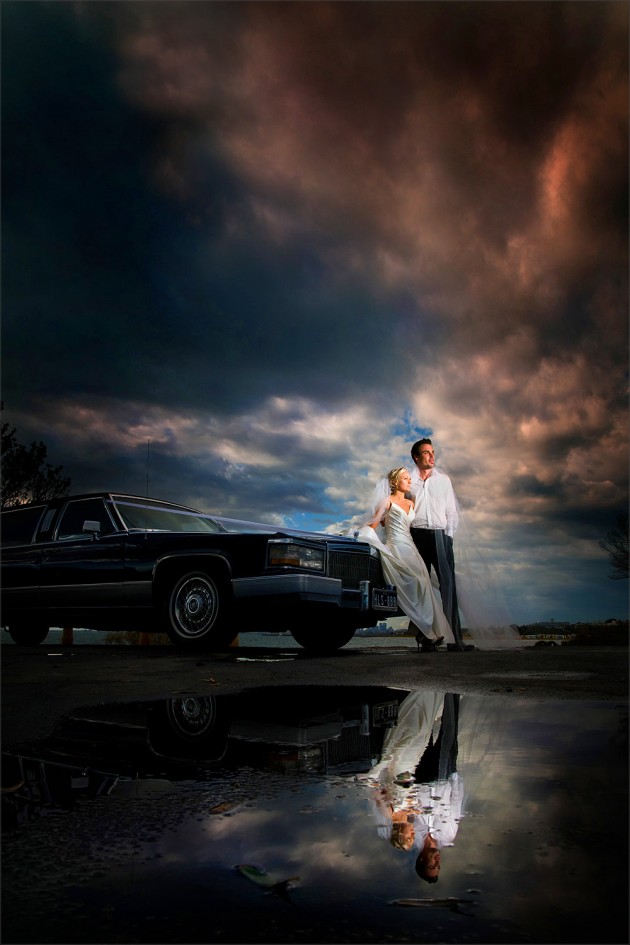 Winter is the perfect season for spectacular photography award winning images, and we have the lighting gear and the experience to bring you brilliant results even on the worst days imaginable! We were able to catch some wonderful pics just before giant drops of water crashed out of those spectacular clouds. Our thanks to Denisa and Harry for staying with the photography, allowing a 4th placed International Award ISPWP category win.