Advice for Grooms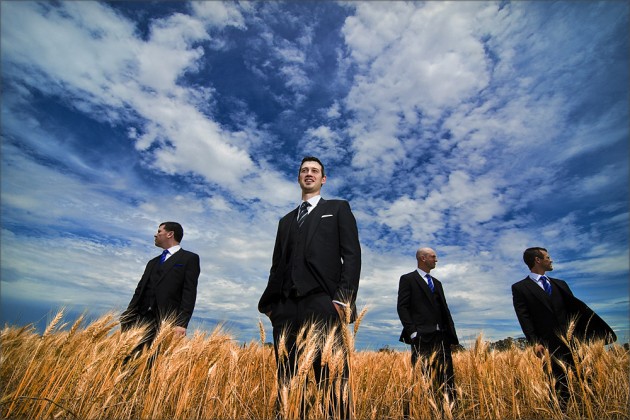 Many Hollywood 'rom-coms' depict the wedding planning process as the domain of the bride-to-be, and whilst it may be true that the bride plays a major role in the wedding preparation, we at Serendipity Wedding Photography appreciate the important input the 'other half'- the groom — can have. A little research beforehand can be invaluable, turning stressful decisions into enjoyable ones and allowing all components of your big day to unfold smoothly. As the big day approaches it's worth remembering that the best experiences are experiences shared, your groomsmen aren't just handsome face or paintball partners, they are meant to take some of the load too. To inspire you in this groom focused page we have collated a selection of tips and advice for the groom, ranging from fitting the suit, to choosing wedding day transport, to the groom's speech.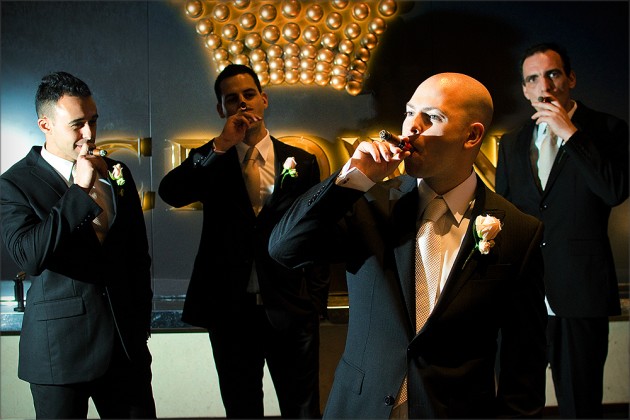 Before the Day
Serendipity recommends making a list of the tasks to do before the big day, this will help you to stay organised and focused, be of great support to your bride and very importantly — allow the planning period to be as straightforward and enjoyable as possible.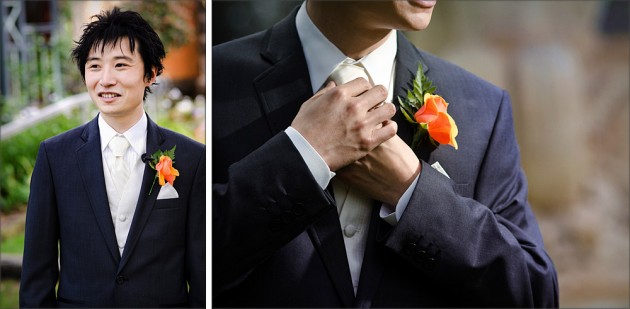 One month before: This is the best time to collect your pre purchased rings and arrange engraving if required. Also during this time it's good to decide on the order of the speeches and finalise reception details and timing. Reconfirm your suppliers and take the time to attend planning meetings with celebrant or priest, photographer, videographer and reception. If you have started receiving any wedding gifts, you and your bride can begin to write thank you notes.

One week before: This is the perfect time to finalise travel details for the honeymoon and take care of those inevitable last minute phone calls. If you're planning a honeymoon, it's worth attempting a little extra organisation and packing your bags early on, this allows enough time to shop around for any forgotten items (preventing wedding night panic!) Serendipity Photography photo tip! Make sure you have enough memory card for your camera. There is nothing more annoying than wasting precious holiday time trying to buy more card for all those shots of your luxurious honeymoon accommodation, fabulous landscapes and special momentoes of your trip. It's worth not leaving it till you get to the airport shops! Serendipity recommends purchasing the smaller 8G or 16G cards to allow plenty of space and security for those unforgettable holiday memories.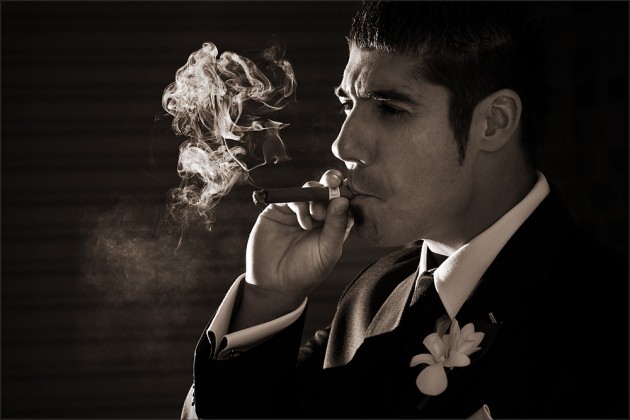 There are an array of grooming techniques you can employ to improve confidence and posture for the wedding day. Although it sounds cheesy: look in the mirror, check yourself out, and practice different poses and facial expressions; this is a great way of learning your best angles. Whilst lifestyle and fitness regimes of course vary from groom to groom, why not consider stepping up your gym time, or even looking into a personal trainer? Greater fitness will not only heighten the look of your suit, but it will improve stamina, helping you remain alert and focused throughout the entire wedding day. The time before the wedding is also an opportunity for both bride and groom to consider dance classes, which is a fun way to perfect your first dance routine.

Whilst the groom doesn't undergo the detailed makeup routine the bride is treated to on the wedding day, there are still some masculine friendly ways to pamper your skin, ensuring you look your best on the big day and in wedding day photography. A good haircut is one of the best accessories. Serendipity recommend getting a haircut a few weeks before the day. This allows the new style time to settle in, leaving you looking natural and sophisticated. Modern times mean it is quite common now for men of many ages and lifestyles to follow simple skin-care routines. Washing your face at the end of each day and applying some light moisturiser takes seconds and is a great way to keep the natural glow that comes with having healthy happy skin. A few days before the wedding might be a perfect time to consider treating yourself to a massage, which is wonderful for smoothing out any little stresses and relaxing totally. The day before, consider your shaving program and shave in a manner such that you won't get a rash. If you have sensitive skin, shave the day before and use a moisturiser.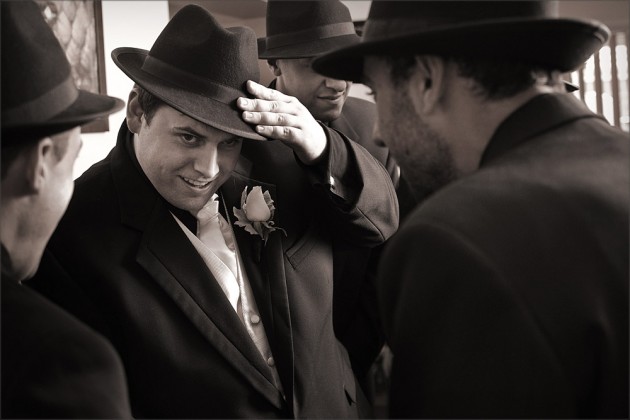 The night before is an opportunity to relax and unwind in preparation for the big day ahead. It is best to avoid unnecessary family stresses, or indulge in wild partying — Serendipity recommends staging the all important Buck's night well before the wedding. This will ensure you're not showing those telltale paintball bruises, or nursing the worlds worse hangover! A great alternative on the pre wedding night is having a quiet drink with your best man, or relaxing with a hot bath. The trick is to make sure you get an early night. The wedding day will provide ample opportunity for celebration, and you'll enjoy it so much more if you've had a good nights sleep, and are bright and alert, with plenty of energy to last you through the long but wonderful day.
Before you know it the wedding day will have arrived! After dressing and having some portraits with the wedding party, it will be time to travel to the ceremony. What should the groom bring on the day? There are a few necessities everyone would agree on, these include: a mobile phone, money and credit cards (huge wallets are best avoided so as not to disrupt the look of the suit) the rings, and perhaps a copy of your wedding speech. Serendipity suggest giving pocket items to the best man to look after, so that your own suit isn't weighed down bulkily.
Often the wedding day includes travel — to the ceremony, photographic locations and the reception — to counterbalance the long hours it's important the bridal party are equipped with snacks and liquids, so that energy levels don't fade away. The bridal party needs drinks—although its a celebration, plenty of non-alcoholic drinks should be available, particularly water, especially on hot days. To avoid that double golden arches look in some of the groomsmens' eyes, bring plenty of food. Lollies and muesli bars are good, as are sandwiches — providing they don't contain anything messy such as strips of carrot and beetroot slices. Chocolate should be completely banned from all wedding days, due to the prevalence of Murphy's law; brown spots are not sexy photographic details. If the reception is full of energetic dancing, most grooms will bring spare shirts, even underwear and socks.