Bridal Accessories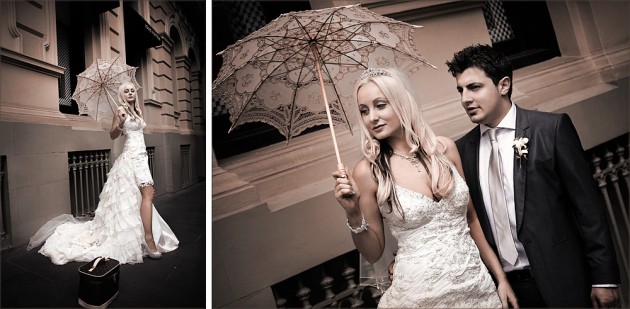 Once the big decision of choosing a dress has been achieved, it's the perfect time to find accessories that will subtly transform the look of your wedding gown to perfectly suit your individual style and wedding day theme. The famous line "something old, something new, something borrowed and something blue" is a great sentiment to consider when coördinating your bridal attire. As you were growing up you may have daydreamed about your future wedding, reflecting back over these memories will give you a good sense of your ultimate femininity. Did you imagine yourself as a ballerina, sweeping gracefully down the aisle in a tulle dress? Perhaps you have always seen yourself as a true romantic, meeting your groom at the alter in a classic white wedding dress, surrounded by abundant floral bouquets. Or your style might be more modern, with simple and sophisticated lines, a striking minimalist bouquet and a sleek hairstyle; the epitome of elegance. Before you start planning your wedding day outfit think about what accessories would best suit these looks.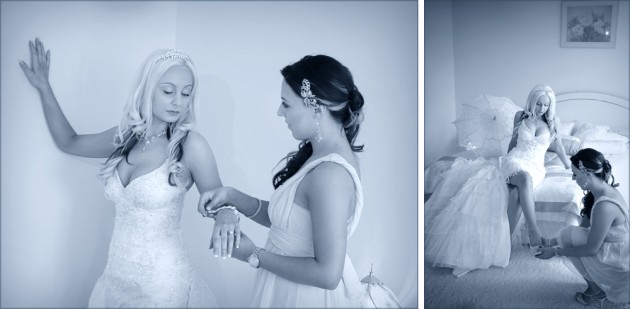 Shoes
The perfect pair of shoes are to the wedding gown as the bridesmaid is to the bride, providing a gorgeous harmony of colour, intricate aesthetic detail, a touch glamour and very importantly; support! When you begin looking for your wedding day shoes it can really valuable to reflect on your overall wedding day theme, and consider your individual style. Factors such as the length, style and colour of your gown, your height and build, as well as the location of your wedding celebrations, will be important when selecting your footwear. High heels have long been a popular option for brides, and they certainly have a myriad of benefits; instantly improving posture, accentuating the line of the legs and providing the perfect support for floor length skirts and sweeping trains.

Serendipity recommend choosing your shoes early on in the wedding planning process, that way you can have them on during dress fittings, ensuring any adjustments in gown length and volume perfectly suit the height of the shoe. It's possible to exactly match the colour and material of the shoes with that of the wedding dress. To save you the momentous task of trawling through each and every shop in your city to find the perfect match (this can be like trying to fins a needle in a haystack!) If you're planning to get your shoes custom made, why not order an extra length of your wedding dress material which can cover the shoes. Another option is getting in contact with a designer or company who is able to dye the shoe to the exact tonal specifications. Of course you may not want your shoes and dress to match, and a contrasting effect sounds much more desirable.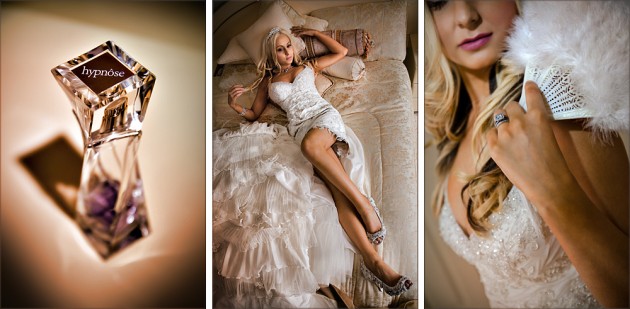 If you've opted for a white or pale ivory gown, a pair of shoes in a vibrant complementary colour can add a distinctive flair to your wedding day attire and provide a striking feature in wedding day photography. Looking for inspiration beyond your dress, such as matching your shoes to a flower in the bouquet or to the colour of bridesmaids dress can create a beautiful overall harmony. Accessories are full of subtle power.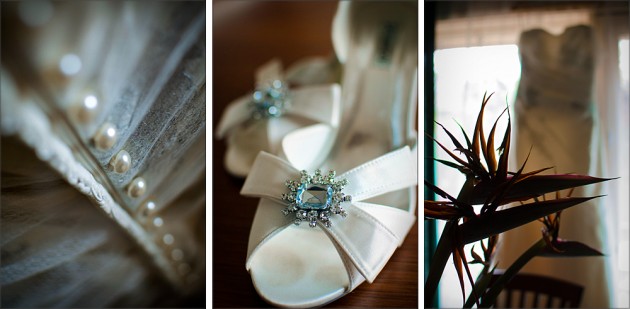 Jewellery
After you have chosen your dress, found the perfect shoes to match, and have a clear vision about your wedding day makeup and hairstyle, what better way to put the finishing touches on your wedding day ensemble than with some special pieces of jewellery. It can be really helpful to think about the overall theme of your wedding: classic or rustic? Romantic or contemporary? The role of jewellery is to work harmoniously with the wedding gown, so if your dress includes elaborate beading or fine lacework, keep the jewellery more simple. Coco Chanel once said "Before you leave the house, look in the mirror and remove one accessory." This advice still applies today, for you don't want to lose sight of your own natural sparkle by overdoing accessories!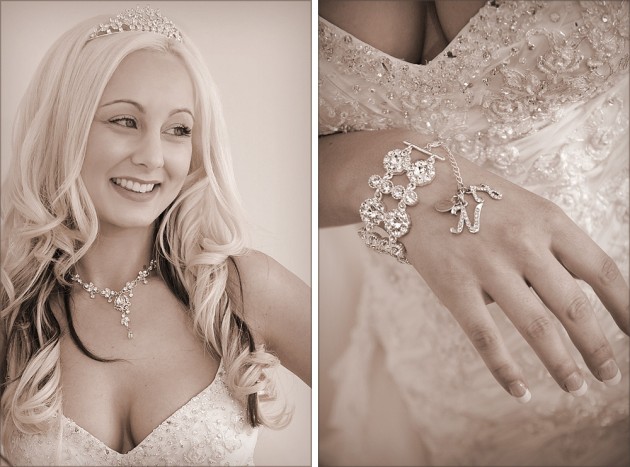 Think of your dress as the main guide when selecting the jewellery. It may help to bring possibilities in to a dress fitting, see how pieces look in the mirror, and perhaps even ask if you can take a photograph for later reference. A good tip is to match the beading of the dress with that of the jewelry, if your bodice features crystals then choose jewellery with crystals and so on. Also keep in mind the colour and tone of your dress; ivory and cream shaded gowns work best with gold-tones, whilst silver and white pearl jewelry are the perfect complement for traditional white dresses. It is also wise to mirror the necklace with the neckline of the dress. Symmetry is always flattering. If you've chosen a V shaped or sweet heart neckline, then a V-shaped necklace that comes down to a drop would be a gorgeous match. Dresses with higher necklines are often a striking feature in their own right, so as a beautiful complement consider some chandelier earrings, or add some glamour with a unique head-piece or tiara.  A well chosen piece of jewellery can increase the wow factor of your dress, or stand out as a exquisite detail in its own right.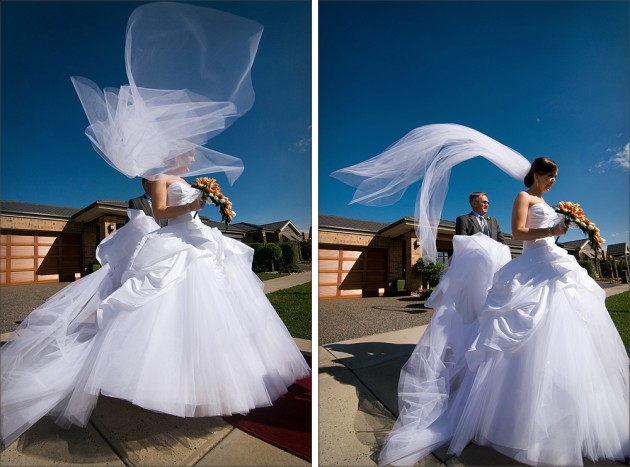 Veils and Headpieces
One of the exciting things about being a bride is the chance to wear a veil. Veils can be both beautiful and fun, and create a sense of delicious drama and femininity.
Photographers love veils—at Serendipity we use veils in lots of imaginative ways to create exciting and beautiful bridal photos: Picture yourself in the dress of your dreams, with your veil flying up into a blue sky, or draped softly, setting off your face as it flows to creating a slender silhouette.
For most brides, because your wedding gown is the centre-piece, the simplest veil is often best. Keep in mind that it's often preferable to have as light as possible a veil, for its soaring and floating qualities. Follow the link here to our accompanying page dedicated to the veil!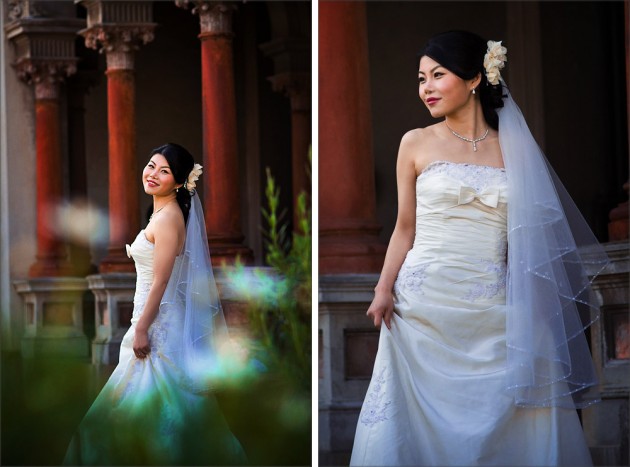 Wedding headpieces have become a sought after option for brides. Whilst some more elaborate designs can serve as a striking alternative to the traditional veil, the variety of styles and intricate aesthetics of headpieces mean they can also provide a stunning complement to the bridal veil. Serendipity recommend as well as looking for inspiration in bridal magazines and specialty stores, it's worth booking in a consultation with your hairdresser, who will be able to provide professional advice and create a unique style to suit your hair length. Whether you choose a tiara or a floral detail, a wedding headpiece is an elegant way to bring a sense of regality and sophistication to your overall look. The final touch fit for a princess!

Each detail from the shoes, the floral bouquet, unique objects such as a fan or beading, right down to the jewellery you select — perhaps a sparkling tiara or a precious ring, will help to beautifully complement your wedding dress and provide uniquely stunning details and eye-catching features on your wedding day photography.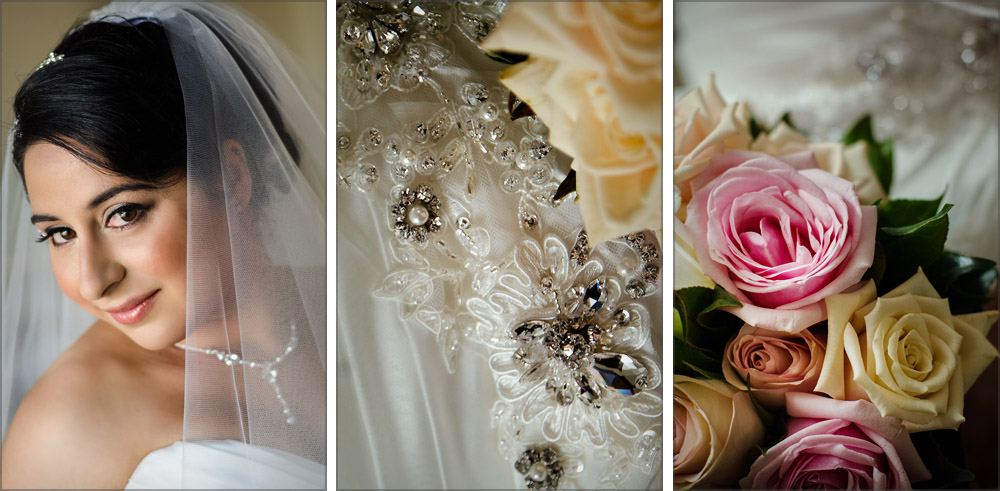 Planning your look can seem overwhelming, but there are ways to make it less of a challenge. You can try collecting looks from magazine clippings, on pinterest or even through taking pictures on your mobile phone.

Serendipity Photography love the beautiful way accessories highlight –and in many cases complete — the look of your wedding gown. Whether your style is classic, modern with a touch of elegance or dramatically glamourous, details such as a subtle pair of earrings, a unique necklace or a pair of truly eye catching shoes are the perfect way to bring out your personality, complement your dress and provide fine details in your wedding day photography!