Brooch Bouquets
Picture a bouquet and what comes to mind? A posy of seasonal florals? Or maybe a collection of classic roses? Whatever your imagination conjurs up, it's likely the composition will include some sweet smelling flowers! At Serendipity Photography, whilst we love the tradition and beautiful aesthetics of floral bouquets, we are also very excited by a unique alternative to the classic bouquet: the innovative Brooch Bouquet.
This beautiful new trend — pioneered by floral designer and stylist Amanda Jane — is receiving attention from all facets of the wedding world, offering a stunning visual accessory, as well as providing a life long memento for the bride.
Rather than flowers, brooch bouquets are made up of a variety of objects which hold special meaning to the bride and her family. Almost anything can be used to inspire the design; the objects will vary according to the bride and her personal style. Trinkets and treasures such as earrings, vintage dress buttons, pieces of lace, pearl strands, lockets, a love letter, rings, a charm bracelet, old badges or a special brooch, are just some of the unique objects which could make up your Brooch Bouquet, really the only limit is your imagination!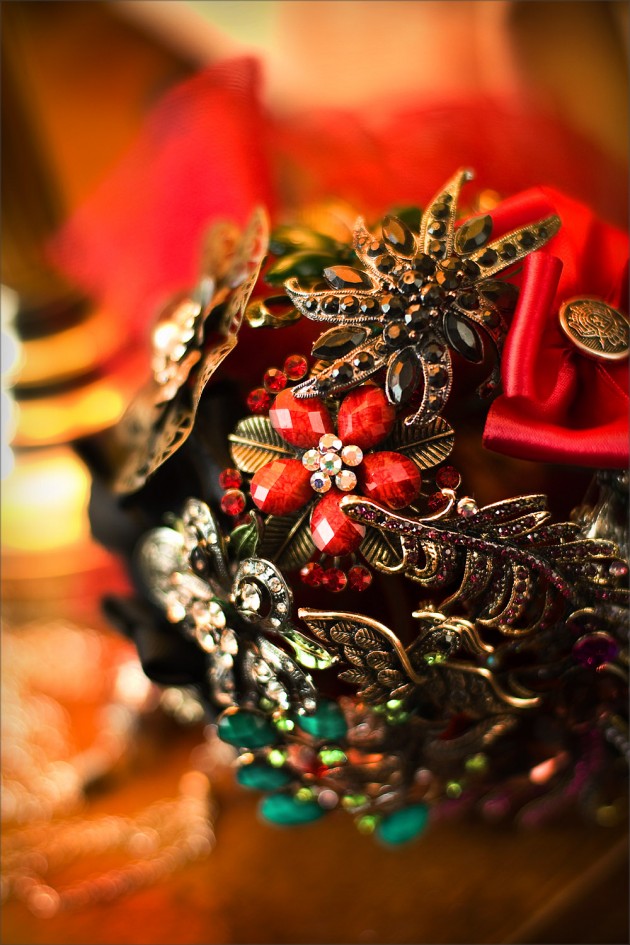 The shape and size of your Brooch Bouquet will vary depending on a number of factors, including wedding theme, budget and style. A good general starting point is to collect between fifty to sixty pieces for your bouquet. Remembering that variations in size, colour and sparkle factor are a good thing! As this will help to create the most interesting final pieces. Once you have gathered together all of your intended objects (this process in itself is very special, sure to bring a tear or two!), they are passed on to your bouquet designer who will delicately construct the final design. The result? A custom designed, hand made bouquet, which doubles as a work of art! Serendipity can see why this popular new alternative has become such a phenomena; the finished product is absolutely stunning, and unique every-time. Brooch Bouquets are both visually and emotionally everlasting. At Serendipity we recommend paring them with simple, matching accessories, such as pearl earrings and a long, beautiful veil.
See Bride Samantha go through the process of creating a Brooch Bouquet in her blog post.
Follow the link here to Amanda Jane Brooch Bouquets main blog for more enchanting inspiration!