Bridal Preparation

Regardless of how much time you have to plan and prepare for your wedding, there are things you can do to bring you that extra sense of confidence, and help you look wonderful. At Serendipity we spend time with you at your pre wedding meeting, where we discuss you preferred photography styles, direction and the type of colours that appeal to you the most. As part of this meeting, we often go over directing with simple advice for the very best look and poise, explaining a few easy modelling tips that can help to give that extra bit of shape and polish on the day.

Make friends with the list! Creating (and updating) your list of the tasks to do before the big day will help you to stay organised and focused, delegate to bridesmaids and family or even a wedding planner, and very importantly — allow the planning period to be as straightforward and enjoyable as possible.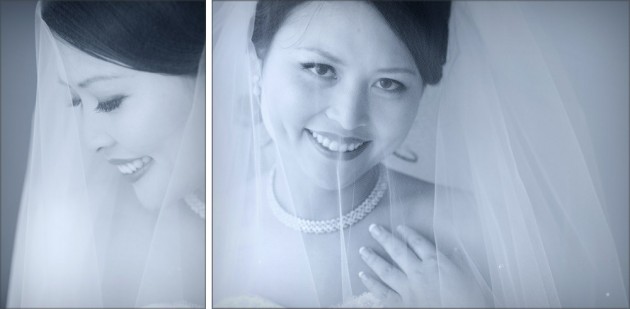 Now for your gown; although some brides "just know", it may take many weeks until you feel confident with your choice, so enlist help and start looking as soon as possible. At Serendipity we believe that it is worth going with good professional advice and choosing a dress that fits well and really suits you rather than just following the latest direction. Even if your dress is for one day it is for the day. You deserve to feel so special in your dress, alive, glowing; your dress should fit so that you look good and can move and breathe. Hand made and couture definitely offer that something more.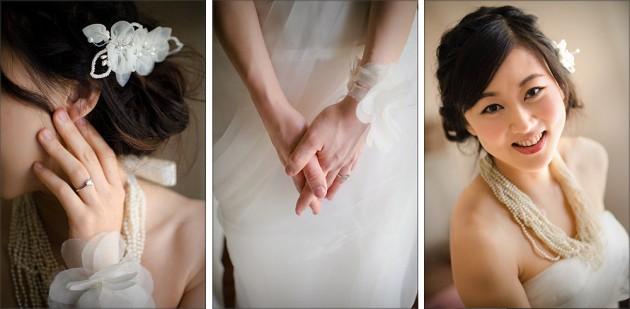 If you have been contemplating joining a gym or starting some yoga classes then now is the time. An exercise régime will have you looking and feeling great, especially when combined with a good diet and some time out from your usual routine. Consider having a massage or pampering yourself in some other way. A little relaxation can be extremely beneficial especially during this busy time.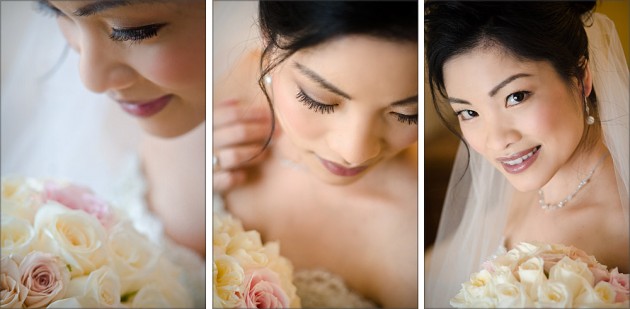 Before you know it the wedding day will have arrived! There will be lots to think about in the hours before the ceremony, you might be getting ready at your parents house or in a hotel room — where there will be plenty of last minute excitement, treasured family moments, sprays of perfume and the occasional panic that comes with getting glammed up for a wedding! Amidst all this action it's important to leave plenty of time for your own preparations, so that by the time the photographer arrives you're cool calm and collected, ready to begin your special day.

Confirm times with your hair and make up artist and chaffuer a few days before the wedding. When it comes to make up, booking in a consultation a few weeks before the big day is a great way to find a hair and make up style that you're comfortable with and looks beautiful — this will prevent creative experiments or tears on the day!  After dressing and having some portraits with the wedding party, it will be time to travel to the ceremony.

The morning of the wedding can be a busy and sometimes stressful time! Many brides choose to embrace their inner tranquility, treating themselves to a pampering session and getting ready for their day ahead at one of Melbourne's elegant selection of hotels and mansions. Follow the link here to see some of the beautiful photos from Melissa and Perryn's wedding day, which began in true luxury at the magnificent Butleigh Wootton. Utter sophistication!


A final checklist
Finalise your guest list and send out invitations at least 6–8 weeks before the day. Confirm your celebrant, and attend to service content and details. Now is the time to finalise honeymoon arrangements, and fill out your Notice to Marry– which must be done before one month before. Arrange accomodation for interstate or overseas guests.
Finalise bonbonnieres and cake choices.
Pick up your rings and arrange engraving if required. Decide on the order of the speeches and finalise reception details and timing. Attend planning meetings with celebrant or priest, photographer, videographer and reception.
Reconfirm your suppliers, start writing thank you notes as you receive presents.
If you're off on a romantic honeymoon remember to reconfirm your tickets 72 hours before your flight.
Pack your bags, have some beauty treatment and a day spa if possible, print or pick up tickets and arrange insurance. Check on the speeches and bridal party travel arrangements, planning and timing.
Finally, a couple of days before, lay out your dress, veil, shoes and other accessories. Remembering to have an early night and pamper yourself!

The night before is an opportunity to relax and unwind in preparation for the big day ahead. A great option on the pre wedding night is having a treating yourself to luxurious massage and a pampering facial, or relaxing with a hot bath. The trick is to make sure you get your beauty sleep. The wedding day will provide ample opportunity for celebration which you'll enjoy so much more if you've had a good nights sleep and feel bright and alert, with plenty of energy to last you through the long but wonderful day.