Information on Sunrise and Sunset Times and the Weather

Welcome to Serendipity's Page of Time, Light and Weather!
Time, light and weather play a huge role in every wedding day. To make sure you get some perfect photos of your big day, Serendipity has compiled a few handy hints and helpful wedding tips to help you ensure your wedding day goes off without a hitch. Whether rain or shine, it's important to be prepared for everything. Serendipity Photography loves shooting in all conditions, turning even a drab day into something spectacular. Using the light to full advantage, you can plan for breathtaking photographs all year round. This page is full of suggestions to help you get some photos you'll love forever. 
With Serendipity we work with you to bring the very best of time to seasonal light, even on difficult rainy days. One of Serendipity's advantages in spectacular photographs is our use of a rotating flash– a little like bringing your own sunlight!
Time and Weather — Serendipity Photography on the light!!
Good planning is essential for maximising the beauty of the light and sky, major sources of beauty in your wedding portfolio. Working from your overall theme and stylistic choices think through your preferences for look and colour in order to help optimise photographic location planning and schedule.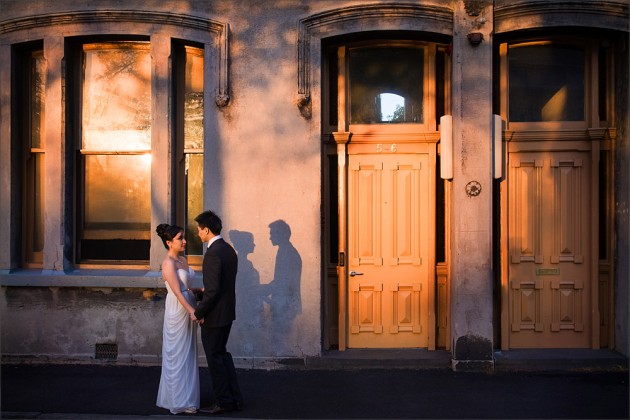 As they say "timing is everything", and this is especially true when it comes to maximising to potential of natural light. Throughout the year light can change dramatically and it's important to consider this variety when planning your wedding. On a warm summers day you're likely to get clear blue skies and bright dazzling lights. During winter the light is softer, glowing through the clouds. Winter is perfect for spectacular sunsets. With the sun setting earlier than in the warmer months, winter is great for vivid images with striking golden hues. The softer light of the cooler months offers softer light reminiscent of the illuminated european studios of the renaissance. With light glowing through the window this time of year is evocative of romantic times gone by.
Serendipity has gathered a selection of useful websites to help you optimise the timing of the locations your wedding day, particularly in helping being able to catch that magic moment  of sunset.

Sunset times and rate of change
January:
sunrise time     1/1 = 6:01am     31/1 = 6.32am
sunset time     1/1 = 8:45pm     31/1 = 8:34pm
February:
sunrise time     1/2 = 6:33am     29/2 = 7:04am
sunset time     1/2 = 8:34pm     29/2 = 8:01pm
March:
sunrise time     1/3 = 7:05am      31/3 = 7:33am
sunset time     1/3 = 8:00pm     31/3= 7:15pm
Daylight Saving Time ends on Sunday, 6 April 2014 at 3:00 AM
April:
sunrise time     1/4 = 6:34am     30/4 = 7:00am
sunset time     1/4 = 6:13pm     30/4 = 5:34pm
May:
sunrise time     1/5 = 7:01am      31/5 = 7:26am
sunset time     1/5 = 5:33pm     31/5 = 5:10pm
June:
sunrise time     1/6 = 7:27am      30/6 = 7:37am
sunset time     1/6 = 5:09pm      30/6 = 5:11pm
July:
sunrise time     1/7 = 7:36am      31/7= 7:21am
sunset time     1/7 = 5:12pm      31/7 = 5:32pm
August:
sunrise time     1/8 = 7:20am      31/8 = 6:43am
sunset time     1/8 = 5:33pm      31/8 = 5:58pm
September:
sunrise time     1/9 = 6:42am     30/9 = 5:57am
sunset time     1/9 5:59pm     30/9 = 6:24pm
Daylight Saving Time starts on Sunday, 5 October 2014 at 2:00 AM
October:
sunrise time     1/10 = 5:56am     31/10 = 6:14am
sunset time     1/10     6:24pm 31/10 7:54pm
November:
sunrise time      1/11 = 6:13am     30/11 5:52am
sunset time     1/11     7:55pm 30/11 8:26pm
December:
sunrise time     1/12 = 5:52am     31/12 = 6:01am
sunset time     1/12 8:27pm     31/12 8:45pm
For accurate readings of dusk, dawn and twilight times specific to your local area and season, try this excellent website: sunset and sunrise calendar . It also covers other calendar information such as moon path and phases, and some travel and time information as well.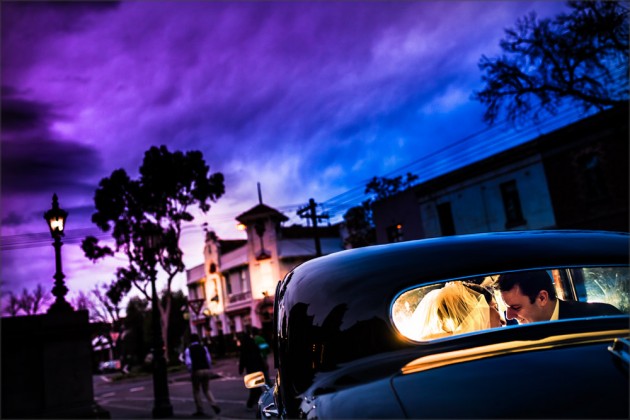 Try this interesting website for a full list of sunrise and sunset times for the local Melbourne area. The Planetarium website offers an extensive rundown of dawn and dusk times, as well as dates for moon and other planets visibilty.
Another option is this online weather report, which provides detailed information on temperature, rainfall, sun position, wind and visibility for different times of the day.
This website allows you to calculate sunrise and sunset time rate of change on a forward basis as well as sunrise and sunset times for the year ahead.
And for something a little bit different this fabulous website offers tips on photographing sunsets, although we Serendipity will be taking care of that on the day! It's sometimes helpful to consider all components of chasing, finding and capturing the perfect sunset.

Predicting the weather
Weather prediction is an important and temperamental art. It's vital that you are prepared for whatever weather your big day throws at you. The most important thing to remember when it comes to planning for weather is to be flexible. Choosing appropriate locations for any condition is ideal, and Melbourne has an abundance of accommodating spots to suit your individual taste.
To take full advantage of changing weather conditions timing is the key. In order to ensure your day passes smoothly a good weather forecast is ideal. If you're after a reliable weather forecaster for Melbourne, follow the link to this 10 day weather forecast.
For a nation wide look at long and short term weather patterns The Bureau of Meteorology offers an abundance of information on daily weather, predicted rainfall, and seasonal outlooks.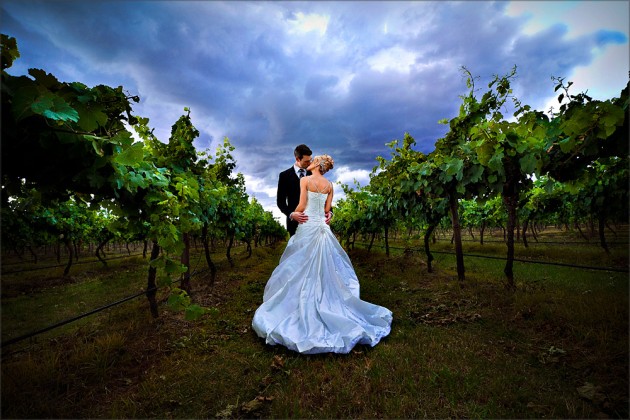 Of all the locations to set your gorgeous sunset photographs, the beach must be one of the most iconic. The  colours reflected in the water, the atmospheric fragmentation of light as waves break gently on the shore, the subtle breeze which caresses the wild grass of the foreshore and the bride's veil, are all heightened as the sun sets over the expansive sky. You will feel as though you have taken a step back in time, as the gorgeous panoramic view of the sky (unobstructed by tall buildings and telephone cables) is a heavenly feature of beach side locations. It's important to note that beach weddings and water front vistas can look and feel quite different with different tides. Follow the link here for tide information.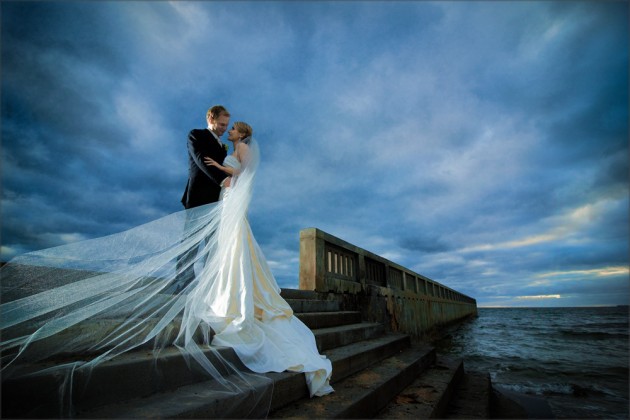 Kerford Road Pier, is the perfect location for some brilliant light and views of the bay in any weather. The bright blue sky will gleam on a warm summers day, bouncing rays off the glittering water below. In winter, with its shorter days and earlier sunsets, the pier is a great spot to capture the dazzling reds and golden hues of the disappearing sun. One of the best things about a winter wedding is the spectacular setting sun. The earlier and longer sunset of a winter day means that we can capture breathtaking views in a relaxed and flexible atmosphere.
Serendipity hopes this information enables you to get the most out of your very special day, whilst we can't control the weather, we can certainly make the most of all of the light and weather on your day! Whether you prefer an invigorating winter sunrise or a stunning summer sunset, the dedicated team at Serendipity promise to highlight the romance and beauty of every moment against one of the most gorgeous of natural backdrops, that you can find by just following the horizon!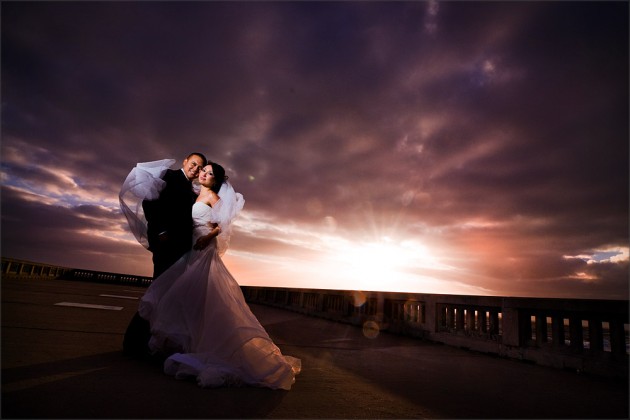 For more general information on wedding day planning, have a look at Serendipity's page on wedding tips, which should help your day get off to the smoothest of starts, through gleaning some valuable advice from a wedding photography perspective.
Serendipity's tips for wet weather

Rain is just a part of life, maybe even on your wedding day. Don't let wet weather scare you though, some of the best photographs are taken during a light summer shower, or dramatic thunderstorm. With rays of light shining through the swirling dark clouds above you can achieve some truly emotional and beautiful images. Using contrasting light and shade we can turn even the most disastrous wet weather into something special and unique. In the aftermath of heavy rain stone shimmers gloriously and gardens seem to glow. At Serendipity we adore the vibrant tones and brilliant textures that blossom throughout Melbourne after a downpour.
It's important to be prepared for wet weather any time of year, and Melbourne has a wide variety of locations that are great in case of rain! Arcades provide shelter and inspiring architecture in wet conditions. Both in the city centre and suburbs, there are some wonderful arcades on offer. Block Arcade and Kings Arcade are great examples of superb wet weather locations, transporting visitors back in time with intricate detailing and glass ceilings that let light flood through even on the darkest of days.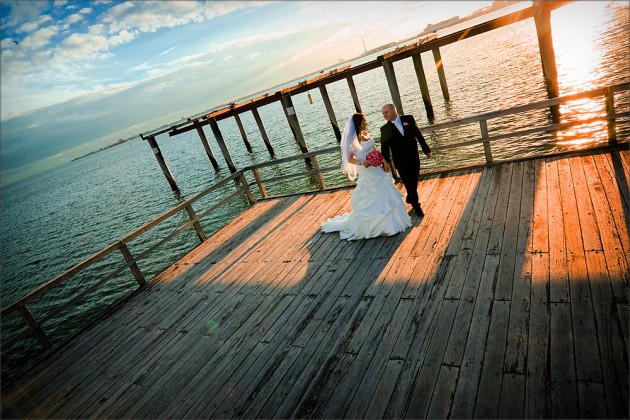 Don't let rain put you off your dream of a garden wedding photos! Billilla Mansion, Kamesburgh Gardens, Carlton Gardens and the Royal Exhibition Building all provide stunning examples of old English garden design, with lush green lawns, brightly coloured flowerbeds and startling period fountains. After rain these gardens sparkle, with dew drops rolling across leaves, and flowers coming back to life. The hues of a garden in the light of a sun shower is really something to behold. These locations all provide ample shelter too, enabling us to take dramatic photographs with the glistening garden offering the perfect backdrop, while you stay warm and dry underneath a pergola or veranda.
To avoid disappointment Serendipity has some wet weather tips to ensure your wedding day goes off without a hitch. It's really important to plan for all conditions, and if you would like some more ideas about wet weather options go to this link for more information.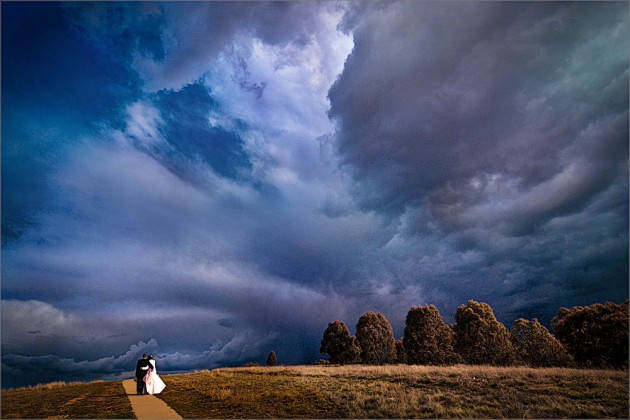 Winter Weddings With Serendipity!
If you're planning a winter wedding, location is one the biggest things to consider. On a cold wet day there is nothing better than a warm and cosy setting with a fire, candles, a comfortable atmosphere and rich food and wine. For more ideas about the perfect winter wedding locations, go to our winter weddings page.
Have a look at some of Serendipity's favourite winter wedding destinations for some great tips. Melbourne's CBD is home to some truly fantastic wedding photography locations. Whether you're interested in classic style or a contemporary look there is an abundance of magical locations on offer in the city. For grandeur and glamour some of these locations are hard to go past. GPO, Parliament House, Old Treasury Building, and Fitzroy Town Hall, provide picturesque backdrops in all conditions, with towering columns, renaissance elegance and architecture reminiscent of the classical Roman era. If you're looking for something a bit more modern and distinctive Crown Casino, Docklands and the National Gallery of Victoria offer striking lines, a great sense of scale and convenient positioning in case of bad weather.
Winter street scapes are very romantic and Melbourne's brilliant period architecture offers a fantastic bundle of beautiful photography locations. Hotel Windsor, Collins Street, Scots Church, PrincessTheatre and the Regent Theatre all provide amazing backdrops for wedding photography from the footpath. With attractive angles and striking tonal variations, street views are great for European romance in the middle of a Melbourne winter.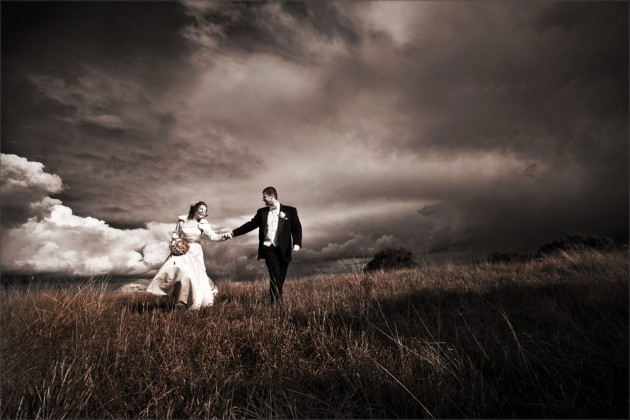 Also perfect for winter wedding locations, with enough shelter in stormy weather and majestic styling fit for royalty, are the St Kilda Town Hall and Malvern Town Hall. These monumental buildings, with their dignity and design, frame photographs perfectly. The stone steps glisten after a heavy rain, making couples glow and giving photographs a magical atmosphere.