Wedding Preshoots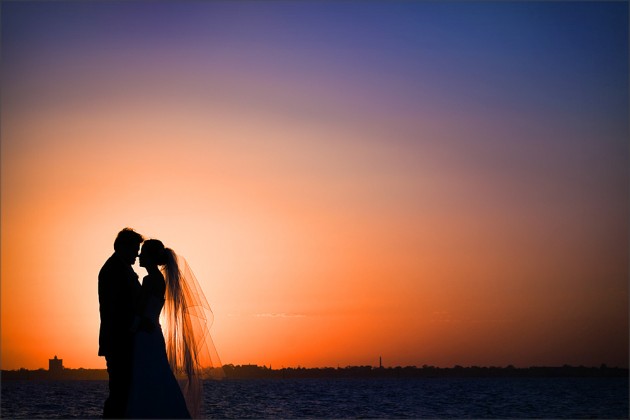 Wedding preshoots have become a vibrant and popular way to add diversity to wedding day albums.  There are a variety of advantages for the bride and groom when opting choose the wedding preshoot option for reasons including: extending their selection of locations, honouring cultural traditions and adding a touch of extra glamour and intimacy to their wedding day portraits. Serendipity Photography have over 20 years of experience capturing a beautiful variety of distinct cultural and religious practices, so we are able professional and flexible suggestions and advice to perfectly suit your wedding style.

Cultural Traditions
The practical tradition of the wedding preshoot has roots in several historic customs. For example In many parts of Asia wedding celebrations take place over several days, thus it is quite typical for wedding photography to be spread over a period of a week or longer. This allows for different dress or traditional costumes, the capturing of specific functions such as tea ceremonies, and the inclusion of geographically scattered friends and families within the photographs. Many Asian cultures have encompassed the preshoot tradition, as it allows for the main wedding day to be primarily about family celebration, letting bride and groom focus on the ceremony without the chaos of traveling to alternate photographic locations.
Couples can add exciting contrast and textures to their wedding album by juxtaposing full traditional dress front of classically European Melbournian architecture, highlighting the integration of a colourful, exuberant culture into the historical.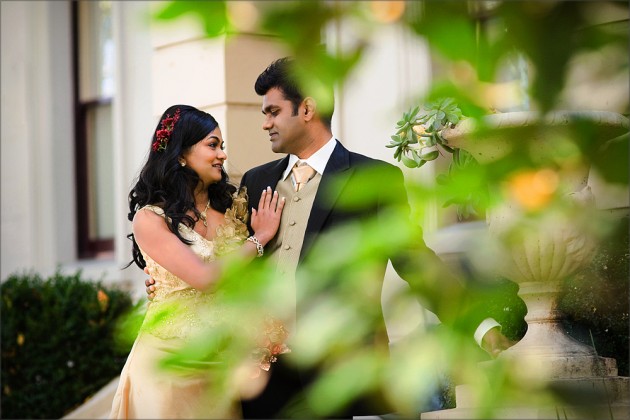 With large communities now establishing traditional temples and venues for religious ceremonies, there is no better way to bring your guests back to your home country, then to surround them with the splendour of a traditional venue, decorated in vibrant colour and extravagant detail. A preshoot is a fantastic way to accommodate and further acknowledge interstate guests, through incorporating customs as well as traveling to locations there simply may not be enough time to cover on the wedding day.
It's exciting and interesting to be able to find inspiration in the practices of other cultural traditions. At Serendipity we consider that the preshoot is a worthwhile option for western ceremonies that require a tailor made plan, or are unconventional in structure. We at Serendipity are happy to discuss with the possibility of a wedding preshoot for western ceremonies, particularly if there special conditions such as international guests, or a far removed location.
At Serendipity we love capturing all the the intricacy and richness of your unique cultural traditions and really enjoy highlighting the splendour of cultural traditions and sumptuous details.

The Weather
One of the major benefits of the preshoot is that it allows couples the added flexibility of picking and choosing a day that will encompass the qualities and details that best suit them. It would sometimes be very handy if we could control the weather! Until that day arrives, the increased flexibility the preshoot offers is definitely the next best thing. Fine details such as weather conditions, chance of rain, visibility and temperature are impossible to predict with complete accuracy, especially in Melbourne! The great news is that unlike the wedding day where the booked venues and guest list makes it impractical to shift at the last minute, with the preshoot there is greater control of type of location, light, and the flexibility of swapping to another fine day if the shoot is rained out. Serendipity Photography are happy to discuss options with you.
Good planning is essential for maximising the beauty of the light and sky, which provide major sources of beauty in your wedding day album. Have a look at Serendipity's main page on Weather Information for Melbourne for more inspiration! As many reception celebrations kick off in the early evening, Sunsets can sometimes be hard to catch. A preshoot is a great way to ensure those beautiful harmonies of light and vibrant colour in the setting sky are featured in your wedding album.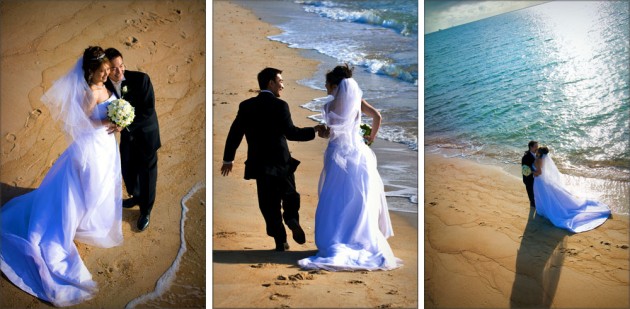 Locations
There are many advantages to the wedding preshoot option. For couples who have chosen to celebrate their special day during the cooler, yet highly sophisticated winter months, scheduling a preshoot day 3 or 6 months before the day can ensure the presence of details such as seasonal florals or the dappled light cast by a grand leafy tree. If you imagine your wedding day album as an opportunity for a suite of harmonising background colours, textures and architecture, having some fine contrasting details such as lush greenery, a special location (such as the café where you had your first date) and the option of different outfits, will beautifully heighten both the image and narrative quality of your wedding album.

Preshoots improve the fit of photography to the wedding theme and style, allowing for many more options, including more adventurous locations! One great advantage is being able to choose locations which are not necessarily close by to the ceremony or reception locations. For couples who are holding their wedding celebrations in the Dandenong Ranges for example, capitalising on wedding photography a week earlier would allow bride and groom to travel to Bayside locations which wouldn't otherwise be possible on the wedding day. Allowing for a wedding album containing both sunsets and mountain vistas!
The Dress & Accessories
Capturing wedding photos a few days before the main event is a great way to work in additional details that may prove a logistical hurdle on the big day!  Choosing is never easy, why not make this stress disappear? Perhaps you've got your heart set on two different necklaces, that simply MUST be a feature in your wedding day photography. The added luxury of extra time on your wedding preshoot day makes it easy and practical to try on a selection of different outfits and mix and match accessories. and If the grooms beloved car is an important feature of the album, then planning a shoot the week before the wedding could eliminate any potential political issues such as the best — man wanting to drive the vehicle!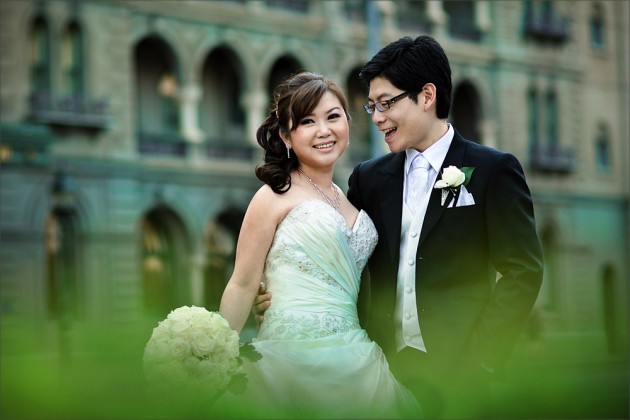 The wedding preshoot can be a fantastic chance for the bride to extend her wedding wardrobe. Many brides use the wedding preshoot as an opportunity to have fun with fashion, perhaps posing in a uniquely cut gown or styling a selection of vibrant coloured dresses, which will add beautiful harmony and striking details to the overall look of the wedding album. Once your dress (or multiples thereof!) have arrived it is possible to schedule a photography session days or weeks before the wedding day.
Portraits
Having a day exclusively for wedding photography allows bride and groom to really express themselves, independent of the bridal party, parents and relatives. On preshoots there aren't the distractions and lively atmosphere that often arises on the wedding day. Whilst the vibrant and celebratory tones of friends and family are an important component of many wedding days,  there is much to be said for the occasional quiet moment, after all the wedding day is about the bride and groom! A preshoot makes it possible to achieve more intimate and relaxed shots, enabling bride and groom to focus entirely on each other. With the intimate audience of just your wedding photographer it is infinitely easier for the pair to feel confident to experiment with different poses and styles and have fun with a photography experience that is just about you. The result? Beautifully authentic and natural wedding photography. Have a look at Serendipity Photography's main post on wedding preshoots for further inspiration!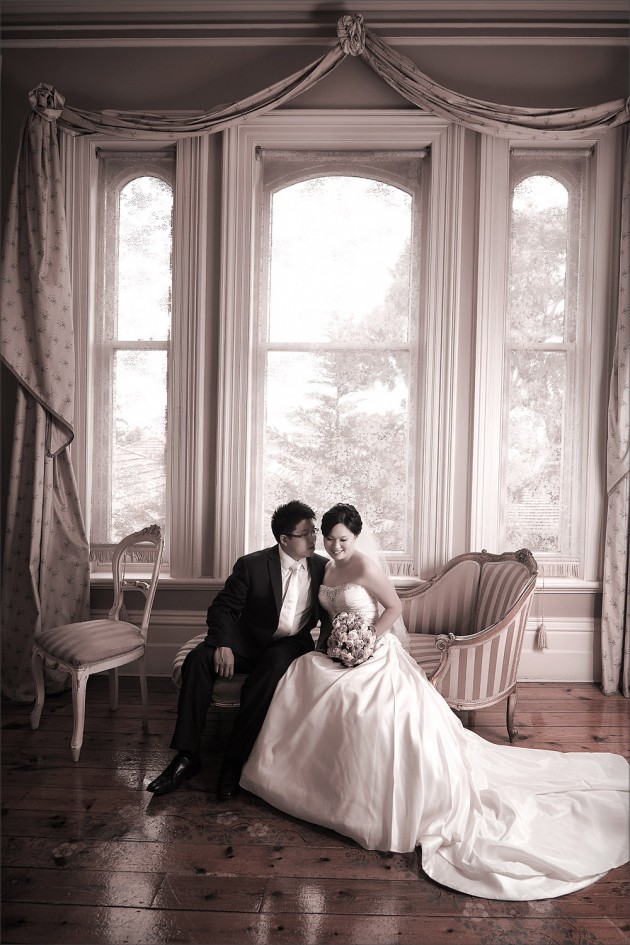 For specific tips and advice on wedding portraits for brides and grooms simply follow the links listed here to Serendipity's accompanying pages.