The Stylish 1950's
Vintage style has made an exciting impact on contemporary fashion and the wedding industry in recent years. Serendipity Photography love that so many brides and grooms are looking to historic era's — such as the popular 1950's — as a source of inspiration and visual emphasis when planning their wedding day. Unique vintage details can be created in many parts of the day; from the bride's gown, the fleet of classic cars outside the church, to the first dance, the possibilities are endless!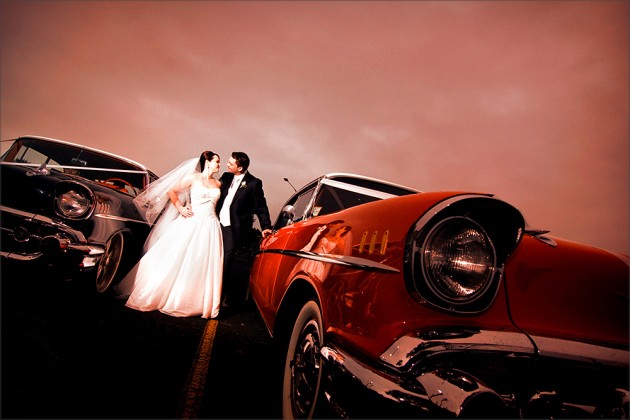 The 1950's in America was a time of great economic prosperity, technological breakthroughs and real excitement for what the future would hold. One of the best (and glamourous) examples of this monumental period lies in the range of classic cars produced during the decade. The continuing influence of the period's car production owes to both to the unprecedented demand and innovative design elements. The Fifties were a true boom time for the automotive industry; in America the number of cars doubled from 39 million to 74 million, and by 1960 the majority of families owned at least one car. These facts illustrate a real shift towards not just superior car functionality and accessibility, but the idea of the car as a luxury item and status symbol.

Today many people regard the imaginative and flamboyant cars that were produced throughout the second half of the 1950's — particularly design elements such as streamlined decorative fins and sparkling chrome accessories — as classic examples of automobile design, that in many ways have not been equaled since.
A fantastic way to add just a touch of vintage glamour to your wedding day, is through classic cars. Serendipity have had the privilege of capturing several recent weddings which have featured automobiles from the iconic 1950's period. The bold lines, glossy chrome facades and vibrant colours offer exciting compositional elements, perfect for dramatic portraits of the bride and groom. The exquisite sense of opulence and timeless style provided as your classic Chevrolet, or gorgeous Chrysler glides towards the ceremony venue is incomparable!