Bridesmaids dresses

Weddings are a treat for those who love to shop — there's plenty of beautiful things to buy! Once you've chosen that drop dead gorgeous white gown it's time to do the same thing for your bridesmaids.
Keeping it in theme
Your wedding is about what you love and your aesthetics — but your bridesmaids dresses are a collaboration. Having an overarching theme in mind when choosing dresses is a great way to let friends be creative, while keeping the look cohesive.
Are you into soft, romantic looks? You might choose chiffon and taffeta fabrics that float on the wind. More of a fan of the Classic Style? The party might go for long black dresses, à la Audrey Hepburn in Breakfast at Tiffiny's. You might want to choose a time period — like the roaring 30s or flirty 50s — and get your bridal party to dress in clothes from the era. Or you might want bridal outfits in line with your culture and traditions. You might want the bridal party to wear contemporary western fashion, with symbolism from your culture, or vibrant, traditional clothing.
Matching or Clashing?
Contrasting outfits, rather than exactly matching ones, are now in vogue. It's a great way to get a cut that suits your friends best and cater to their style. A popular way to do this is by varying the shape of the dress while keeping the material and colour contest. The result is a gorgeous array of women in sharp, fitted clothing. For years couples have used this technique to match flower girls and children to the rest of the bridal party.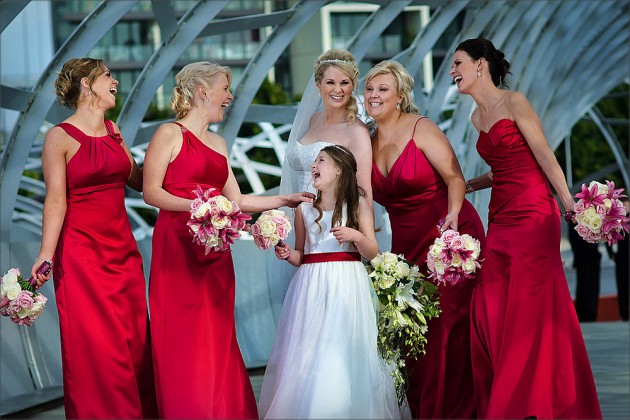 Colour and shade can also be varied to create beautiful effects.
It's great to have little details that pull the party together: matching bouquets, the same beautiful colours in jewellery, consistent accessories, handbags and clutches. The groom's party can be matched through ties, cufflinks, and flowers pinned to their lapels. So long as there is a strong theme that connects the bridal party, you will have a cohesive look.

Safe cuts
Matching dresses can bring the problem of having to find an outfit that looks great on different body types. Luckily there are a plethora of resources on how to choose something for your whole party. There are reasons A line skirts and full length gowns stay in fashion — they're safe bets on anyone. Empire waists are great for matching a pregnant bridesmaid to everyone else. Don't be afraid to ask the experts! A shop keeper at your favourite wedding boutique can be a life saver. Your bridesmaids can be too — they know more about what suits them than you ever will.

Dressing for the weather

Like the bride and groom, the bridal party should choose heavier fabrics in winter and lighter ones in summer. If your heart is set on a beautiful winter wedding make sure that you have a wrap or shawl to keep your best friends cosy.
Love your bridesmaids
Comfort is important — and if your bridesmaid is going to be paying for the dress consider her budget. Your bridesmaids are there to help you, and will be on their feet all day (and then dancing throughout the night). You both may be in love with heels — but make sure she can move easily in the ones you choose– and that goes for the bride too. Consider what your beautiful bridesmaid can wear again. You want her to look gorgeous everyday!