The Cake
You're probably looking round to find a rich, tasty wedding cake. However, as photographers, we see another aspect to your cake: the image. Many couples choose to have beautiful, understated cakes that taste divine. Others make it family affair and bake their own. However we also have clients who choose extravagant cakes prepared by artisans.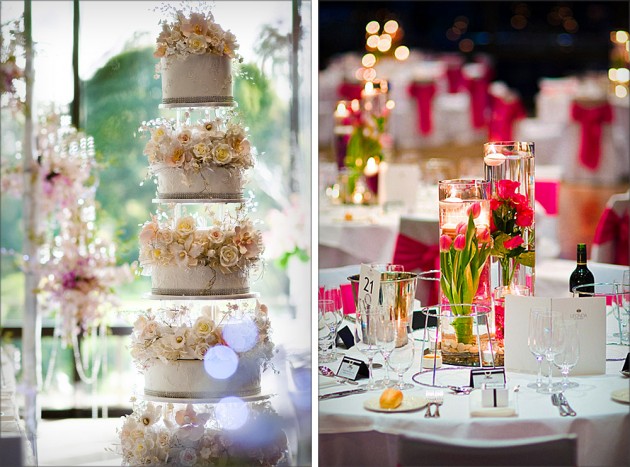 Decorations
The best cake to photograph is one that sparkles. Generally a cake needs to be very bold  — perhaps bolder than many couples initially think. But don't underestimate the power of flour and icing! Amazing things are created out of these humble ingredients. Icing flowers and leaves are particularly traditional. Making marzipan fruit was a classic art of the middle ages. With hundreds of cake classes being available around Melbourne, these are things you can easily learn to do as well in your spare time.
Not all of the cake has to be edible. You can have beads or crystals hanging off your cake, or accentuate it with the right stand. The stand at the top of the cake is a true classic. Many clients keep it as a souvenir. You can also complement your cake with flowers and fruit. Edible flowers don't even need to be taken off. Even just dusted with icing sugar, they can add something really special.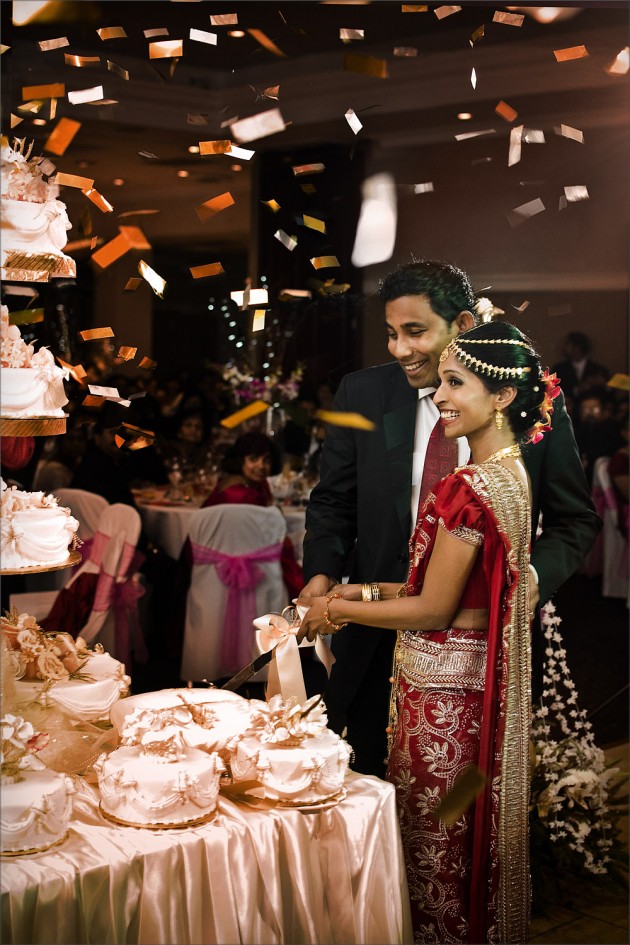 Placing the Cake
The position of the cake in the room is very important. To showcase it as best you can, place it on the bridal table, or somewhere central to the room, rather than in a corner. At Serendipity we recommend elevating the cake at least slightly, however some couples choose to lift it  even more, creating a very dramatic image. Consider how busy the image is — remember that you will also be at the bridal table — which will make the area much more crowded.  As a general rule, the more features a cake has, the plainer the background should be, and vice versa. A flower arrangement can be very beautiful, but be careful not to overpower the cake.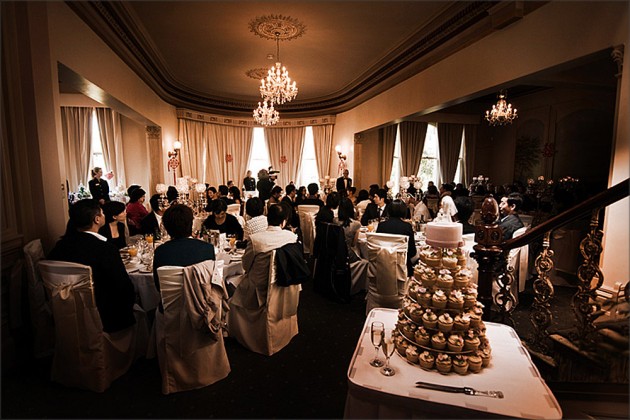 Lighting the Cake
Lighting is important to create the right ambiance. At Serendipity we recommend having a sharp light on the cake. This doesn't necessarily have to be from above, however this can be very striking. Light from nearly every other direction than the front will highlight the form and shape of the cake. Light washes particular well over pale cakes. Think of the beautiful, smooth surface of white rolled marzipan. Chocolate cake presents the biggest technical challenge, so we encourage you to consider icing it in a paler colour.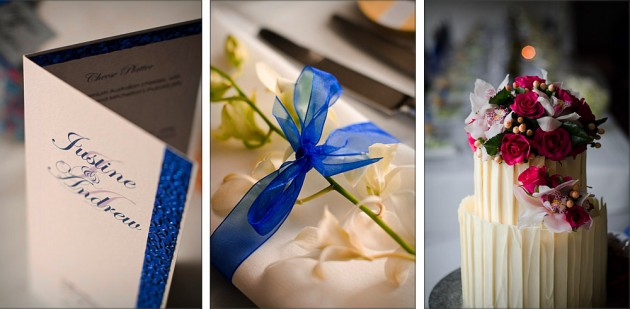 Dietary requirements
More and more people have unique dietary requirements. Make sure that you talk to your caterers to find an alternative treat. Kids in particular may be unable to eat nuts, eggs, milk or wheat. If a close family member of friend has a requirement you might even want to consider ordering a cake that they can enjoy with you. Alternative flours such as almond meal are great for gluten intolerance, moist and delicious. A great cake that fulfills multiple dietary requirements is a challenge, but a great baker should be able to rise to it! If you are vegan or a strict vegetarian we recommend consulting your friends and the internet about bakers that specialise in these cakes. Remember– nothing is impossible!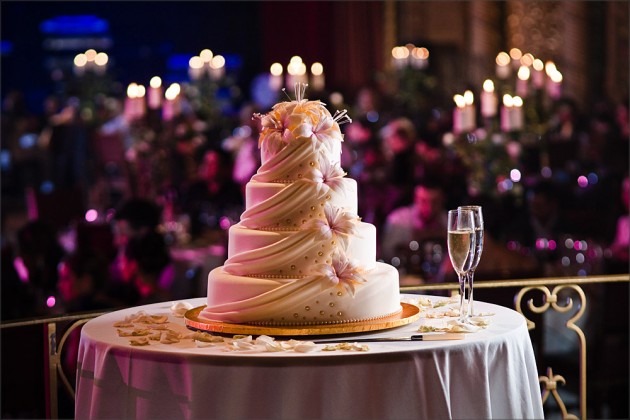 Alternative cakes
You don't even need a cake. Sets of cupcakes and other sweets have become popular. Imagine having a table laden with different pastures and cakes that your guests graze from. This can be particularly good for the home baker, as it is less daunting than one pinnacle piece.
One of the very nice things about a cake is you don't have to worry about it if you don't want to! If you'd rather focus on other aspects you can either leave it to your caterers or a pastry chef.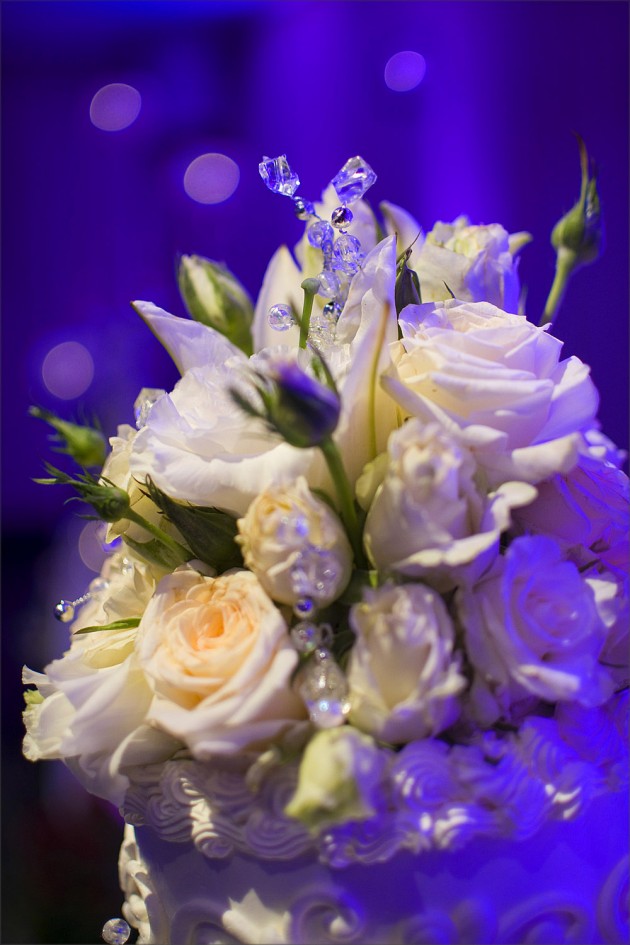 The cake is a big feature of the reception. You might want to have a look at some of our other pages about the reception, including the dancing, and a guide to venues. Our three favourite centres to photograph are run by the Atlantic Group.
We also have some tips from Pro Light and Sound.