Wet Weather Options
The history of our city has always been intricately linked to the beautiful Port Philip Bay which surrounds it. Melbourne is home to a gorgeous variety of picturesque outdoor locations and elegant reception venues which provide diverse and beautiful settings for all types of wedding day celebrations. Serendipity's decades of experience capturing the gorgeous city of Melbourne has made us confident that for every unique wedding theme, scale, style and season there is a destination to perfectly complement the bride and groom's vision; (even if it looks like rain!)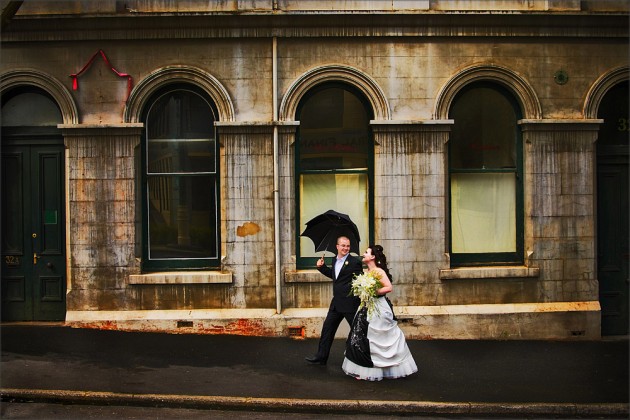 Serendipity Photography understands that once your heart has been set on blue skies and beach boxes, the idea of rain on your wedding day is less than perfect! Alas, none of us can hope to control the temperamental Melbourne weather, so if your special day is gatecrashed by a light summer shower or a dramatic thunderstorm, remember that all is not lost! In this situation the golden piece of advice is to be flexible, which can simply mean swapping fair weather locations for more sheltered spots, whilst still maintaining a delightful outdoor feel — luckily in Melbourne and its surrounding suburbs this is an easy task.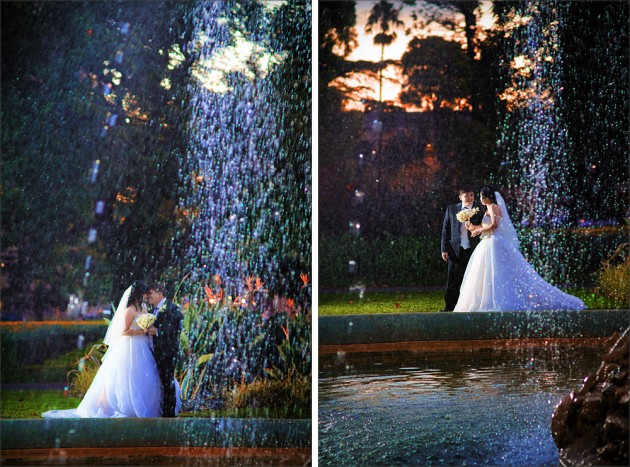 There are various possibilities to choose from, which will ensure your special day is captured with stunning variation and detail. If you're planning an inner city wedding and want the striking architecture of Melbourne's CBD to feature in you wedding day album, locations such as such as the Block Arcade, Collins Street, Carlton Gardens and The Docklands offer an abundance of picturesque backgrounds, historic architecture, unique atmospheres and best of all are versatile enough to perfectly counter balance wet weather. A little further south, properties such as the romantic Billilla Mansion and Kamesburgh Gardens provide a stunning harmony of gorgeous indoor and outdoor backdrops, with garden ceremonies effortlessly transformed to an atmospheric undercover event in the case of an unexpected shower. Some of the best reception centres will have both indoor and outdoor options, offering picturesque backdrops even if there is a last minute adjustment due to unexpected weather!
The saying "every cloud has a silver lining" is particularly apt, for an overcast sky, thunderstorm or rainy day unlock stunning potential and are a beautifully effective way to achieve dramatic wedding day compositions and vibrant tones. At Serendipity we love the shine and graphic potential of wet stone steps, the fresh greens of foliage, reflections in puddles, and the wonderful skies of winter. In general, popular photographic spots in the city become less busy with tourists and people and thus more accessible. In the suburbs or if it is a passing shower then railway station, inside the cars, local town halls, an underpass for a grungy look, or often undercover at a suburban shopping strip where the bridal part can grab a spot to eat and use the shop fronts as a backdrop.