Melanie and James — Urban Chic with a 50's Twist.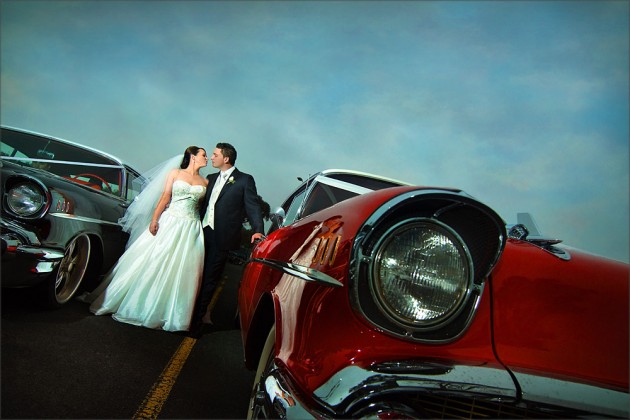 Melanie and James celebrated their wedding day in classically elegant style; beautifully encapsulating some of Melbourne's most beautiful historic destinations. Serendipity Photography felt privileged to capture each picturesque moment of this unique celebration. The day unfolded as a romantic harmony between sophisticated modern style with touches of vintage glamour — namely in the pair of original 1950's Chevrolets that ensured bride and groom got to the church on time and in style!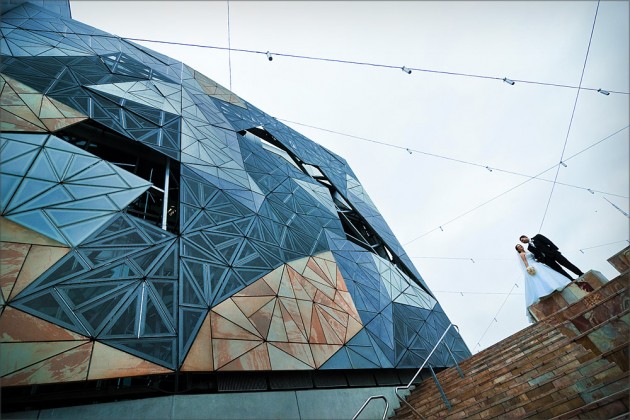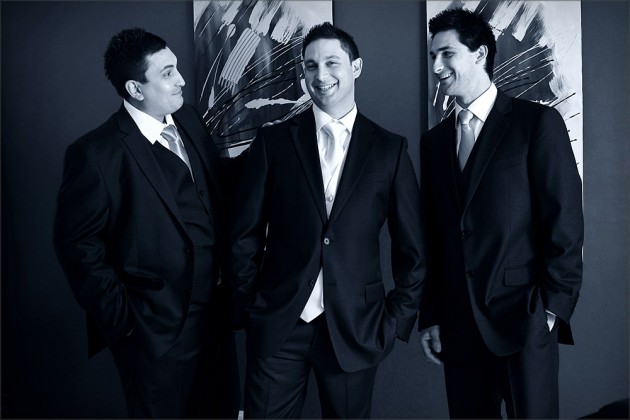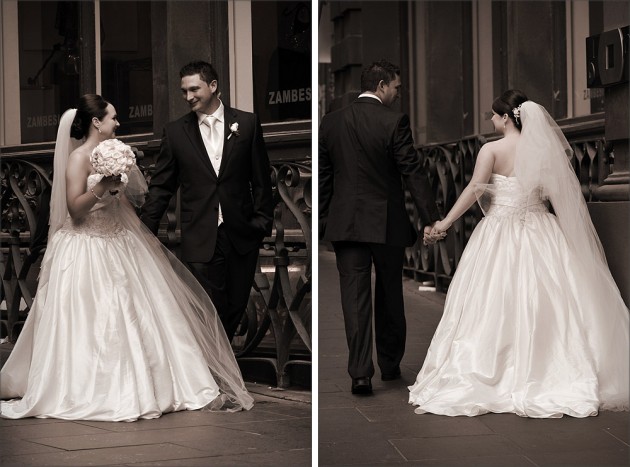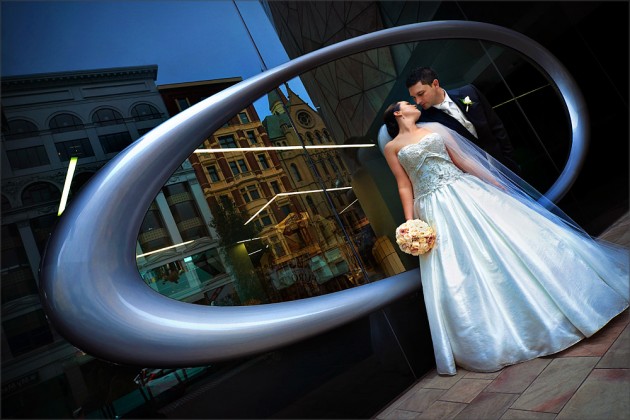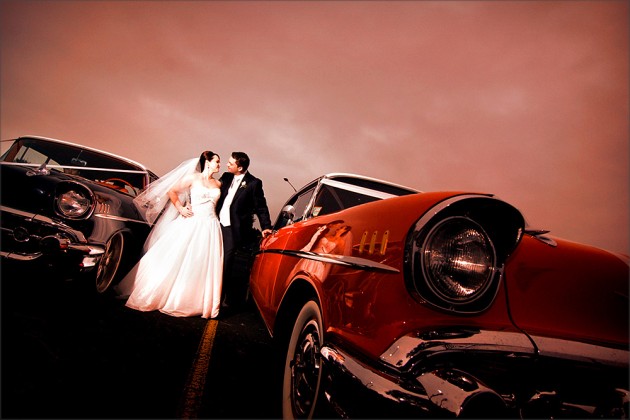 The Ceremony 
Melanie and James held their formal ceremony at the exquisite St John's Church in Toorak.

This highly regarded church boasts a rich history and striking architecture, rendering it abundant in stunning photographic possibilities. The ornate décor of the interior encompasses exquisite stained glass windows, rich timber detailing, and atmospheric lighting, perfect for capturing a rich variety of tones and classic colour palate.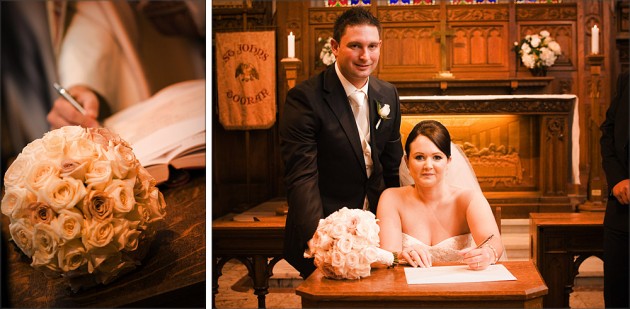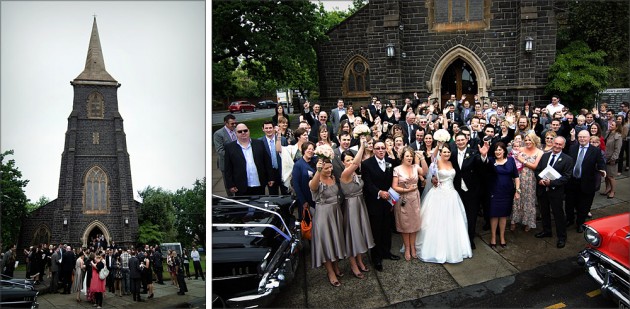 The subtle combination of classic bluestone and the gothic style spire of the churches exterior made a beautiful setting for romantic portraits of the couple as they exited down the grand stone steps of the church.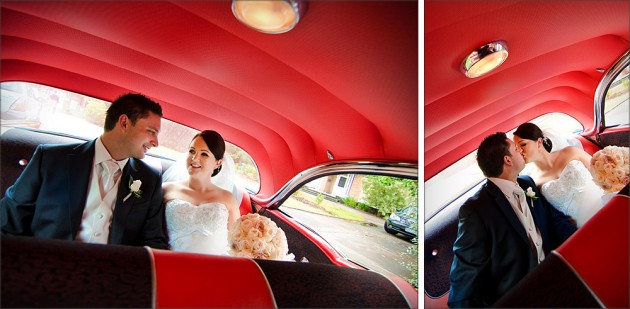 The newly weds visited a gorgeous selection of Melbourne locations during their day. The bold architectural lines of Federation Square created dramatic compositions, with vibrant harmonies of colour. The pair took their cherry red Bel Chevy on a stunning tour of some of Melbourne's most unique lane-ways, where the blend of historic architectural facades, unique street art and subtle urban atmosphere provided a interesting setting for striking portraits of the bride and groom.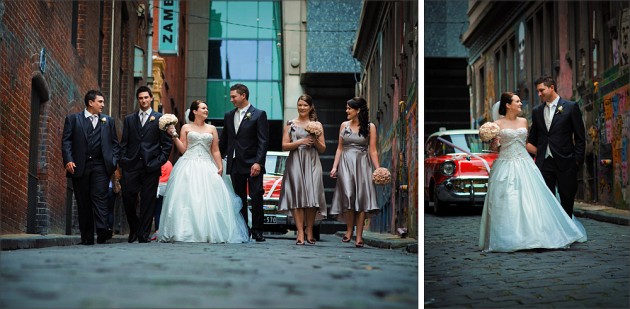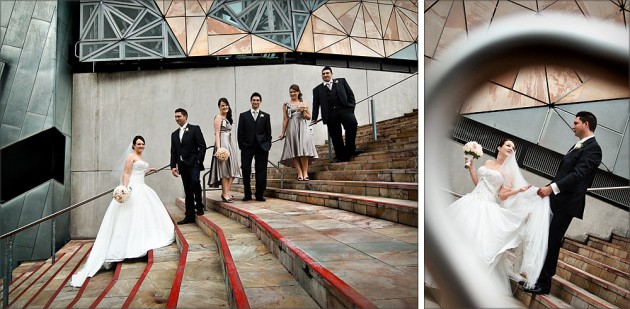 As the afternoon sun lowered in the sky, the pictueresque surrounds of North Road Pier made a breathtaking setting for romantic wedding day portraits. The deep blue of the sky and water created a subtle haze of colour, highlighting Melanie's gown perfectly.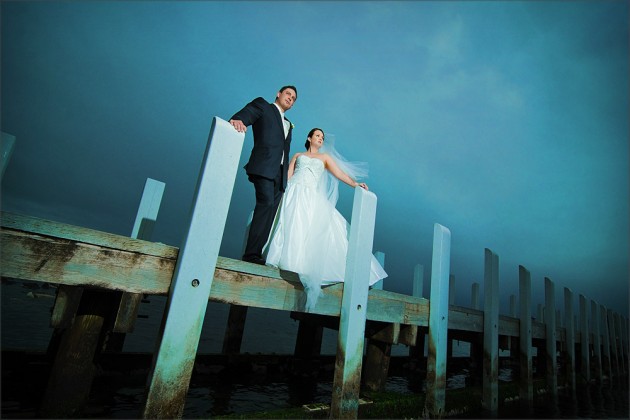 The Reception 
Celebrations continued with a reception at the elegant Brighton Savoy. Overlooking the tranquil Port Philip Bays, this top reception venue offers a unique combination of sophisitcated modern décor, great service and breathtaking views across the water. The impressive pane-glass allowed guests to view the beautiful sunsets over the beach and watch the ever-changing tints of the sky, whilst the glittering lights inside created a festive atmosphere as the party danced the night away.