Colonial Tramcar Restaurant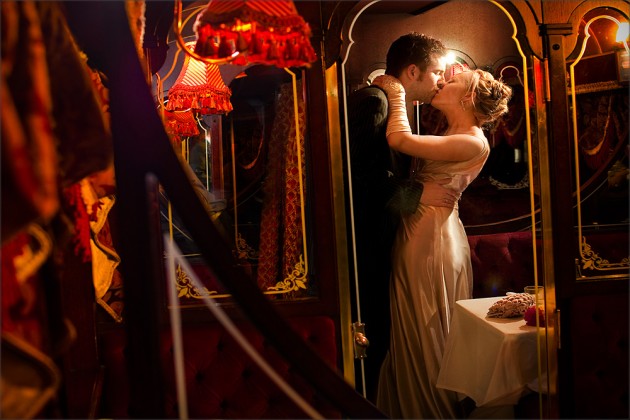 Melbourne's Colonial Tramcar Restaurant is a venue of distinction. Offering timeless style, vibrant atmosphere and roving views of the city as landmarks glide past your window, this venue is perfect for couples who desire an elegant and unique location. Serendipity love the vibrant photographic opportunities that are present with this one of a kind dining car. Bride, groom, and up to 108 guests, will be able to celebrate in style, amongst luxurious and distinctive interior styling as every moment of your atmospheric reception is captured expertly by our team of experienced photographers.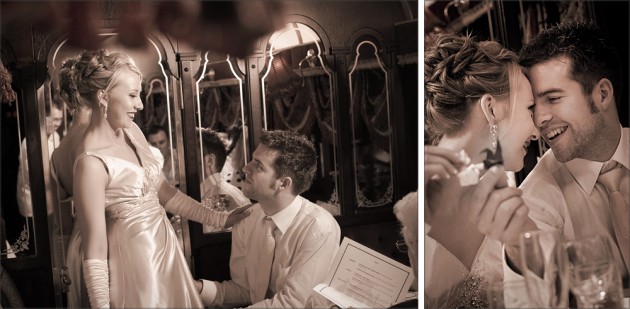 The Colonial Tramcar Restaurant is the world's first travelling tramcar restaurant, running its very first service in 1983. From the moment you step aboard this historically converted 1948 tram, no detail is spared and it will be hard to believe you haven't travelled back in time to a fairy tale era! As you are welcomed by an attentive maitre d, treated to pipe music and served by a team of silver service wait staff, the atmosphere is made truly memorable. The gorgeous suite of features such as red velvet booths, ornate embroidered curtains, brass fixtures and patterned carpets, are the perfect backdrop for interesting and elegant wedding day photos.
The restaurant, which has one lunch and two dinner sittings each day, advises booking well in advance. The trams are boarded from a stop near the adjacent to the Melbourne Exhibition and Convention Centre. Choose between a 2 or 3 hour tram ride, in a harmonious setting where traditional elegance meets modern dining. As the Colonial Tramcar glides through the city streets and around South Melbourne, St Kilda, Prahran and Malvern, your privacy is assured with one-way windows. The individual booths provide a charming frame for portraits of the newly wed couple. Unforgettable memories will be forged, as you celebrate in comfort and vibrant surround, watching the city roll by out your private window.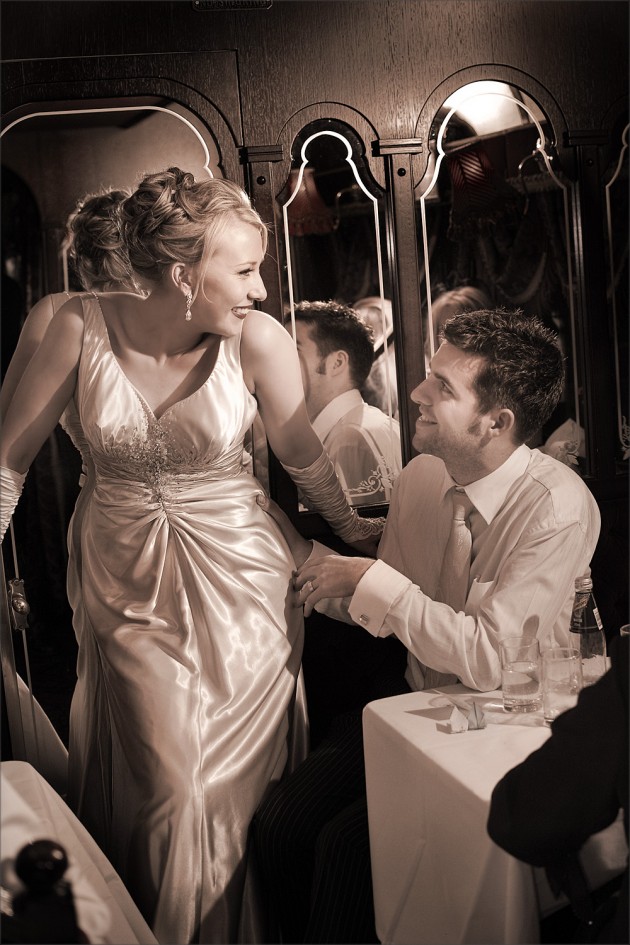 At Serendipity we were delighted to capture the recent wedding of Natalie & Michael on board the elegant  Colonial Tramcar Restaurant. The deep red velvet of the interior furnishings, hollywood style lights and the exceptional service resulted in a venue that was rich in atmosphere and perfect as a backdrop for vibrant and distinct wedding day photographs. If readers would like any more information on this exciting venue why not follow the link to the tramcar's main website here. Have a look at our new page on an extensive history of Melbourne's W– class trams. And if you have had the good fortune of experiencing the Colonial Tramcar before we would love to hear your story!