General Post Office — Melbourne's
GPO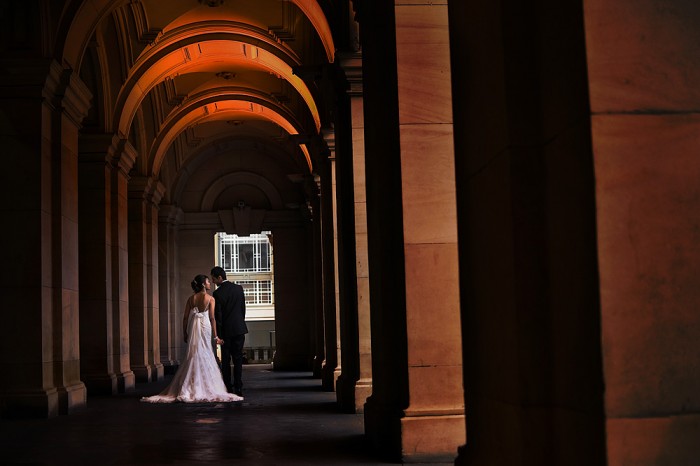 Conveniently located at 350 Bourke Street, in the very heart of Melbourne, the General Post Office is an ideal location for a myriad of wedding day photos. Whether you're after spectacular high contrast images, or more subtle, yet elegantly refined snaps, the GPO is definitely the place for you. One of the favourite aspect of the GPO as far as Serendipity is concerned is its location, a stone's throw from the iconic Royal Arcade, both perfect wet weather Melbourne photography locations. Also if your bridal party is in need of a quick pick me up, you can't beat the lattes and expressos offered at the foot of the columns, a shimmer of the summer sun and you would be sipping a duplio expresso in Firenze. Those grand colonnades are certainly classically inspired, the detailing shapes and shading enough to transport you to any of the previous five centuries when enhanced with the mood and atmosphere created by Serendipity's unique post production.
The talented team at Serendipity Photography will guide you and your party through this iconic location, highlighting the unique architecture of the hand carved columns, wrought iron gates and the grand stone steps. All details sure to provide a stunning and one of a kind backdrop from any angle.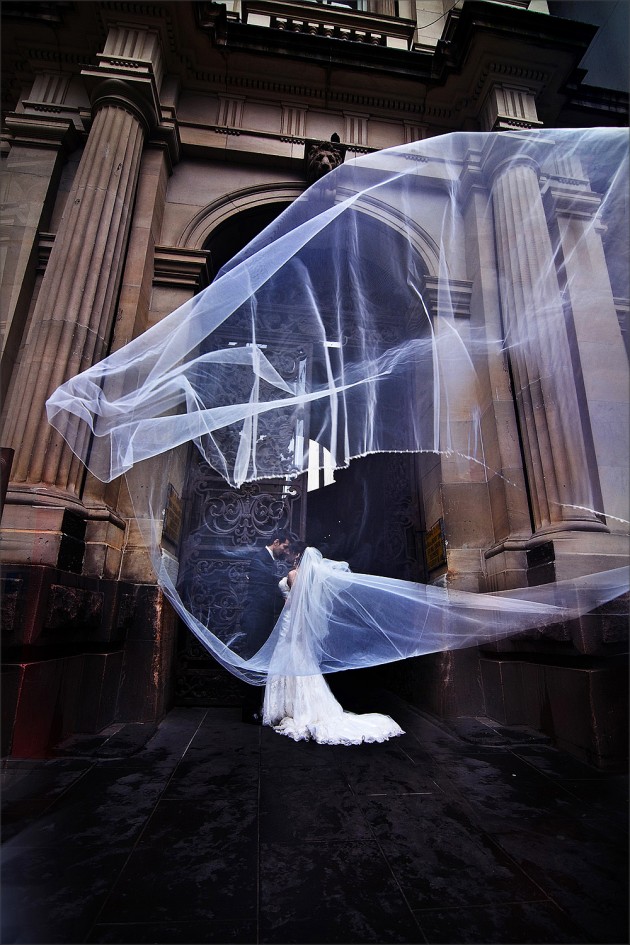 Melbourne's GPO is now a inner city shopping precinct of "serious sophistication", this means as well as the visual pleasures of the neo-classic and Second Empire architectural mix, particularly the colonnade; wedding clients can saunter past windows full of beautifully detailed fashion, choose between Kenzan sushi and Ramen Ya noodles or indulge with Cacao Fine Chocolates or pick me up a serious coffee at the Federal Coffee Palace. At Serendipity we love the strong graphics and variety of architectural viewpoints found within the General Post Office area. The GPO is a great wet weather photographic location, and is close to wonderful streetscapes and other notable buildings, good for optimising your wedding location photography opportunities, particularly, as it is often for many wedding couples, time is short.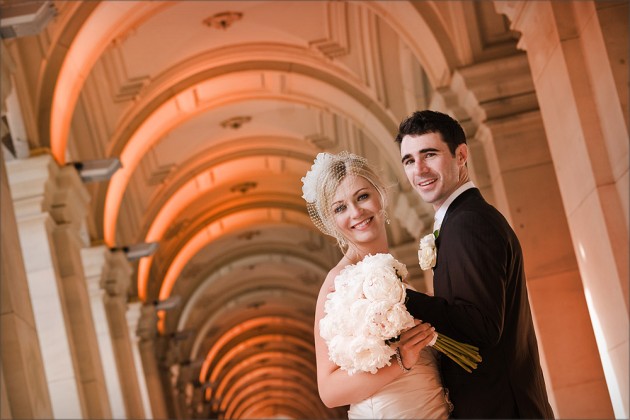 The General Post Office is one of Melbourne's most loved heirlooms. It has remained firmly in the centre of the city's heart since its erection over 150 years ago. In fact all road distances in Melbourne are measured in kilometres from the GPO. This classic building makes a heavenly backdrop to an inspired collection of wedding day shots. As in the original decades of the General Post Offices service faces onto the colonnade, boutiques and niche eateries tempt even the most jaded visitor. The strong regular rhythms of the arches and columns provide a counterpoint to the continuous varieties of light within the colonnade; expressive perspectives add weight and contrast with the delicate tracery of GPO's much loved wrought iron gates.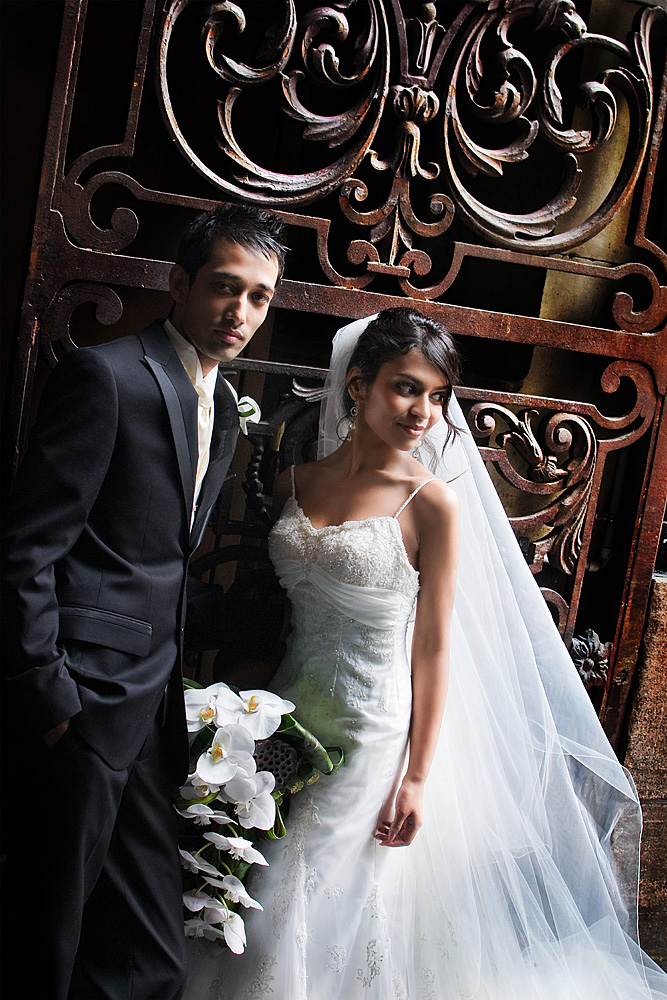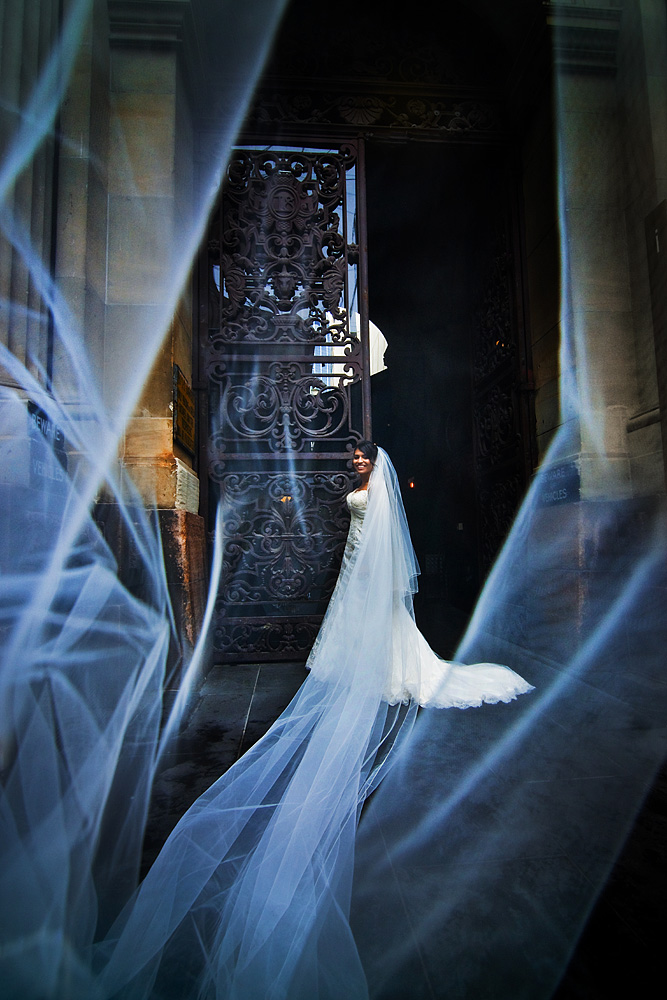 Melbourne's General Post Office's journey from postal hall to fashion hub makes for an interesting and sometimes dramatic tale. The current building was designed in neo-Renaissance style – the height of mid-1800′s fashion. It is now heritage listed and considered one of Australia's most important public buildings. Designed by A. E. Johnson in Renaissance Revival Style, taking 8 years to build, and opening in 1867. The Post Office had been founded early in the colonies history, 1838, with services starting on the Bourke Street site from 1841. Melbourne, awash with goldrush money, further enhanced the General Post Office with a fashionable Second Empire style mansarded third story and a very prominent corner clock tower in 1887. Although at times controversial, Schwartz and Garrison's pale paint and transparency redevelopment fuses a modernist vision with historic aspects of this valuable building, and is in the spirit of Walter Burley Griffin's early twentieth century opening out of the GPO interior to customers for the first time and its very original pale paint work.
In 1992, Australia Post announced plans to end Melbourne's GPO's major postal role. It began to look as though the building would be sold. Melbournians continued to flock to Melbourne's GPO to post letters, buy stationery, pay bills, check their PO boxes and rip pages from the regional phone directories. The iconic building originally opened for trade as a retail centre in October 2004. The modern design retains many of the important heritage aspects of the site yet provides a feeling of light and space that the former layout had lacked since the early 20th century. The ceiling was restored to its original splendour. Cafes on the outer colonade take advantage of Venetian style dining as guests spill out onto often sunny steps.
The GPO has offered a fresh locale to add to Serendipity's normal inner city wedding locations, the possibility of strong contrasts in texture and pattern adding interest to those romantic photographs or dramatic portraits. The General Post Office is a kind of East meets West, a nexus placed between history and now, as sophisticated a place as you would want to add the past to contemporary wedding photographs, or garnish the cup of tradition with slivers of glass, steel and the mighty shoosh of the expresso machine.