High Romance at the Melbourne Aquarium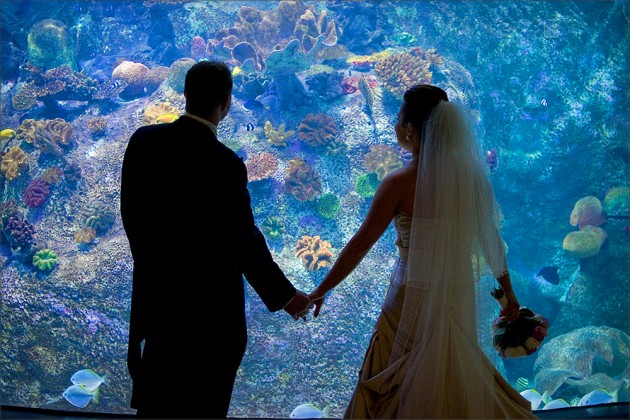 Kirsty and Brad celebrated their wedding day with a ceremony and reception at one of our cities most unique venues: The Melbourne Aquarium. Serendipity Photography felt honoured to capture this gorgeous and well planned event, where the myriad of photographic backdrops provided a setting of sleek modern style and urban drama. The result was an array of stunning wedding day photographs, featuring distinctive backdrops, atmospheric colours and light effects, which presented the newly wed couple at their most beautiful.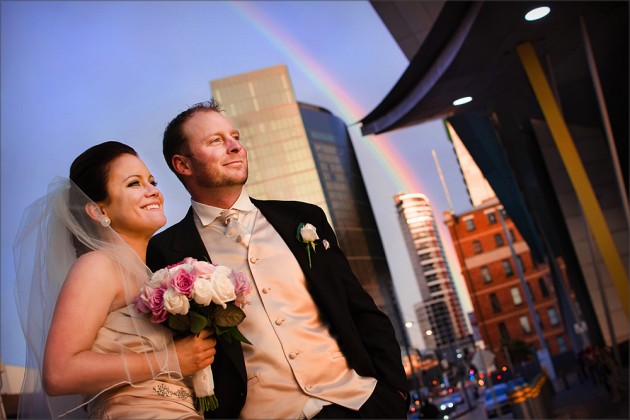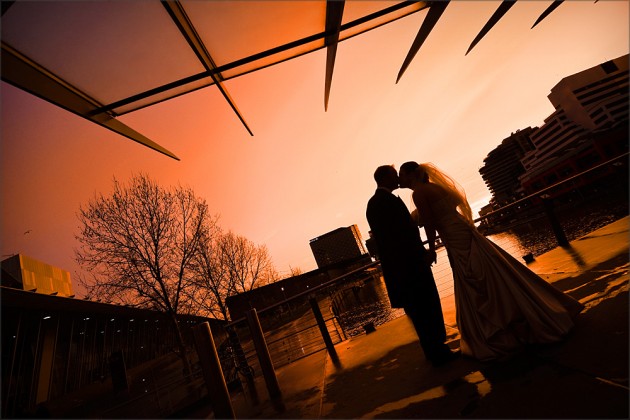 The pair held their ceremony at the distinctive location: the Melbourne Aquarium. The vibrant underwater tanks, bold curved lines of the interior architecture, and dappled light effects, provided a gorgeous setting for the couple as vows were exchanged before family and friends.

The number of photographic backdrops was almost as numerous as the sea creatures themselves! toned  vibrant decorative details from features such as the impressive underwater tanks, atmospheric lighting, glass features and modern colour palate of deep blues, creams, grey and of course the vibrant multi coloured fish! A diverse selection wedding day photographs were captured through the dramatic backdrops and peaceful ambient surrounds.

Celebrations continued with real style, as the aquarium was also the setting for the wedding reception. Kirsty and Brad were highlighted beautifully by the sophisticated urban style of this unique location. The subtle pearl tones of Kirsty's wedding gown contrasted exquisitely with the spectrum of blues and glistening glass surfaces.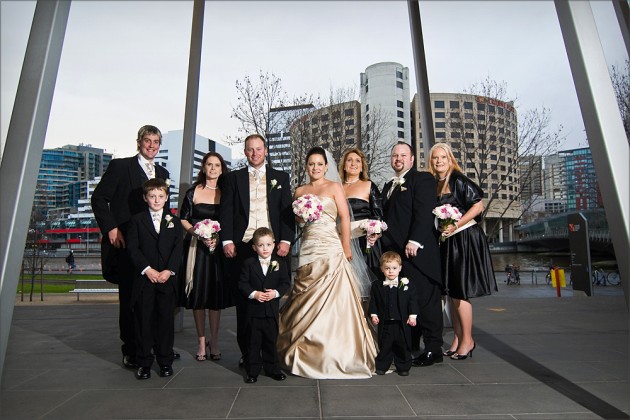 During the day the couple embraced the Aquariums close proximity to a number of other exciting Melbourne landmarks by venturing to the Melbourne Convention and Exhibition Centre (also known as Jeff's Shed). Designed by architects Woods Bagot and NH Architecture, this monumental structure is abundant with dramatic and vibrant opportunities for wedding day photography. The spacious exterior was perfect for large group shots of the bridal party. Whilst the distinctive details such as the purple feature wall, industrial shipping aesthetics, and the curved lines of front façade created a unique modern setting for more intimate portraits of the couple. A breathtaking feature was the 18 metre glass frontage which provided stunning views over the Yarra River. Follow the link to Serendipity's main page on the Melbourne Convention and Exhibition Centre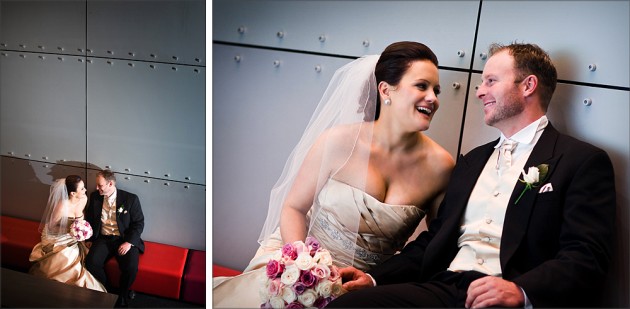 Serendipity recommend having a look at our accompanying page on the Melbourne Aquarium for more historic information and some more of our favourite recent photographs from this location.