Melbourne Convention and Exhibition Centre
The Melbourne Convention Exhibition Centre is a centrepiece of Melbourne's South Wharf, with the venue being the largest and the most versatile in the Southern Hemisphere, it's no surprise that a long string of awards and accolades follow its name. Opened in 1996 by Jeff Kennett, the Exhibition Centre annually hosts thousands of events. Whilst the new Convention Centre, opened in 2009, now features a versatile 5550+ seat Plenary Hall and utilises a range of features to achieve a 6 Star Green Star environmental rating — the first convention centre in the world with this title.  The MCEC's website, itself multi-awarded for its intelligent visualisation possibilities in the events planning process; lists pages of recent  awards, related to the design, not just of the architecture and functionality of the public spaces but also for food, customer service and event planning support.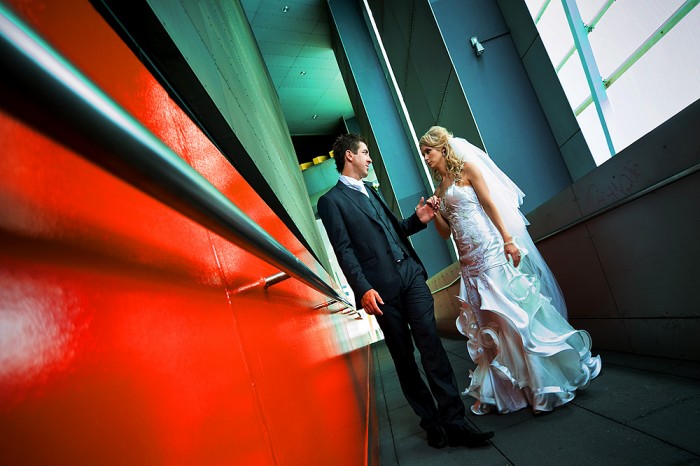 Residing next to South Wharf's Hilton hotel, and amid the lively riverside precinct, the new Convention Centre is a Melbourne landmark, complimenting Melbourne's other many iconic cultural and arts buildings. The striking architecture, designed by Woods Bagot and NH Architecture, combines all the best features of Melbourne's unique style. The 18 metre glass frontage affords stunning views over the Yarra. Couples and bridal parties are not lacking for space or sheer drama here at the Melbourne Convention and Exhibition Centre; the challenge is one of elimination only; for couples who favour the now, the difficulty is where to stop! Light plays over an Olympiad  of glass acres, steel grows in Amazonian proportions, and the subtle surfaces all grey and sheer with sun or cloud are broken in places with strong strips or slabs of colour. Large? Think huge, all light, all sky. A shed yes, but Shed as Plato would have imagined, light streaming from behind to write our own ethos — as grand as the original idea of glass meets sky meets water meets people … the Melbourne Convention and Exhibition Centre is a truly special place for play and photography pleasure.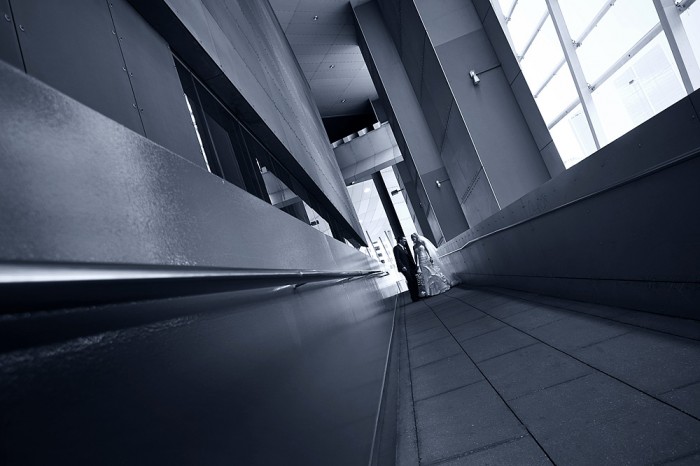 Considering a truly grand wedding dinner in a absolutely different location? What about a cantilevered meeting room, high above the Yarra? With its sharp modern styling, and corporate feel and connectivity with the Hilton South Wharf, the Melbourne Convention and Exhibition Centre would be ideal for those with large numbers of interstate or international guests and would surely leave a huge impact. With its variety of larger spaces the MCEC would offer one of the few possibilities for modern venue styling in central Melbourne for an impressively supersized wedding.
As well as a commitment to developing environmentally-friendly initiatives for the running of all electronic facilities, the MCEC boasts award winning food with a 'fresh and local' philosophy. They also pride themselves in the flexibility of their menus– ensuring that your particular needs are met, including vegetarian, vegan and gluten-free options. Wines are sourced from Victoria's best wineries, and matched to your unique menu. By utilising only the best and freshest local beef, cheeses, seafood, wine, fruit and vegetables the staff at the Melbourne and Convention Centre ensure that your guests are treated to the finest Victoria has to offer in a setting that is vibrant, modern and uniquely Melbournian.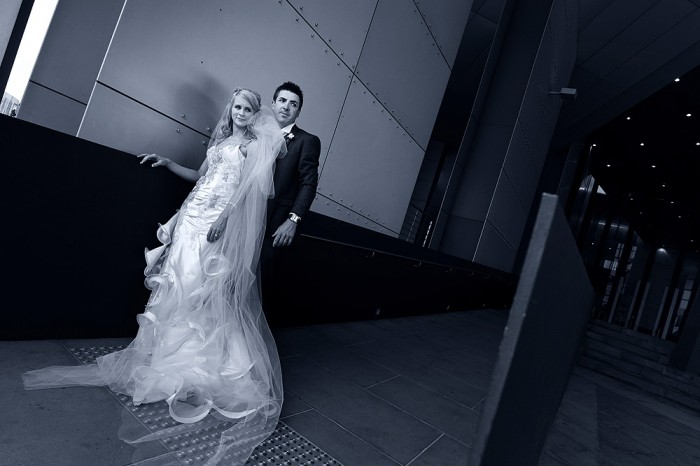 With more than fifty rooms, from the 5550-plus seat Plenary Hall to rooms that seat as few as thirty people, there is an option for every size and style of wedding, with every room pre-equipped with Audio-Visual equipment, projectors and stunning lighting all controllable from the intelligent lecterns . 
http://​www​.mcec​.com​.au/