Melbourne Town Hall
For over 135 years, Melbourne Town Hall has been at the heart of events which have shaped the city's future and celebrated our milestones. Here, Federation was debated, Nellie Melba debuted, the Beatles greeted an adoring throng. The grand interiors echo with countless celebrations, gala occasions, festivals, commemorations — the imprints of a community life across generations. It's no wonder the grand hall is such a revered venue for weddings. At Serendipity Photography even after our decades of shooting at Melbourne Town Hall, we still marvel at its extraordinary architecture, elegant exterior and the abundant selection of features inside.
Located in the heart of the CBD, Melbourne Town Hall is the showcase destination for the city's cultural and civic life. With an average of 20 events a day, has well as weddings it plays host to theatrical performances, receptions, exhibitions, corporate launches, school concerts, conferences, meetings and cocktail parties. As you stand underneath the exquisite domed ceilings, light trickles in romantically through the stain glass, revealing the rare details and gorgeous décor to you and your wedding party and casting wonderful light to perfectly frame a selection of beautiful photographs.
Melbourne was officially incorporated as a town on December 13, 1842, with Henry Condell as its first Mayor. However, it wasn't until 1854 that its first Town Hall was completed. Beginning in 1851, the work ground to a halt with the beginning of the Victorian gold rush. The foundation stone of a new, grander Town Hall was laid on November 29, 1867 by the visiting Prince Alfred, Duke of Edinburgh, after the demolition of the first. Designed by the famous local architect Sir Joseph Reed, in the Second Empire style. Reed's designs also included the State Library of Victoria, the Royal Exhibition Building and Melbourne Trades Hall, the current Town Hall officially opened on August  9, 1870 with a lavish ball which was personally funded by the Lord Mayor Samuel Amess.
The foundation stone of the additional front portico was laid in 1887, and Sir Henry Weedon laid the foundation of the administrative annex building in 1900. In 1925, a fire destroyed a large part of the town hall, including the main auditorium and pipe organ. It was rebuilt and enlarged, extending east over the site previously occupied by the Victoria Coffee Palace, an early temperance hotel frequented by Melbourne's power brokers. The rebuilt section lost some of Reed's original flourishes including the elaborate mansard roof. All was not lost, as the building is now topped by Prince Alfred's Tower, named after the Duke. The tower includes a 2.44 m diameter clock was built by Smith and Sons of London. The longest of its copper hands measures 1.19 m long, and weighs 8.85 kg. An icon of the Melbourne sky line, the clock is sure to add a unique flourish to your wedding day photographs.
Embracing events of 10 to 2000 people, Melbourne Town Hall offers a superb suite of function rooms and assembly spaces. Thrill to the majesty of the Main Hall. Bask in the character and elegance of the Yarra and Regent Rooms. Sip a cocktail while you look out over Swanston Street from the famous Portico Balcony. Dance the night away in the art deco splendour of Swanston Hall. Each room has its own distinct atmosphere, yet in their own way embody the character and historical integrity of the Melbourne Town Hall. From intimate function rooms such as the Portico room which caters for up to 40 guests, to the spectacular Main Hall with its seventy foot ceilings, delicate chandeliers and dazzling stained glass windows, which seats 2000. There is a room to suit all of your desires.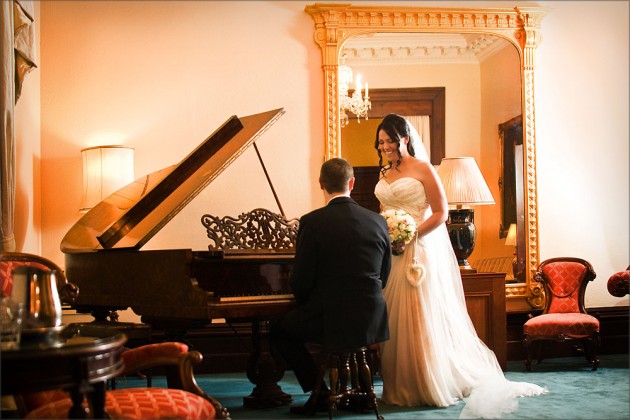 This is not an everyday event space. With its exceptional facilities and service and panoramic views over Arts Centre spire, Flinders Street Station, St Paul's Cathedral,  Swanston Walk and Collins Street. This stunning venue is awash with natural light and elegant period charm. Decorated with priceless antiques and rich timber finishes, each room possesses its own unique character. Rich with historical associations, this is one of Melbourne's signature locations. With its abundance of wedding photo opportunities, Serendipity is confident that your reception at the Melbourne Town Hall will never be forgotten. Tours run every week day at 11am or 2pm, which are an ideal tool for visualising your celebrations. Once you have your heart set on the Melbourne Town hall we recommend you book well in advance, as this popular venue fills up fast!