Parliament House and Beautiful Surrounding Architecture
Located regally on the Spring Street hill and boasting breathtaking panoramic views over Melbourne's CBD, Parliament house has long been a sought after destination for exceptional wedding day photography.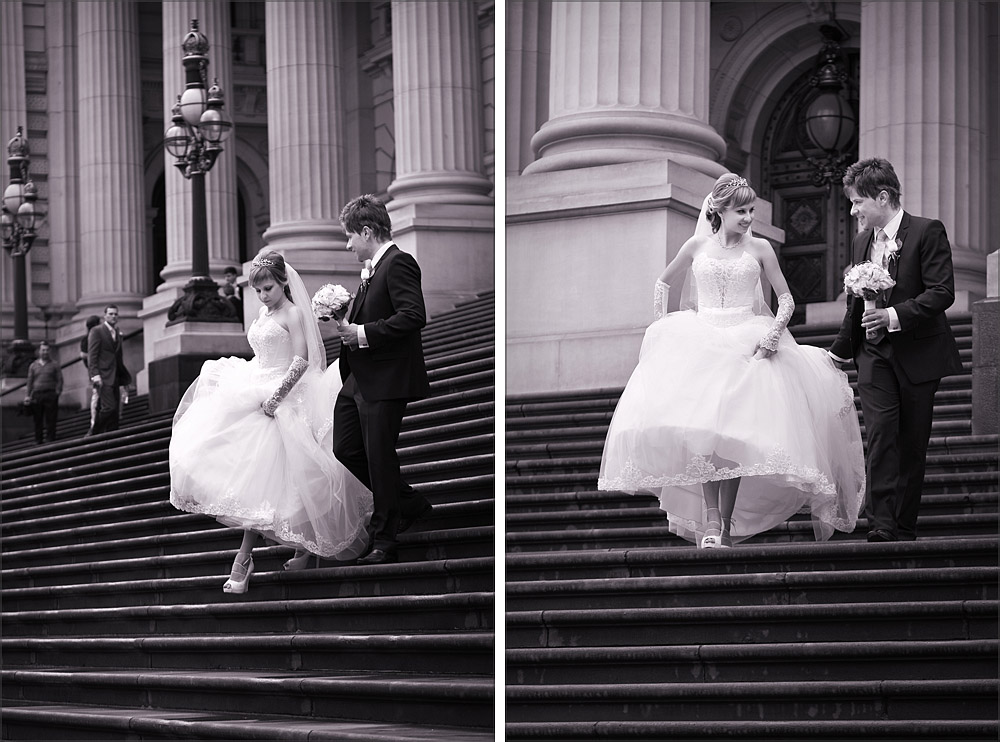 Built during the Victorian era in the mid 19th century, the architecture retains strong links to Melbourne's formative history and is beautifully supported by a selection of other great (and nearby) landmarks including Hotel Windsor, St Patrick's Cathedral, Princess Theatre and Collins Street.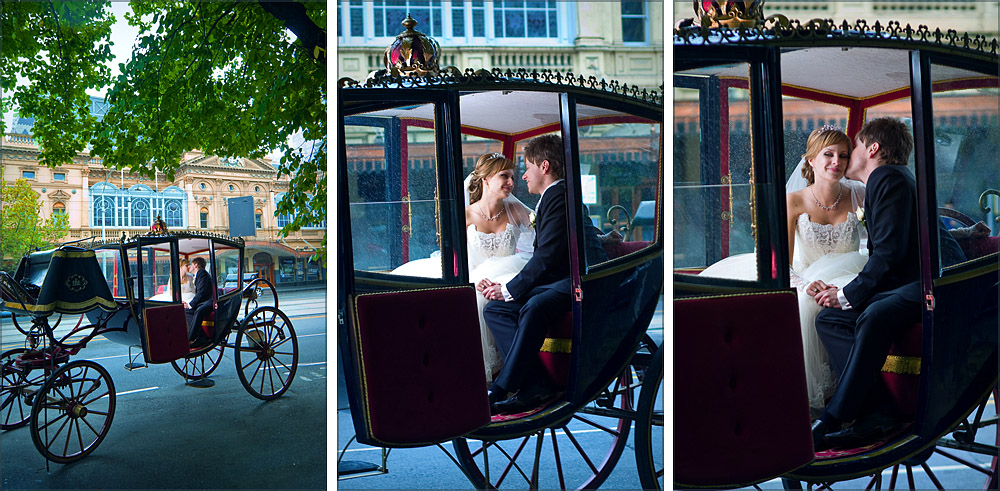 Victoria's Parliament house is one of Serendipity's favourite photographic sites, giving couples a memorable setting for their wedding day images for generations to come. Since the middle of the 19th century Parliament House has reigned over the city of Melbourne with strong architectural influences dating back to the Roman era.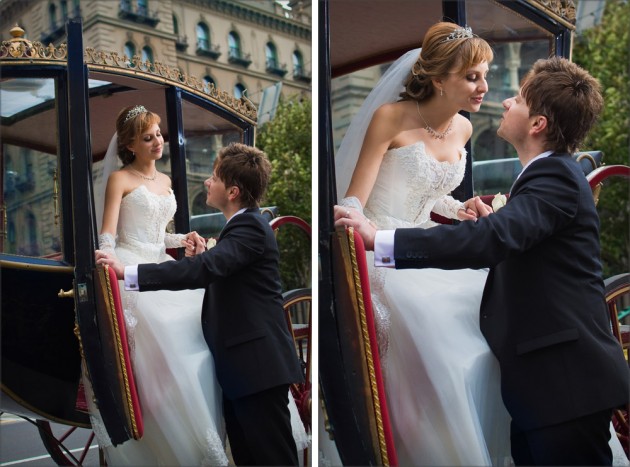 The steps of Parliament House act as an extension of one of Melbourne's most famous streets, Bourke Street, working its way through the heart of the city. Looking down from Parliament house, one gazes down Bourke Street, with stunning panoramic views of Melbourne's CBD. Starting at Parliament House its just a short walk to a plethora of other beautiful architectural photographic backdrops.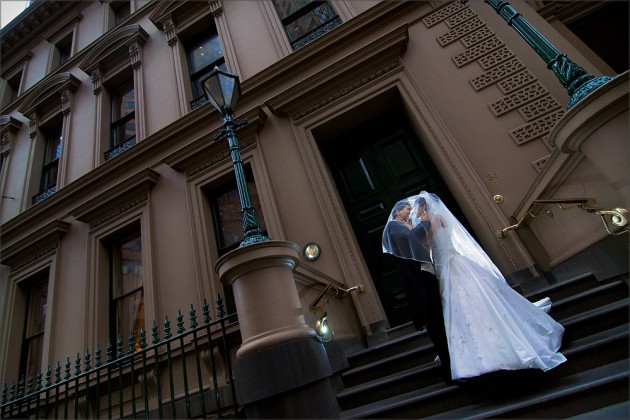 One of Melbourne's other iconic locations, just a moments walk from Parliament House, is Collins Street. Collins Street ends at Spring Street, the top end of town, and this area is referred to as the Paris end of the city. The architecture, couture stores and the picturesque Regent Theatre, make Collin's Street the height of glamour for anyone looking for a european influence.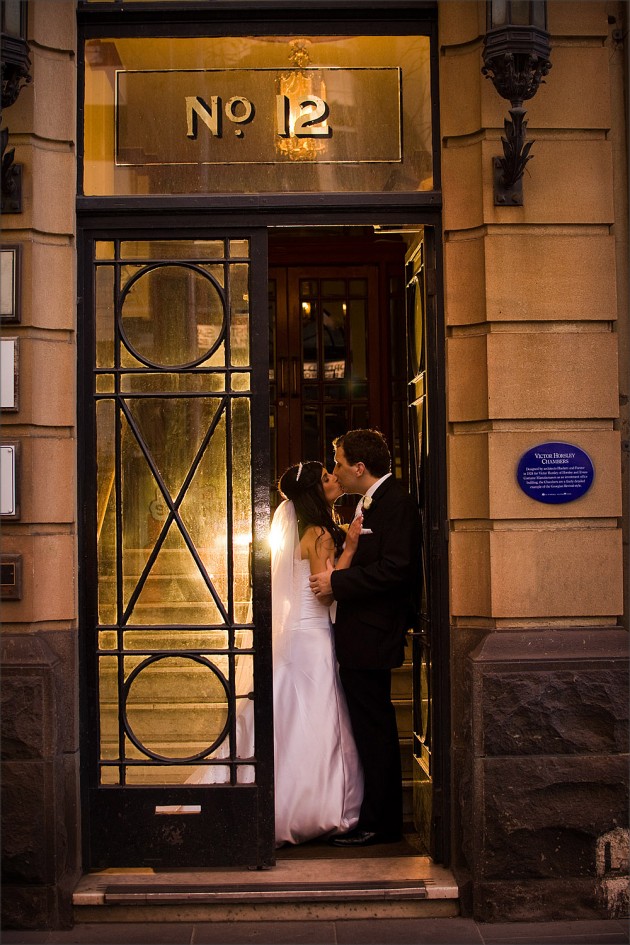 Walking down Spring Street you will find Treasury Gardens, a peaceful, lush park adjoined to the Old Treasury Building. This spot is a great example of the way Melbourne combines great period architecture with stunning landscape design. The heritage listed garden is home to an abundance of native and imported species and a number of excellent examples of Melbourne's huge collection of historical statues and monuments, making for some magical photographs.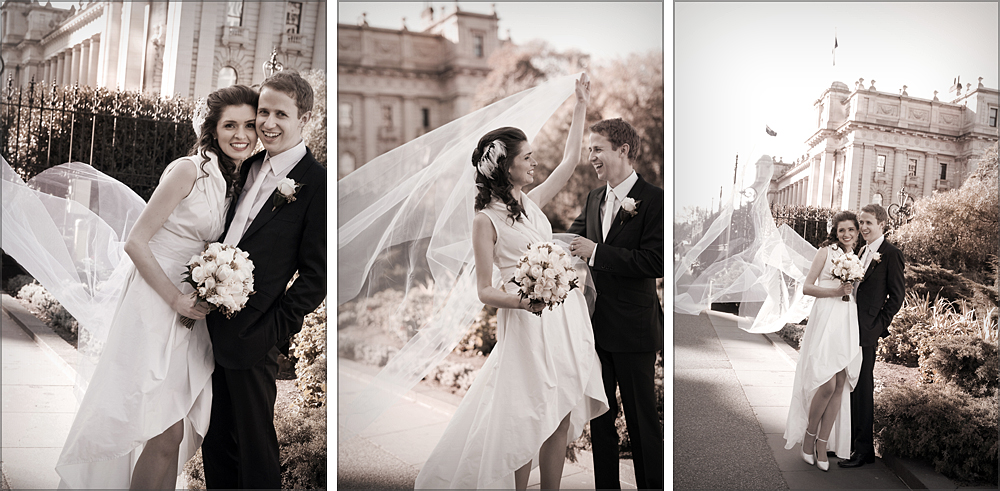 Just north of Parliament House is the grand and exquisite Hotel Windsor. Ideal for a classic and elegant reception the Hotel Windsor is now over 120 years old and offers a large variety of unique photographic opportunities. From the Parliament Gardens you can see the brilliant façade of the Windsor, with its charming front entrance and enchanting period architecture, as well as the attractive Stanford Fountain resting at the centre of the delightful gardens in Gordon Reserve. Inside the Windsor are a number of spacious and luxurious suites, the grand staircase and the famous reception room where high tea is served, all helping Serendipity Photography working with Melbourne wedding couples to produce some truly spectacular images.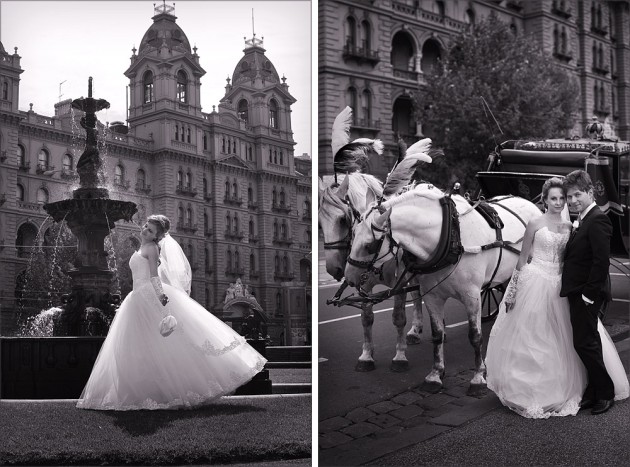 Behind Parliament House, on Gisborne Street, is St Patrick's Cathedral, a monumental Gothic style church that is perfect for couples looking for a traditional Catholic wedding ceremony. The architecture of St Patricks Cathedral is simply breathtaking, with its carved bluestone walls, classic arched windows and spires spanning nearly 80 metres. The massive, majestic interior of the Cathedral is perfect for large weddings, holding up to 2000 guests, and is a great location for those hoping to use a variety of photographic backdrops on their big day.

Parliament House is the central point for an abundance of photographic opportunities. Just a stone's throw away are a number of Melbourne's architectural icons. The area was established over 150 years ago and Melbourne's Parliament House and its beautiful surrounds is one of Serendipity's favourite areas to photograph.

The Princess Theatre , diagonally opposite to Parliament, is listed with the National Trust with over 150 years of history. Architecturally The Princess Theatre boasts a splendid Second Empire top structure creating an evocative roofline. this was added later to the original Italianate building — it is possible to see the original structure in the fascinating panorama camera photograph taken from Parliaments roof during its construction.  At dusk, the lights of the Princess theatre glow softly, expanding into very decorative golden circles.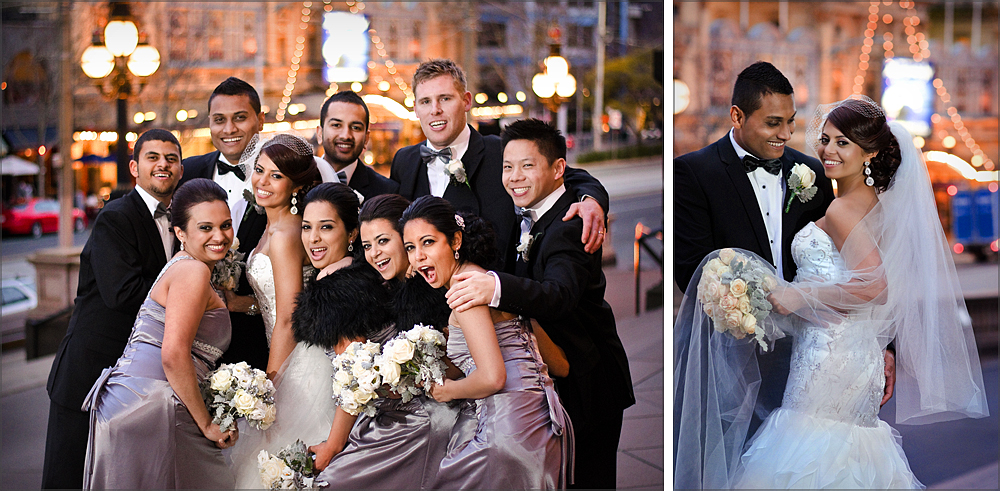 We invite you to explore more images and ideas in Serendipity Photography's main page on Parliament House, and on the Serendipity blog page on Parliament House's fascinating history.