Serendipity Photography at Treasury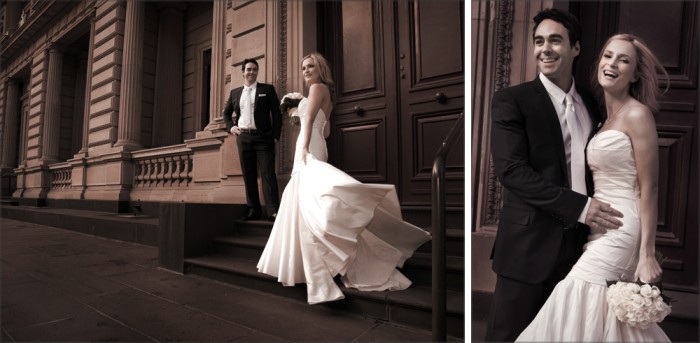 The Old Treasury Building is superb classic wedding photography location, spacious, decorative, multilevelled, and right next to the Treasury gardens. At Serendipity we love the richly ornamented Renaissance Revival architecture and Treasury's central location, only a walk to Parliament past some fabulous high Victorian fencing, the Windsor, and Collins Street.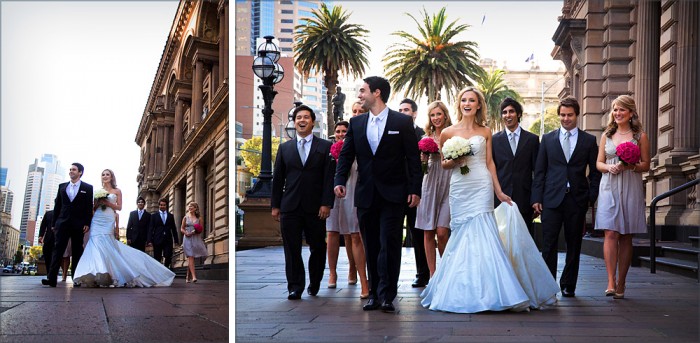 It's all there, Melbourne all marvellously classic for wedding locations that could have been plucked straight out of London, or moving away from the ironwork and highlighting Melbourne's more golden sunlight, you could perhaps be persuaded of a return to a more classical Italian past. At Serendipity photography we recommend Treasury as a great multi purpose location, particularly for later in the day weddings with a classic or romantic bent. You are right in the heart of the very best architecture and streetscape, with cafes, gorgeous Victorian doors and stone facades, hints of green and decorative fencing and stone walls. Treasury Gardens are right next door, perfect for a few minutes of fresh spring grass or golden leaves and photographs across flower beds, without the hassles of parking and walking in with some other, more popular Melbourne garden locations.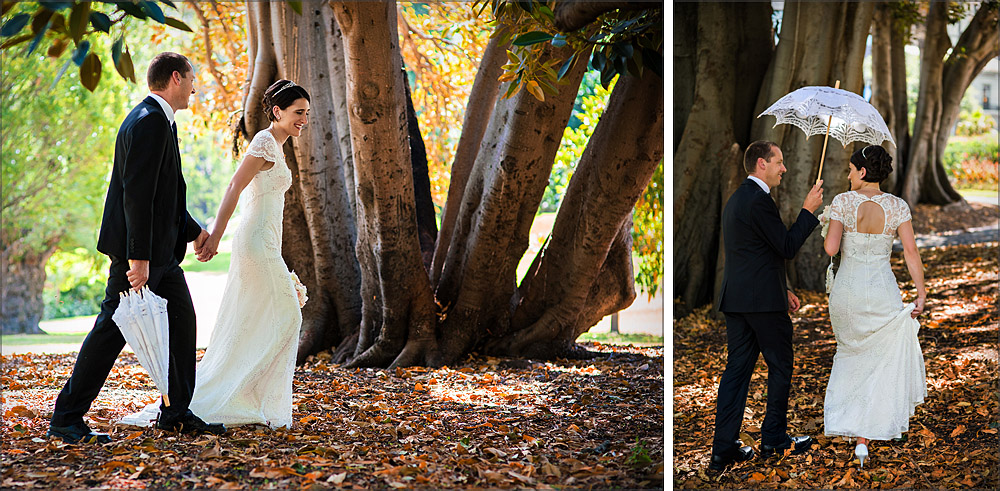 Another aspect of the Old Treasury Building is its sheer convenience– the largest bridal party can walk hand in hand in classic surroundings. Given that the façade is elevated and also faces west, Treasury is bathed in wonderful afternoon light for most of the year. When deciding on your best choice of city wedding photography locations it also important not to forget that Treasury has accessible parking on most weekend days, and with the aid of a coöperative driver standing by the cars, works as a fly in fly out heart of the city destination for weekday weddings. The surrounding area doubles as a good wedding car photography location, your car/s can be brought to the front (oh the power of white ribbons) at the very end of your shoot for some grand results. All of this makes the Treasury a great place for wedding ceremonies.

The Old  Treasury Building was designed by nineteen year old JJ Clark!!!  Thanks to the discovery of gold, Melbourne developed at a frenetic pace in the 1850's, moving from being a struggling young colony in 1852 to a bustling city with the beginnings of an international reputation in 1862. The Old Treasury Building was but one of many freestyle Renaissance Revival grand public buildings commenced in this period from Gold Rush wealth. Built in an Italian Palazzo style, the Old Treasury Building has three well proportioned stories, decorated with window pilasters and pediments, and a central portico and colonnaded area. The exterior has been often considered to be one of the finest designs for public buildings in Australia. Building commenced in 1858 and was finished in 1862, with the sandstone exterior covering very solid bricks, all resting on bluestone foundations. The exterior is of Bacchus Marsh sandstone, and the floor above the basement is one meter thick! Visitors can see the original gold vaults where gold was stored in the gold rush and historic key public documents including the one and only surviving letter of Ned Kelly's and Robert Hoddle's 1843 field book. The Old Treasury Building housed Colonial officials — the Governor, Premier, Treasurer and Auditor General — until their offices to 2 Treasury Place in 1877. Currently as well as public access and display the Old Treasury Building is used for the Governor of Victoria to sign off legistation in weekly meetings in the sumptuous Executive Council chamber on the first floor.

Many Victorians are able to be married in true Victorian splendour at the Registry Offices on the ground floor of the Treasury building.
The Old Treasury building has featured in some popular films and TV series. For venue hire and catering please contact Chadd Croshaw from Nathan Bryce  on 0425 726 865