State Library of Victoria
The State Library of Victoria is one of Melbourne's most distinctive landmarks and offers a truly unique venue for your wedding reception. Boasting magnificant 19th-century heritage galleries, and spacious contemporary venues, the library also provides the full suite of services, including catering, security and support staff. The Library's venues bring you one step closer to making your event a truly memorable occasion.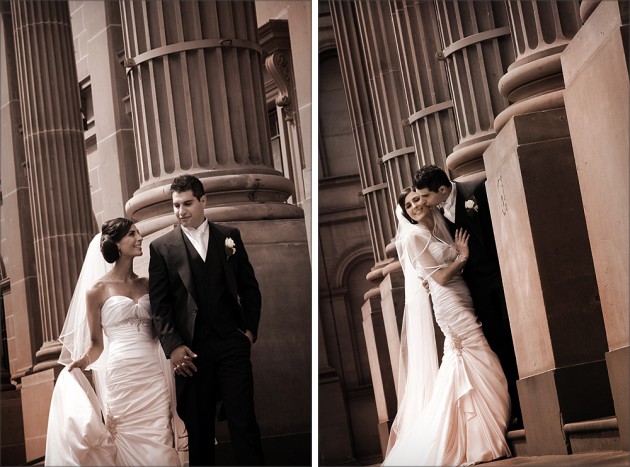 Located in Melbourne, the library is situated on the block bounded by Swanston, La Trobe, Russell and Little Lonsdale streets, in the northern end of the CBD. The library holds over 2 million books and 16,000 serials, including the diaries of the city's founders, John Batman and John Pascoe Fawkner and the folios of Captain James Cook. It also houses the original armour of Ned Kelly. The rich history contained within this impressive structure is a quality we are drawn to at Serendipity Photography. The combination of iconic architecture, grand interiors and unique function rooms, are perfect for a wedding of monumental proportions.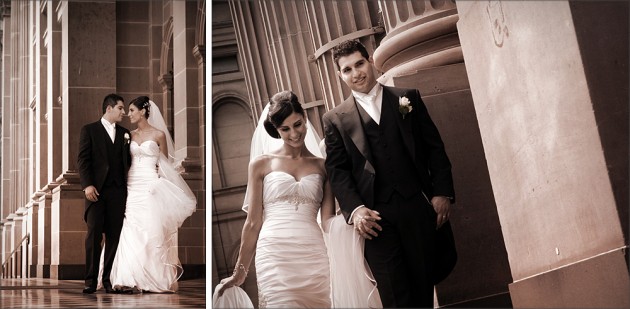 The striking architecture In 1853, the decision to build a state library was made at the instigation of Governor Charles La Trobe and Sir Richmond Barry. A competition was held to decide who would design the new building; local architect Joseph Reed, who later designed the Melbourne Town Hall and the Royal Exhibition Building, won the commission. On 3 July 1854, the recently inaugurated Governor Sir Charles Hotham laid the foundation stone of the new library , before it was officially opened in 1856, with a collection of 3,800 books chosen by Sir Redmond, the President of Trustees. Augustus H. Tulk, the first librarian, was appointed three months after the opening.
The State Library has a long and respected historic role in Melbourne as a provider of both educational and community focused facilities and events. Much to Serendipity's delight, the grand building also caters to private events, including weddings. There is a selection of exquisite function rooms on offer including: Queen's Hall, whose beautiful 19th century interior can accommodate up to 200 guests for a sit down function, the Cowen Gallery which provides an elegantly spacious interior, allowing up to 400 guests to be surrounded by masterpieces of Australian art, or the more intimate Red Rotunda, which features portraits of well known Victorians including William Buckley and Governor La Trobe, rendering the room truly unique. Each room boasts an array of distinctive features, from striking coloured walls, to ornate carved ceilings, these elegant interior decorations serve as a wonderful backdrop for the formal and more relaxed photographs that Serendipity captures during the reception.
Outside the lush front lawn, gilt by the elegant stone entrance steps, provides a picturesque addition to the grand façade of the library. The vibrant green tones set off a charming aesthetic, suitable both for long range vistas, and close range group shots. A number of statues are in the entrance area, including Saint George and the Dragon, installed in 1889 by artist Sir Joseph Edgar Boehm and Charles La Trobe, commisioned by Australian sculptor Peter Corlett, installed in 2006. These attractive alfresco details offer abundant opportunity for a range of outdoor shots, right in the heart of the city. Because of the State Library's excellent reputation both for catered events, and as a picturesque backdrop, Serendipity recommend contacting the library, and perhaps booking a tour, to ensure that this grand venue is right for your wedding celebrations. Further information can be found on the website: http://​www​.slv​.vic​.gov​.au/