Mandalay
Situated at 219 Clarke Street, Northcote, Mandalay Reception Centre has long been a sought after venue for wedding ceremonies and receptions. This restored Edwardian mansion is set high on the prestigious Ruckers Hill, providing newly weds and their guests with breathtaking views of the Melbourne skyline and Yarra river. We at Serendipity Photography always enjoy capturing wedding celebrations at the unique Mandalay; the interior design, when coupled with the charming period façade and the picturesque garden which surrounds the mansion, makes an exquisite setting for weddings of many different themes, styles and scales.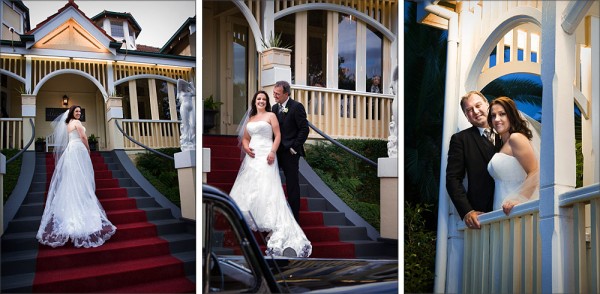 Mandalay has a soft spot in our hearts; we have shot countless weddings there since the beginning of our business. There is much to love about Mandalay. If your heart is set on an outdoor ceremony, then the gardens surrounding the historic mansion provide the perfect setting for a relaxed and intimate celebration, as well being lovely to shoot in. The charming timber gazebo nestled in the far corner of the grounds frames the bride and groom beautifully as they exchange vows. Guests can soak up the peaceful atmosphere underneath leafy canopies of trees, which casts the scene in soft dappled light. Sweetly scented rose bushes and a lovely water fountain add further potential photographic details to the well landscaped garden. If it threatens to rain on your parade, there is no need to despair for Mandalay's well equipped Sherry Room (complete with an open fire) makes a romantic last minute alternative to a garden ceremony.

Mandalay are well known for their elegant reception facilities. The spacious function room is perfect for intimate or medium sized wedding celebrations, comfortably seating up to 120 guests. The bright and modern décor is set off with charming historic touches such as original stained glass windows and elegant candelabra. The exterior façade of the mansion is rich with photographic opportunity; the grand entrance stairs leading up to the expansive verandah is framed by a pair of handcarved statuettes. The well maintained exterior of this 1912 mansion is perfect for large bridal party shots as well as classic portraits of the bride and groom. Nearby are many vibrant, trendy cafes, gorgeous period homes, tree-lined streets, not to mention Northcote Town Hall and the Yarra, for great photography opportunities.

Mandalay's all inclusive wedding packages which encompass: canapes, catered menus and beverages, luxurious table linen, choice of decorative features, portable dance floor and private bridal suite makes for an appealing and convenient function. There is also the option of your very own Pianist to entertain your guests and create an even more sophisticated ambience! Charming, hospitable and accommodating, Mandalay's food is also rather impressive, and they provide a genuine emphasis on customer service. The original period features of Mandalay give the venue a feeling of classic elegance and provide abundant photographic opportunity. The list is extensive; open fires, leadlight bay windows, antique furnishings, pressed metal ceilings, turret roof and romantic return verandahs. This majestic setting is truly the stuff dream weddings are made of. Definitely the place to consider if you are after "Timeless elegance". Have a look at Mandalay's main website for further inspiration and to take a virtual tour.