River's Edge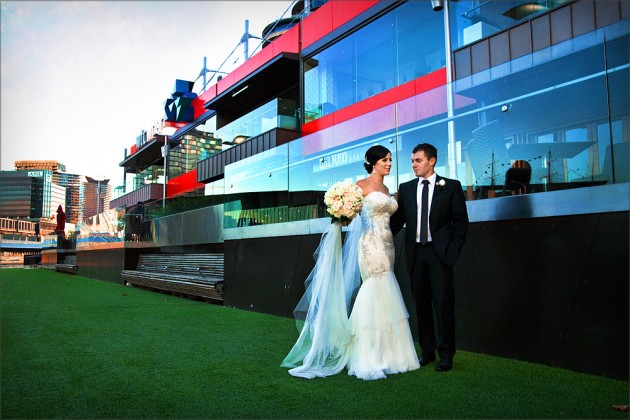 Located within Melbourne's new
WTC
Wharf, River's Edge is a luxurious and unique reception centre, with a vibrant and refreshing atmosphere. With views that sweep across the Yarra River and gorgeous city skyline, this wonderful venue offers incredible and dramatic light throughout the day, flooding in through the stunning floor-to-ceiling glass walls.
River's Edge is beautifully designed to suit its contemporary, sleek surrounds, with slate, charcoal, silver and white. This venue offers a sophisticated and minimalist approach to design, in a wonderful and convenient location. Unique to River's Edge is its brilliant waterfront dining. This is the only wedding location in Melbourne's
CBD
to offer absolute waterfront dining.

One of the best features of River's Edge is the incredible 180 degree views. You and your guests can enjoy fantastic service, delicious food and (of course) wonderful company, whilst watching the sun go down on a beautiful day of celebrations. This venue is all about light, one of the many reasons we, at Serendipity Photography, love it! Any time of year, and any style of wedding, is just a pleasure to shoot, with the soft tones of the design, and the truly spectacular natural light, in front of some of the best views in Melbourne.
When entering River's Edge you are met with a grand staircase with feature lighting and plasma screen that you can style to suit your unique needs. Further on are a pair of gorgeous and romantic Juliet balconies, that form the perfect backdrop for cocktails upon arrival. Another great feature of this wonderful venue is its location. Walking distance from some of Melbourne's best photography locations, River's Edge is convenient, accessible and, best of all, a beautiful setting for your big day!
Just a few steps down the river is the Seafarers Bridge, the Yarra's most recent footbridge addition, stretching across the water. On the Southern banks of the river, as you and your guests gaze out of the River's Edge full length windows, is the iconic Polly Woodside. The Yarra River is a fantastic combination of old and new, creating an unusual and idiosyncratic ambience on the water. Polly Woodside, built in 1885, before sailing between South America and England carrying coal, nitrate and wheat. From its days as a trade vessel, this beautiful ship slowly made its way around the world, through North America, Africa and Asia, before eventually ending up on the shores of Australia. Today this glorious boat is one of Melbourne's best tourist attraction, and is a fantastic addition to the wonderful vistas on offer at River's Edge.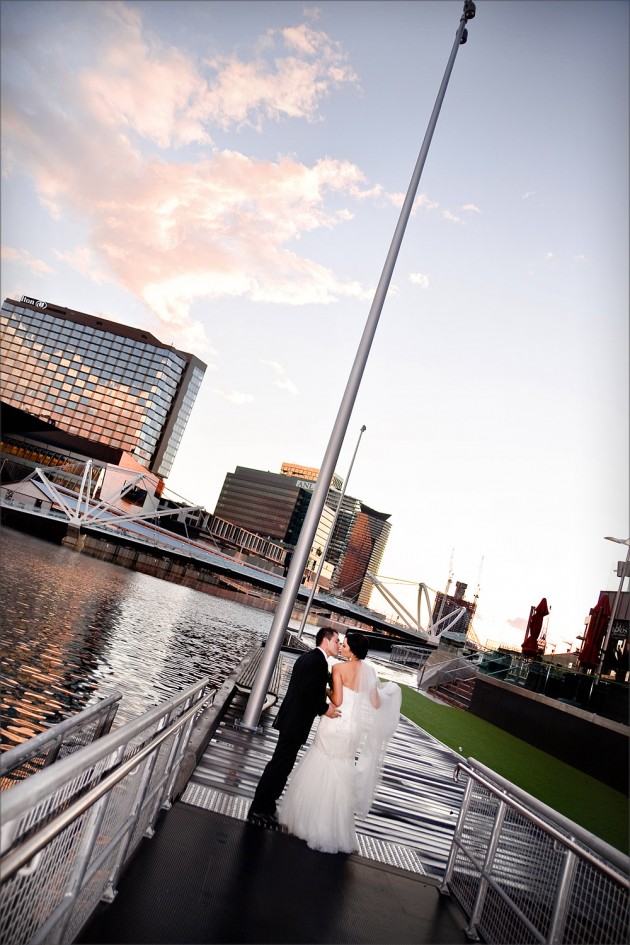 The staff at River's Edge offer great service with a fantastic eye for detail. They will help you every step of the way to ensure that your reception is one that everyone will remember. If you're looking for a great location with contemporary style and amazing food then River's Edge is definitely worth a look!