Ormond Pier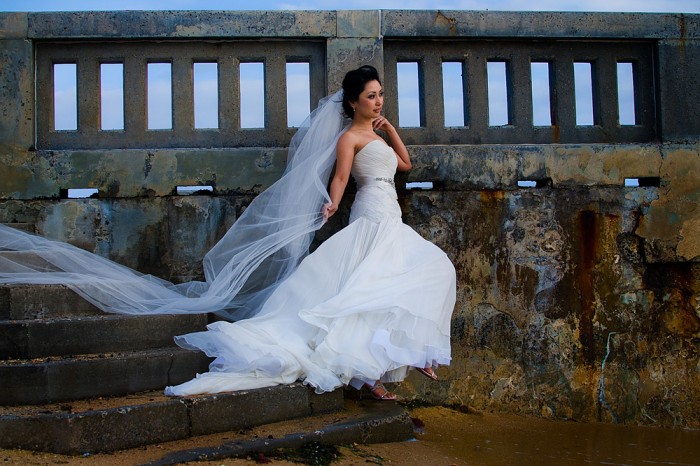 Ormond Pier is an impressive gracefully weathered expansive structure, surrounded by rocks and beach, ideal for many different moods for beach locations and romantic wedding photography. It is notable for light and shadows running across the broad stone like surface. At Serendipity Photography we can play up the warm and cool contrasts, and dramatise the sculptural qualities of wall and wave alike. Ormond Pier can become like a glorious ruin, with massive walls as a setting for your own romantic play — you can lean across molten wave tips, your hair gilded in the last rays of light. Or the pier can be all light and air, folds of gown and veil crisp against silver foam. Or softly connected in the stolid dark, feet on broken steps, lips together only for one brief moment.
In Melbourne, Ormond Pier is one of the very best locations in the inner south east, versatile, with easy access at the top of Head Street in Elwood, generous parking, uncluttered, with rows of steps diagonally on to the western light, and the pier surrounded by a strong square balustrading, lending long shadows to the edge of your frame. Here, the world your is own stage, the sun streaming over your shoulder. As a group you can stride along its expanse, up against massed clouds. Alone together with shadows and the sun, your veil can become a glorious curve, bright against the darkening sky, sharply lit from behind. At your wont, Elwood Pier allows sea and sky without sand; or for the brave, the sand is just steps down, sunset washed and gently lapped by the waters of Port Phillip Bay.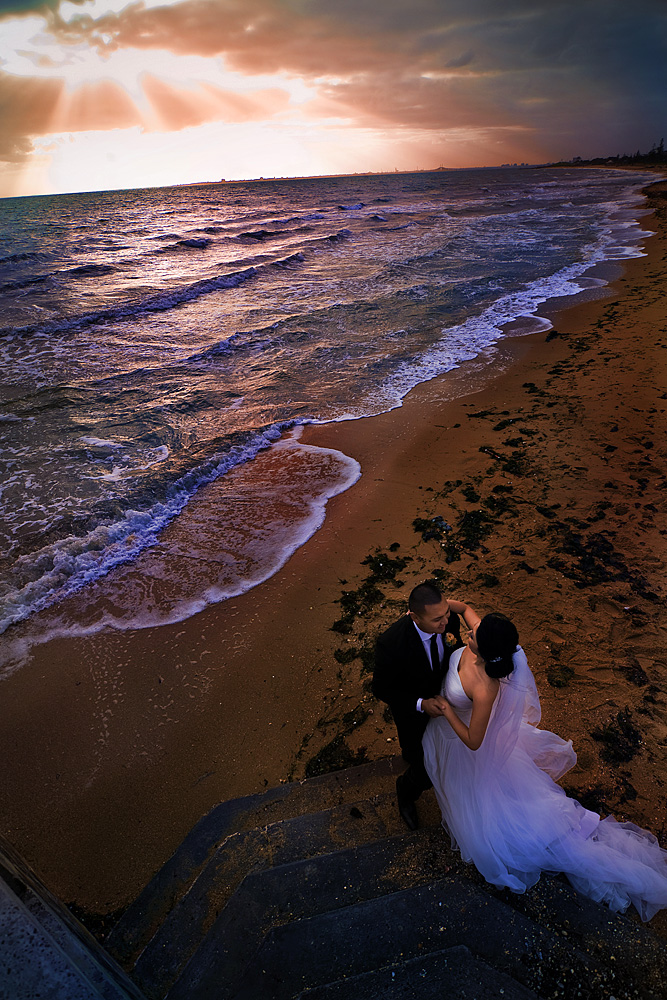 Serendipity images play hard with colour and atmosphere, drawing on the experience of over 2100 weddings and over thirty years of study and practice of art and photography. We are inspired by Turners calm Venetian golden palate or the blue and green greys of his thunderous seas. Last year, we were lucky enough to catch some of Turners most influential paintings at the Prado and again at the Tate Britain, and privileged to be given generous hours of conversation with Tate curators about his working methods — splashing figures so quickly over glorious layers of atmospheric underpainting; and his changing palate in response to the increase in technical means, more pigments, more colours, so more painted drama and power. Similarly at Serendipity we find our practice straddling the sharp divide of the change to digital — more opportunity, more possibility of change and growth in visual values and colour, even more control of light and tone and texture as digital systems increase in capacity and Photoshop grows in functionality and speed.
Turner remains one of our heroes — his diligence, bravery, grasping all possibilites to combine the power of the associated historical myths and atmospheric qualities of noteworthy places within the tradition of landscape and history painting, yet mastering and overcoming that history in a personal revolution that turned British painting on its head. Turner, as soon as the political climate improved, dashed off on many journeys to Europe, weathering hardship and foundering seas in his inveterate travel; his incessant notebooks creating his own calligraphic shorthand (no cameras then), to bring back splendid visions, in a humbling, challenging and very inspiring combination of technical prowess and ultimate atmospheric qualities.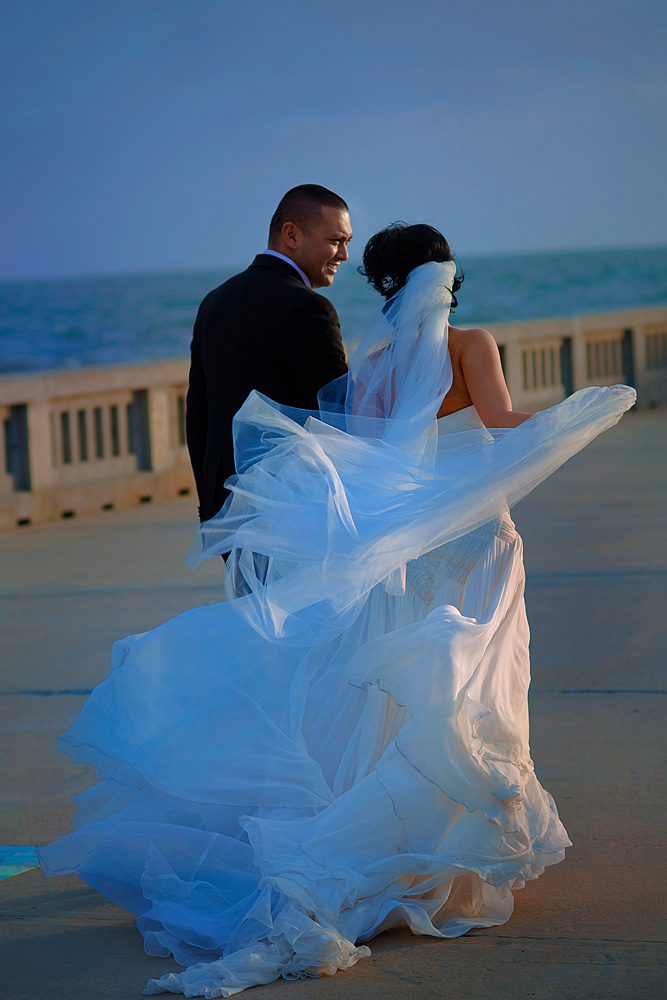 We welcome you to look at other beautiful parks and piers around Melbourne, photographed by Serendipity:
Royal Botanic Gardens and The Terrace