Lyrebird Falls
Situated in the beautiful Dandenong Ranges, a mere 50 minutes drive from Melbourne's CBD you'll find the enchanting venue known as Lyrebird Falls. With only one wedding a day taking place at this charming location, you're ensured exclusive use of the expansive gardens (featuring both a chapel and gazebo) as well as the elegant modern interiors. Easily accommodating well over 100 of your guests, Lyrebird Falls is a perfect setting for both intimate and grand wedding day celebrations.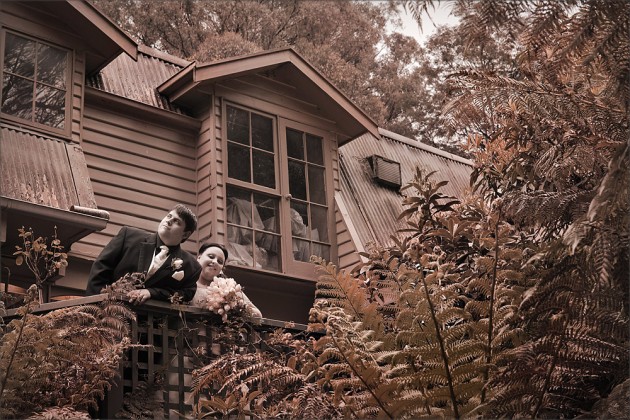 The venue is surrounded by the authentic organic forest of the picturesque Dandenongs, providing an abundance of towering trees, lush fernery and a gentle waterways. Gorgeous details such as a charming footbridge, offer both a unique setting of enchantment and a variety of interesting backdrops for wedding day photography.
The gardens comprising Lyrebird Falls come equipped with a private chapel with views of the surrounding forest and picturesque gazebo perfect for your fairytale wedding ceremony. You'll be spoilt for choice when planning your romantic outdoor ceremony!
Inside the elegant features continue; your wedding celebrations can kick on in style with receptions beautifully complemented by the dining room, complete with full length windows, this spacious function room has beautiful views of the gardens and offers a spectacular backdrop to frame the bridal table.
To ensure your wedding is unforgettable, Lyrebird falls provide professional service and exceptional attention to detail. Nothing is left to chance! Their function coördinators – voted Victoria's best in 2007, 2006 — can assist you with tailoring your reception to be unique to your individual style. By individualising your colours, your choice of menu, table layout, ceremony and reception music, the staff at Lyrebird Falls can help make your evening truly memorable.