St Michael's Uniting Church
Located at 120 Collins St, Melbourne, St Michael's is a unique church in the heart of the city. Serendipity Photography highly recommend the church as it offers a convenient and aesthetically beautiful setting for traditional ceremonies — not to mention the abundance of striking photographic opportunities!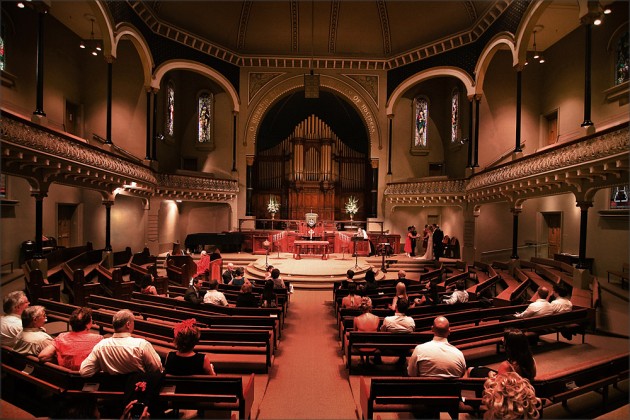 At Serendipity Photography our 22 years of experience and long standing familiarity with St Michael's has made us confident of its superiority as a wedding photography location. As you make your way up the classic stone steps, and through the grand entrance, you will be struck by the church's unusual quiet beauty. There are abundant features internally, externally and throughout the surrounding vicinity, which offer a unique and classic backdrop to each moment and a myriad of photographs of your day. Inside, the magnificent display of stained glass windows that were created and installed by artist Klaus Zimmer cast soft natural light, setting off a rosy glow and highlighting the bride and groom beautifully. These bicentennial windows are a rare expression of visual theology — the largest display of existential-religious stained glass in the Southern Hemisphere.
St Michael's is a beautiful heritage listed building in the heart of the city, complete with a welcoming warmth and ambience unsurpassed. Experienced minister and internationally renowned public speaker Dr Francis Macnab heads the church and is responsible at St Michael's for one of the largest city congregations in Australia. The church is accepting of all couples regardless of religious beliefs and previous marital experience, making it a distinct and inclusive venue for couples of all denominations. The wedding ceremony which typically lasts for around 30 minutes, includes all you need for an occasion that is dignified, meaningful and, above all, joyful. All details from the efficient administration, optional relationship counselling, and a pre wedding day rehearsal, to the church flowers and trained organist, aim to make your wedding service run as smoothly and elegantly as possible.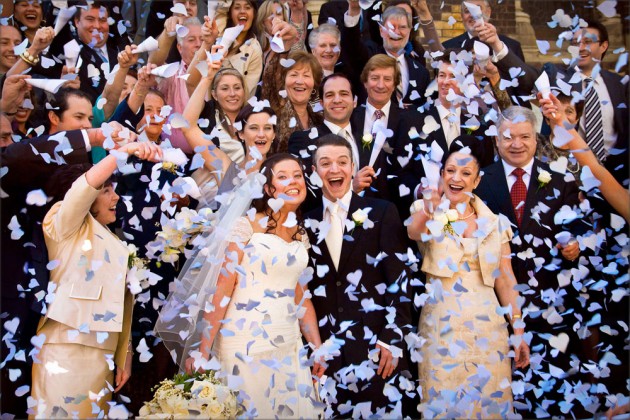 History of St Michael's
The original chapel was built in 1839 and upon completion was the first permanent building constructed expressly as a church in the Port Phillip Settlement. The church was founded by Congregationalists (also known as Independents). The chapel served the townsfolk and the farming community in the vicinity, before being demolished in 1866 to make way for the more grandiose building that stands today. The church externally is one of Melbourne's favourite landmarks, and has been a sought after venue for weddings since 1867. Designed by architect Joseph Reed– who was also responsible for The Melbourne Town Hall, The Exhibition Building and the State Library– it is clear to see why this stunning church designed in the Lombardic style, with its multi coloured brick work, Romanesque arches, open cloisters and cast iron details, has earned a place in Melbourne's heart. The church is now classified by the National Trust with the highest heritage rating.
When the weather is fine Serendipity suggests making the most of St Michael's recent addition: The Celebration Garden, designed by landscaper Akira Takizawa. The hand selected plants and rocks form a neat border creating an intimate space for those using it, often after weddings, to gather, mingle and bond. There is also a waterfall which trickles gracefully into the garden. The visual harmony present in the garden allows for a peaceful alternative to the hustle and bustle of Melbourne's streets and provides a gorgeous backdrop to photographs on the day.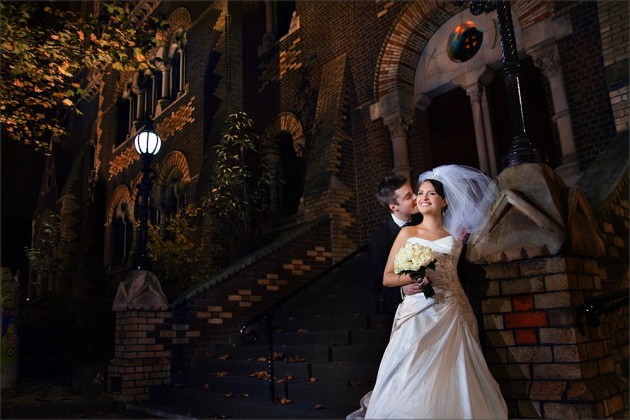 The church which can seat up to 1000 people, is available for weddings throughout the year except for Sundays before 2.00 pm and during some religious festivals. It is important to reserve the church as early as possible to ensure the date and time you require. The advised booking period is at least eight weeks before the wedding. This allows time to meet with the Marriage Minister and organise the necessary paperwork for your wedding. Cleverly designed in a semicircular shape, gently sloped rather like a theatre, the semicircular and sloping design helps create an intimate atmosphere, and provide exceptional acoustics. At St Michael's it does not matter if you have 5 or 500 people attending your wedding service — whatever the number, it will be special.
St Michael's is an important part of Melbourne !
St Michael's is in a unique location, is very attractively laid out and is a special part of Melbourne's inner city. At Serendipity Photography we appreciate the wonderful polychrome brick exterior as well, so easy to get wonderful shots of congratulations and family, and perfect for beautifully framed couple portraits.
St Micheal's is an oasis of civilised charm and well detailed heritage architectural splendour within the inner city. It is a privilege to be able to photograph weddings here, to continue the threads of Melbourne as a living history of families, meeting here to shape the future in a perfect space gifted to us from the past.