Upcoming pages on the Royal Exhibition Building, Carlton Gardens, the Melbourne Museum and surrounds.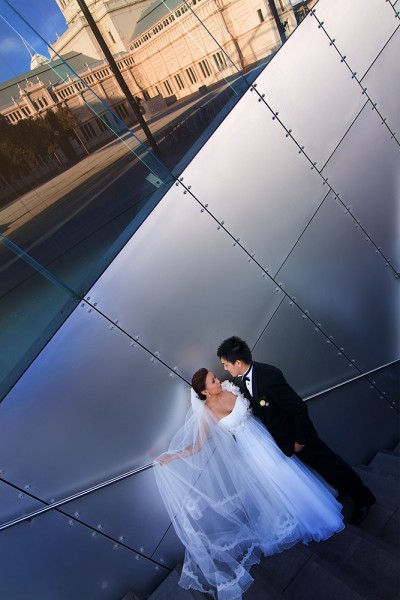 Hi all!
We've been working on a new location that will encompass the Exhibition Gardens, Carlton Gardens, Royal Exhibition building and the Melbourne Museum as wedding photography locations. There's a lot to write about, the grand history of the Royal Exhibition Building, the remarkable, modern design of the Melbourne Museum and the beautiful surrounding gardens.
Here's a little of our musings so far:
The Carlton Gardens between Rathdown and Nicholson St is part of Victoria's grand heritage. Surrounded by a wonderful set of associated locations, the Carlton Gardens is a fantastic spot for wedding photography with some of the best features of inner-city Melbourne. At Serendipity Photography we really love the Rathdowne terraces and tram terminus building, both of which are easily accessible from anywhere n the Carlton or Exhibition Gardens. The gorgeous wooden doors and classic stonework of the tram terminus, an old engine house from the late 1800's, is now a grabbing red and gold. The area is also home to plenty of older buildings with artistically decayed paint and suitably rustic charm.

To the North there is the lean, clean lines and contemporary ambiance of the Melbourne Musuem which affords couples the elegance of reflective surfaces, faceted glass detailing and the much admired (or maligned) "Rubik's Cube", which can work for a colourful backdrop. Perhaps even in conjunction with the red wave of the experimentally designed children's playgrounds. The trick to sensitively capture such bold design is in careful compostion and the placement of the 15 degree tilts.
There's so much more to write, and a lot of great new pictures to put up. And as always, if you would like our opinions on any photography location in Melbourne, don't hesitate to contact us via our Facebook.
Look out for more great images and pages in our Serendipity's Top Melbourne Wedding Photography Locations section.