Serendipity Photography at Labassa
Serendipity recommends Labassa for the ultimate in wedding location photography extravagance.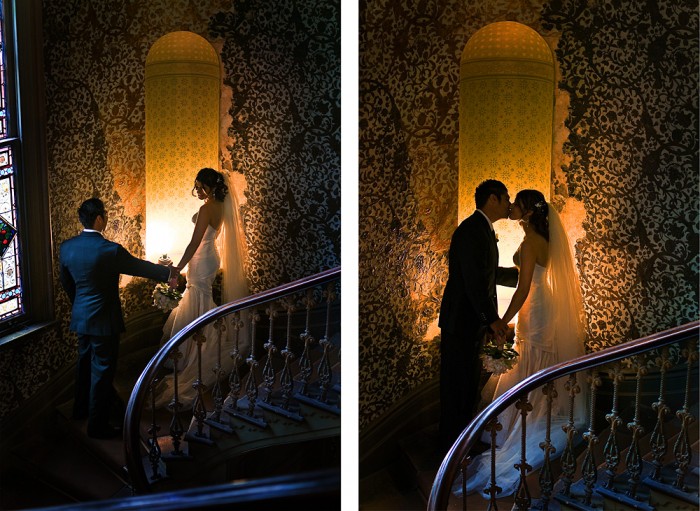 In Melbourne, in Labassa, we are so fortunate to be able to walk through the splendid interiors that hosted the luminaries of the 80s and 90s clustered around the Art Nouveau lamps, and sipping in front of swathes of extravagant velvet. Glance in one of the many mirrors and you might see low necked ladies with draped skirts and elaborate bustles with strings of pearls twining delicately through lace netted fingers; or later, on the stairs, society matrons in frothy tea dresses and wide sleeves lit by multiply stained glassed strands of  coloured light.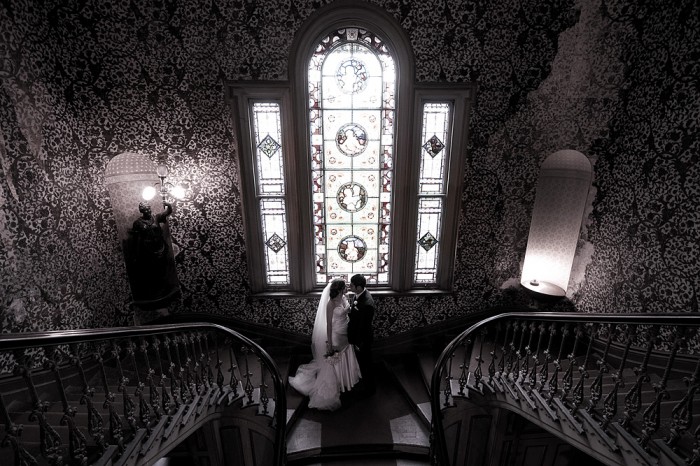 Labassa is a High Victorian masterpiece, naturally protected by the National Trust, and has been used for film settings and advertisments, as well as being in demand for Melbourne weddings and wedding location photography. At Serendipity Photography we believe that if you are looking for a photography location that has the ultimate in style and romance, you should not look past the opulence of Labassa. We are so enthusiastic about Labassa that as part of our program with National Trust properties we will "reimburse" your National Trust fees with portraiture to the same value!
 Labassa for opulence and romance!

Toss yourself on Labassa's oriental carpet or make passionate kissing love in front of the 1873 Ferguson and Urie exquisite tripartite stained glass window. Gaze at Labassa's very unusual trompe l'oiel ceiling as you hold hands in front of the embossed heavily gilded wall paper, or touch fingers to his lips surrounded by lavish 22 carat gold surfacing. Play hide and seek 'tween the swagged Corinthian columns and caryatid consoles in the porch, surrounded by Italian marble, sculptures and elaborate cornices! Labassa is one of the most gorgeous heritage-listed buildings in Melbourne, and it makes for an incredible location for weddings and wedding photography. Its exquisite interiors, gilded and embossed wallpapers, stained glass windows, mahogany and marble all come together beautifully in constructing the Italianate Renaissance revival extravagance with Second Empire touches and a hint of Germanic gothick that is Labassa — a perfect setting for a wedding.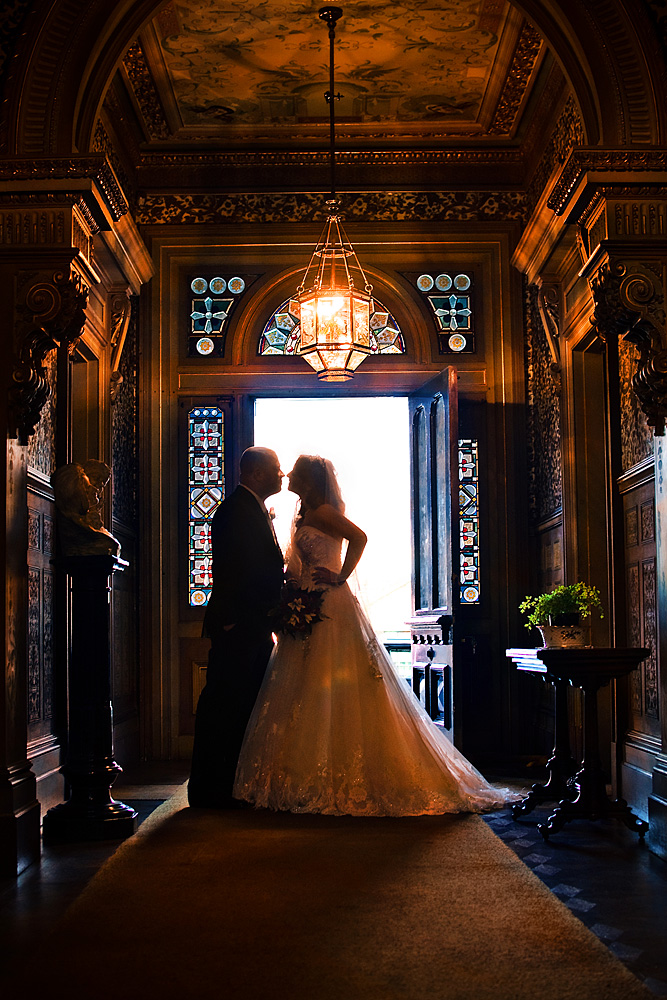 Low light photography at Labassa
Serendipity have had considerable experience photographing in low light locations. In order to conserve the magnificence of Labassa's precious original interior surfaces no flash photography is ever permitted. This can pose a technical challenge! Either a photographer must be experienced in shooting in very low light or else bring other non light sources such as cable-less LED. To match this, converting from RAW is a complete necessity for very low light interior photography, as the ability to blend a variety files from different RAW conversion settings in one photograph is very helpful in bringing out the existing ambient atmosphere, and in coping with strong backlight and in enhancing texture and colour of the interior surfaces.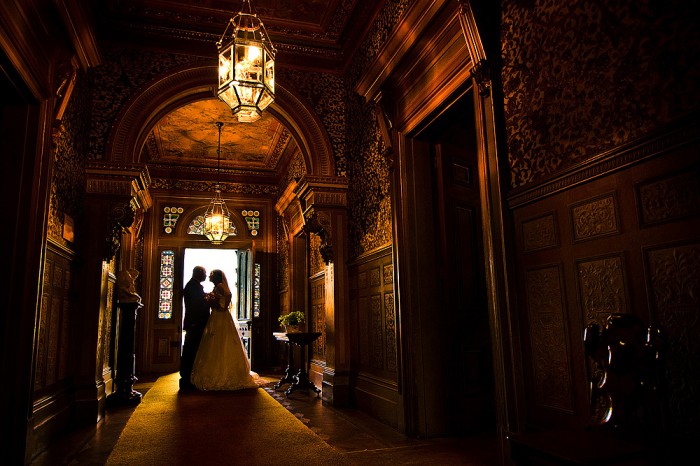 More Labassa photography, more text and Serendipity's National Trust venue free wedding portraiture offer!
Please enjoy our blog page on Labassa with many more photographs and some more history of this beautiful property.
You can have a look at some more of our Labassa-related folio at our website.
Also, since Labassa is listed as a National Trust property, Serendipity would like to encourage continued support for Australia's heritage buildings with a free portrait offer and an extravagent ($1000.00 plus) wedding ceremony images offer!!! to match the value your contribution for ceremony location fees to the National Trust if you have booked your wedding ceremony at Labassa and book with Serendipity before October 2011.