Serendipity Photography loves Melbourne's golden arcades.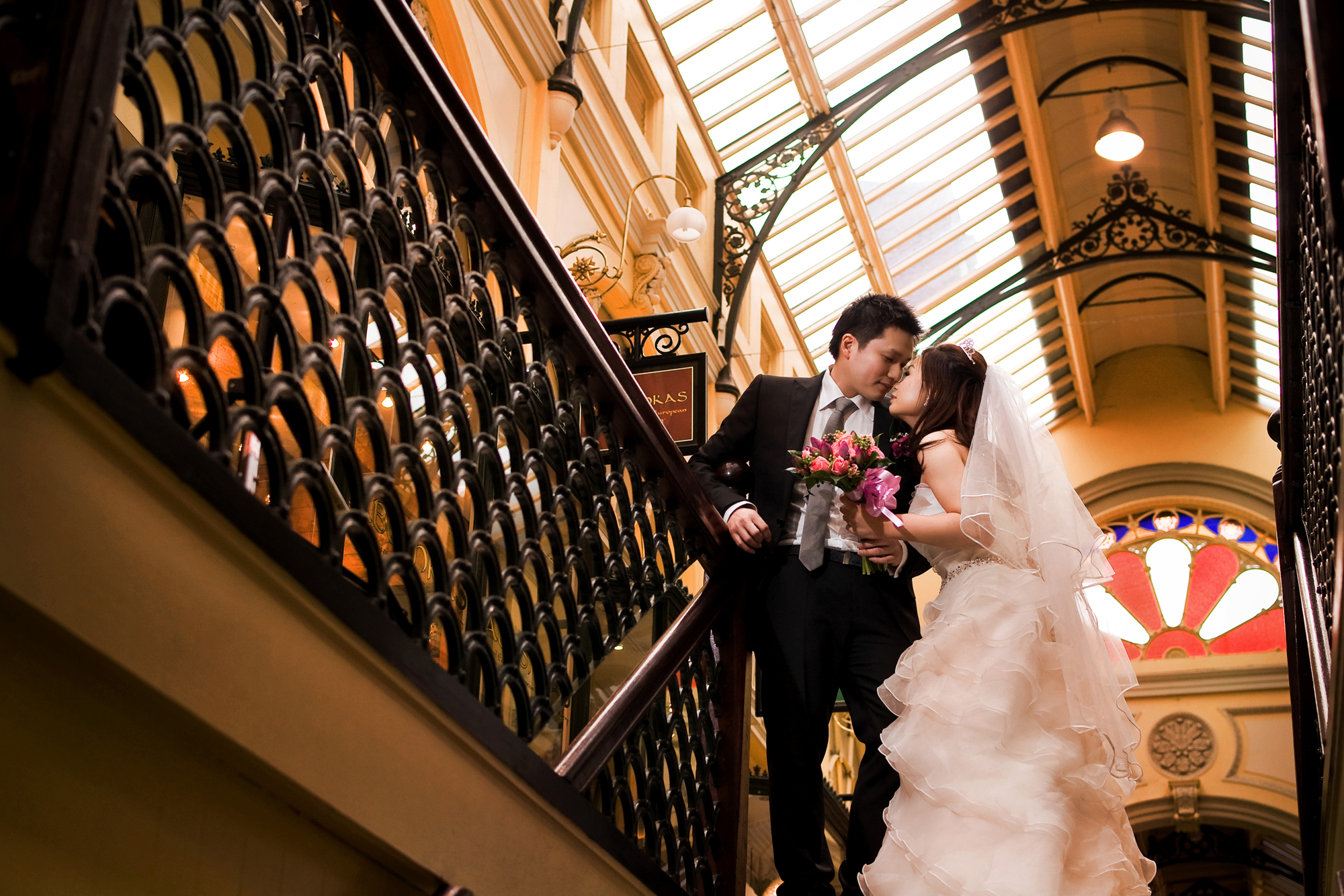 Serendipity Photography loves the arcades that run like gold veins through the city. Melbourne arcades are a great feature of the Melbourne CBD, and a much desired site for wedding photography. Finding a sliver of copper, brass and polished glass can feel like magic in between the grey slabs of countless office buildings. These arcades feel like an oasis, and in unpredictable weather they can be a godsend.

Here's an except from the Royal Arcades Wikipedia entry:
Royal Arcade is a heritage shopping arcade in the central business district of Melbourne, Victoria. Originally constructed in 1869, the arcade connects Little Collins Street to the Bourke Street Mall, with a perpendicular passage running to Elizabeth Street in the west. It also connects to the smaller Hub Arcade near the Little Collins Street end.

Originally designed by Charles Webb, the arcade features a high glass roof and windowed stores. At the south end, the arcade features effigies of mythical figures Gog and Magog and a clock which chimes each hour. The arcade was restored between 2002-04 which resulted in additional natural light and consistency of the shopfronts.

It is a significant Victorian era arcade, recorded on the Victorian Heritage Register. In addition, Melbourne's Golden Mile heritage walk runs through the arcade.
The Royal Arcade was designed by Charles Webb of The Windsor Hotel fame, and accordingly, we love it. Such classic design is such an amazing thing to see in such a small area; big is usually best when it comes to the Victorian styles, but the Royal Arcade is undoubtedly a gem.
The Block arcade is also phenomenal — so much detail! We domed ceiling and Italianate tiled floors. Here's some of their wikipedia entry:
Block Arcade is a heritage shopping arcade in Melbourne, Victoria. Melbourne's Golden Mile heritage walk runs through the arcade. […] The arcade which was erected between 1891 and 1893 was designed by architect David C. Askew whose brief was to produce something similar to the Galleria Vittoria in Milan. The result was one of Melbourne's most richly decorated interior spaces, replete with mosaic tiled flooring, glass canopy, wrought iron and carved stone finishings. The exterior façade of the six storey office has near identical facades on Collins and Elizabeth Streets and is one of Australia's best surviving examples of the Victorian Mannerist style.
Check back here tomorrow for some great Melbourne arcade wedding photos.