Serendipity Photography's guide to wet weather wedding photography.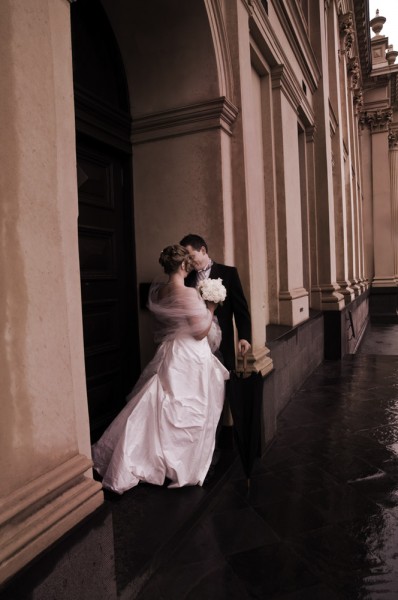 Summer has been much anticipated here in Melbourne, but in reality it's been a pretty erratic time. The Serendipity Photography staff have been seeing sunshine one moment rain the next, classic Melbourne weather, really, but it means one has to think just a little bit harder when choosing wedding photography locations. Because of this, and with Autumn fast approaching, we thought it would be worth compiling a list for you all of the best wet weather wedding photography locations in Melbourne.
What's on the wonderful wet weather list, you ask? Only the warmest, coziest locations we can find, to keep you safe from the rain and cold of Melbourne's wild weather. To start us off we've been thinking hard about the South Melbourne Town Hall. It's a good example of some first points to getting good locations in unruly weather. If it's windy you'll need a barrier, if the wind is blowing just right South Melbourne Town Hall can feel as cozy as a living room. The columns hold up enough roofing to keep the rain out while letting the sun shine in. It's got great parking so it's a cinch the get to and every surrounding location is accessible by car.
What more comfort could you want on a rainy day? If you know another rainy day wedding location you'd like our opinion of, you can contact us through our facebook page.