Serendipity Photography focus on grooms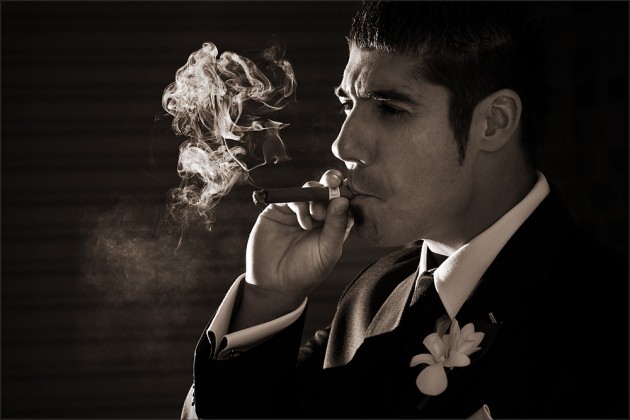 As your wedding day approaches, and the planning stage intensifies, you may find yourself traversing websites and magazine articles which focus mainly on the bride to be, and gloss over the groom! Serendipity Photography are pleased to offer an alternative to this with our new section dedicated solely to the other half — the groom himself. It's becoming more common practice for the groom to be involved in particular aspects of the wedding planning, a trend that we have noticed at Serendipity in the twenty something years of groom (and wedding) photography. Whilst deciding on flowers for the bridesmaids bouquet, or colours the table centrepiece may not be for you, there are an array of decisions and traditions which benefit significantly from the grooms input. Serendipity have collated a selection of tips and advice for some of the more groom targeted decisions, ranging from fitting the suit, to wedding day transport, to the groom's speech. A little research beforehand can be invaluable, turning stressful decisions into enjoyable ones and allowing all components of your big day to unfold smoothly. As the big day approaches it's worth remembering that the best experiences are experiences shared, your groomsmen aren't just handsome face or paintball partners, they are meant to take some of the load too.
Before the Day
Whilst the wedding day may still be months away, there is plenty you can do to make sure it unfolds without any hiccups. In the time leading up to the big day, after you've chosen your suit, it's a good idea to try it on (along with your dress shoes) and practice wearing them at home. This helps you become at ease in your wedding day attire, and allows plenty of time for further alterations if necessary. Wearing your shoes in ensures optimum comfort and movability on the day. An important trait; as sore feet do not help photographic confidence or poise, you want to be able to last through the first dance! Follow the link here to Serendipity Photography's main page dedicated to The Groom — Planning and Style.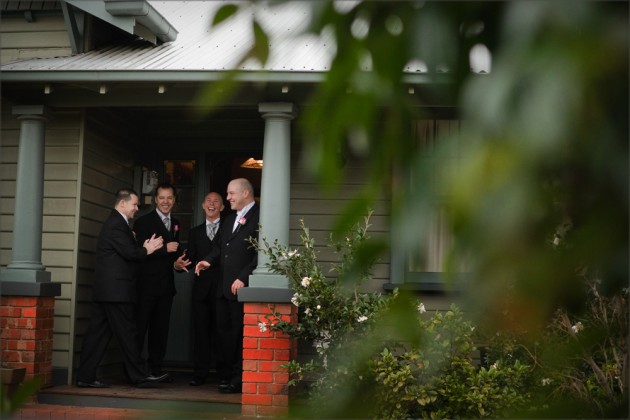 The Suit
Choosing a suit is one of the most important decisions the groom will face during the lead up to the wedding day. Whether you're planning to rent a tux, or purchase a tailor made suit, there are an abundance of options available. Serendipity recommends doing some research before you brave the shops, this can minimise the feeling of being overwhelmed, prevent impulsive or hasty selections, and make it easier to stay focused on budget and style. The result is the perfect suit for your taste, style and season!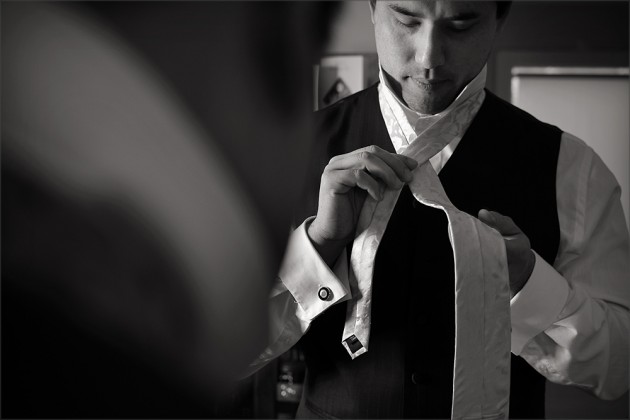 Popular options for grooms are either off the rack numbers — which with a professional fitting and some minor alterations — will provide an excellent fit. There are a great selection of retail stockists around Melbourne, even some larger department stores provide an exceptional quality and variety as well as professional service. Many grooms prefer to rent their suit or tuxedo, which is a viable option, particularly if you're looking for something unique in terms of style or colour to complement the wedding day theme. Have a look at the Melbourne Suit Hire Directory for some useful links.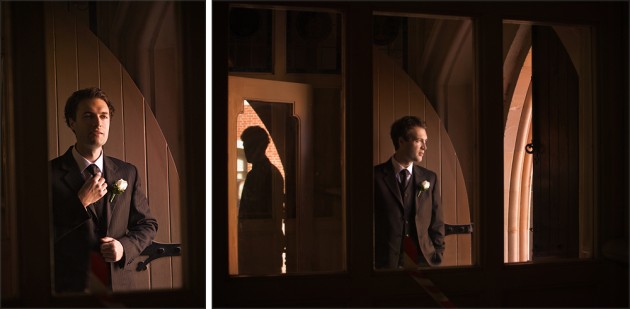 Another alternative is bespoke tailoring, where custom tailoring and hand selected materials are the order of the day. Serendipity have found some useful websites dedicated to bespoke tailoring, suit alterations and wedding suit hire, simply follow the links below: Australia's Number One Tailor, Wedding Suits, Advice Choosing A Suit, Easy Weddings Formal Directory. For more advice and inspiration have a look at Serendipity's main page on grooms — featuring an extensive suit section! Serendipity take the mystery and stress out of suit selection and fitting with our accompanying page on our blog: The Groom — Planning and Style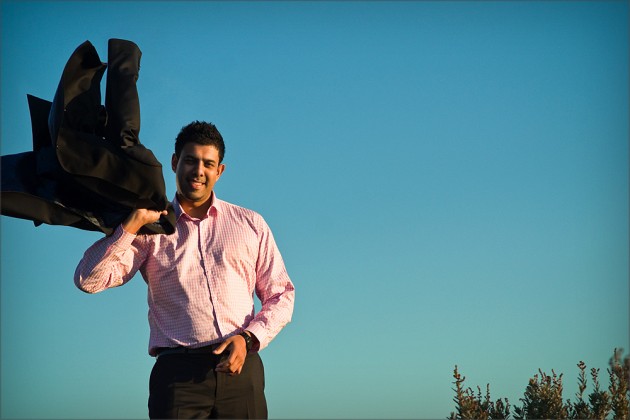 Transport
The type of vehicle you choose for your wedding day makes a statement about who you are as a couple, and can be a gorgeous extension of your wedding theme and style, e.g a sleek limousine for a contemporary celebration or a vintage Rolls Royce for a classic ceremony. At Serendipity we greatly appreciate the contribution made to a couple's day by the right choice of transport style, and again we really appreciate the courtesy, knowledge and finesse of wedding car drivers in Melbourne. The right car and the right driver… the perfect match. The journey to the ceremony in your wedding day car is the perfect way to begin your day in elegant style and comfort. As you glide through the streets on your way to the church, the customary white ribbon which graces the front windscreen casts a respectful awe amongst onlookers, allowing you to truly feel like king and queen.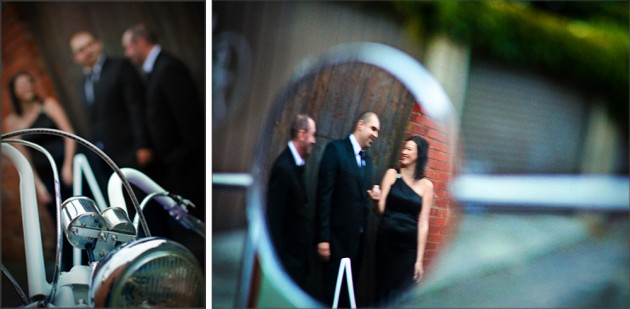 There are a fantastic selection of specialty car hire locations around Melbourne, follow the links here for some of Serendipity's top picks. Easy Weddings car guide, Prestige Wedding Cars, Wedding Car Association. As well as our main page on The Groom — Planning and Style, if you love cars, you'll love our new page: Classic or Contemporary — Transport in Style.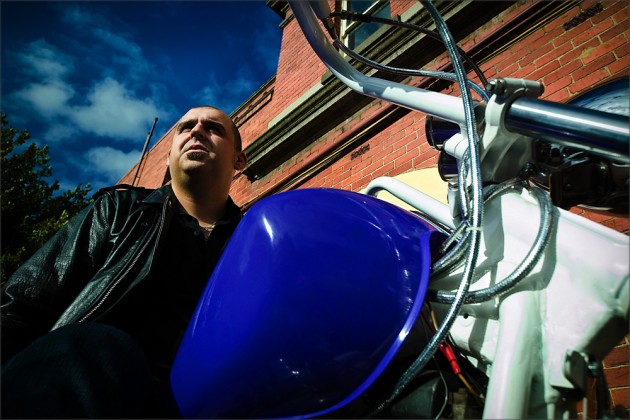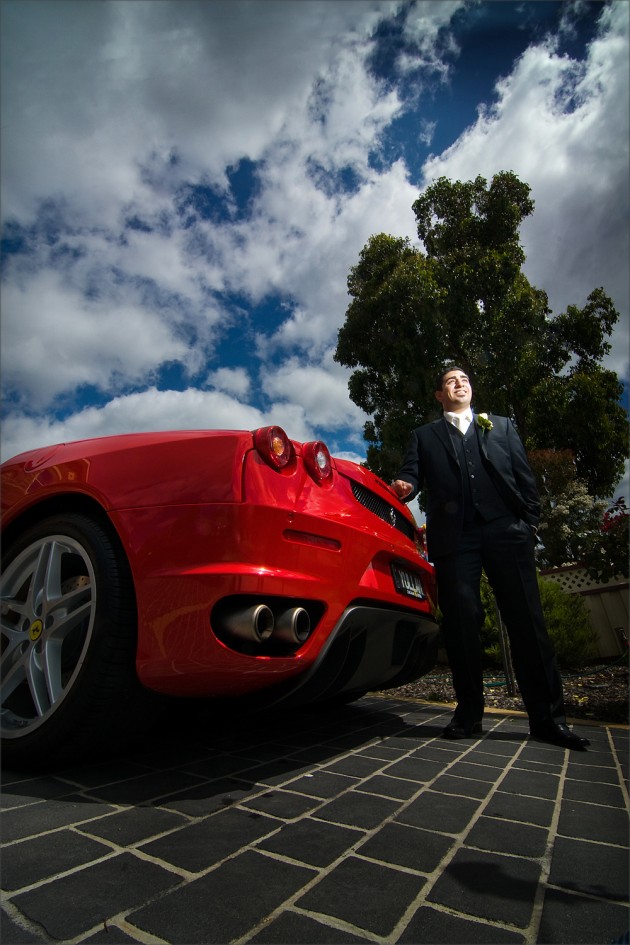 Speeches
The truth is only a few people are natural public speakers, so to help combat those pre speech anxieties, Serendipity have dedicated a new section to wedding speeches. Follow the link here for our brand new post full of tips and advice for speech giving. It's common to feel nervous when preparing to write and deliver your wedding toast, however with some some planning your confidence can sour. Serendipity recommend paying heed to the three P's: Preparation, Practice and Pace. Remember you're not expected to give an Oscar worthy performance!  The best wedding speeches are reflective of the speaker and the couple, and sincere, with words that are from the heart. The web is full of useful sites and shortcuts for speech preparation and delivery: here are some of Serendipity's favourites: Speech advice, Advice for groom wedding speeches, Delivering a speech. Also worth a look is our new post on Wedding Speeches.