Summer Weddings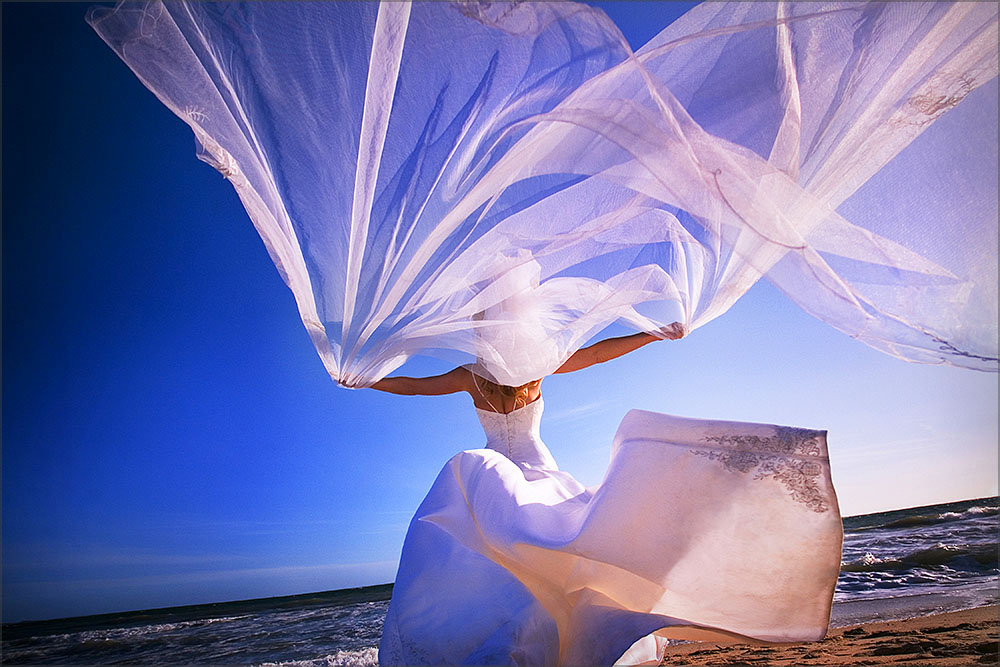 While we all like to look forward to summer in Melbourne, having a wedding during summer means doing more than just lazing by the beach. The intense heatwaves we often receive in Melbourne can be challenging to the even the most summer-loving of couples when there's a wedding to celebrate and friends and family to entertain.
Serendipity have a few tips on how best to manage a hot wedding day filled with movement and excitement, from keeping guests happy to cool location photography. Most importantly, there needs to be enough water available to keep guests, bridal party and the couple cooled and refreshed. Serendipity recommend buying two slabs of water, one chilled and one frozen, for refreshing drinks both early and late in the day. Not only does this ensure that everyone is sufficiently hydrated, there is nothing quite as satisfying as a long drink of cool water on a hot day to keep the temperatures down. Along with water, it is a good idea to make sunscreen available for guests and bridal party to reapply as needed; there is no need to tempt fate with our fierce Australian sun.
Another elegant idea is to make parasols available for guests, or have one as an accessory for the bride herself. Not only does this offer protection from the sun, but it makes for lovely photography. Imagine a sprinkling of parasols floating through the crowd or one twirling above the bride framing her gorgeous dress. Fans too can make great accessories; both a graceful and delicate way for the bridesmaids to keep cool and a lovely detail for the photography. Consider even replacing bouquets with fans, especially since flowers don't last very long in our sweltering summers. But, if you must insist on flowers, make sure you consult your florist on the best way to make them last in the heat, since different flowers respond differently. Have a look at our guide to accessorising for some ideas!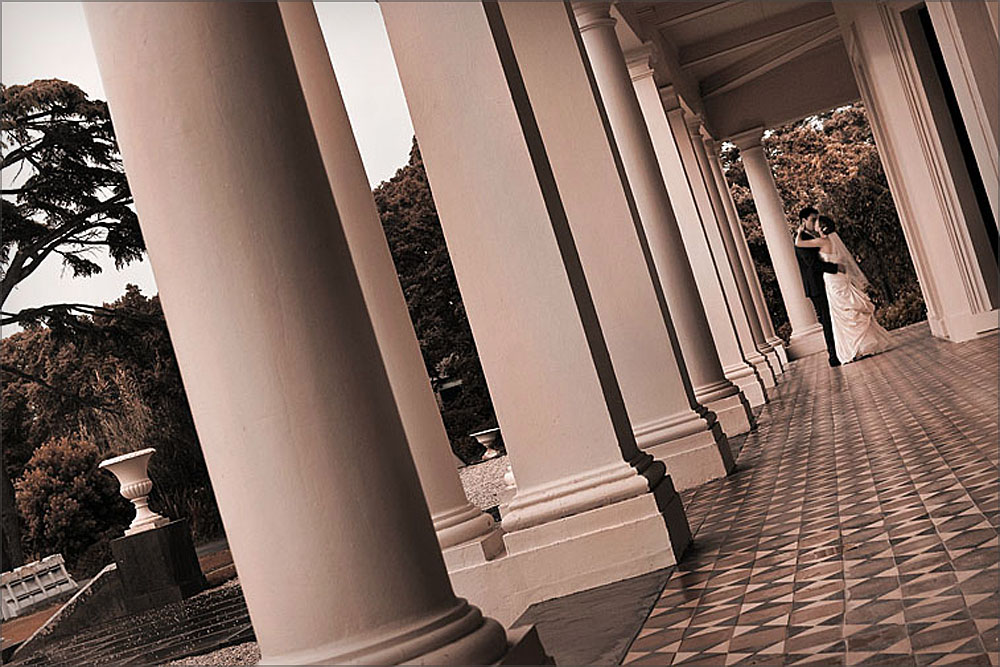 We at Serendipity prefer outside locations with deep shade during the warmer seasons. Places like Billilla and the Kamesburgh Gardens in Brighton offer a variety of viewpoints, backgrounds, textures and interests within lovely shaded areas perfect for escaping from the sun. Porches are usually another good source of shade, plentiful around town-halls. Although, while they offer solid shade, these large buildings absorb heat-waves and release it slowly meaning they are not so cool after a few days of sun.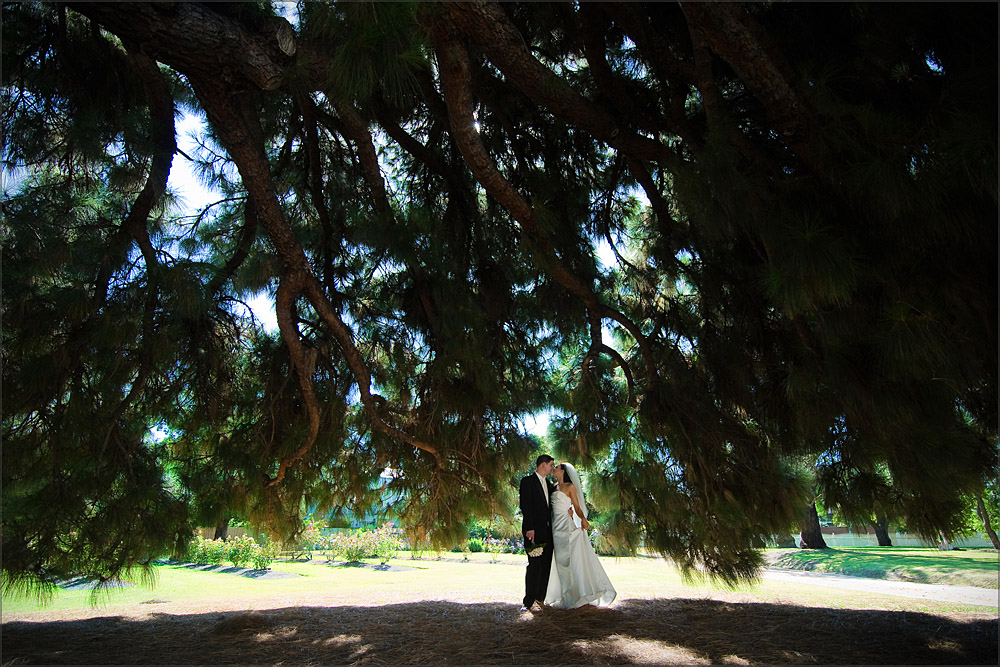 Transportation is another consideration complicated by warm weather. Older, classic cars are elegant but mostly lack air-conditioning. Having an air-conditioned car to escape into can be a welcomed relief as the day progresses, but if you've fallen in love with the lines and forms of a car a little more traditional, there are some things you can do to make the best of it. Ensure there are plenty of sources of coolness: think ice-packs, cold drinks, fans. You don't want your bridal party constantly leaving in search of cool beverages. Our at classic and contemporary transport might be of use for this.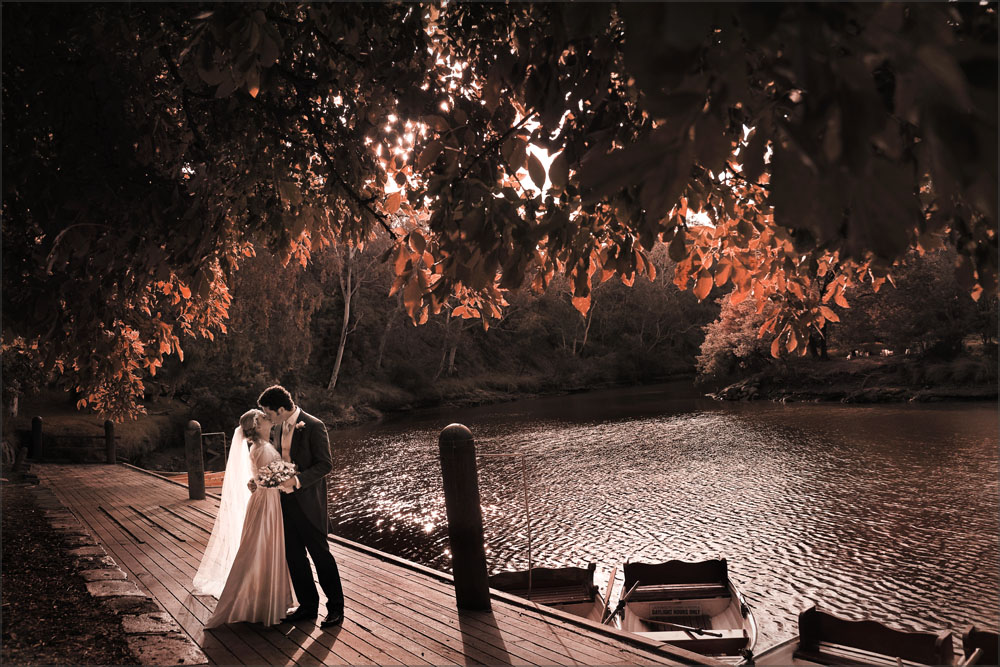 For the bride and groom themselves, choice of clothing, especially on location shoots, should be considered with regards to the weather, of course depending on wardrobe and budget sizes. Silk is the classic textile that makes warmer days a pleasure navigate, whether used to make dresses or suits, they're easier to wrinkle but second to none for lightness and breathability, not to mention style. Some of our dress styling tips might be helpful for this, or our suiting tips for the gentlemen. Generally, stick to natural fibres — silk, linen, cashmere, wool — since unbreatheable synthetic fabrics might seem lighter but actually be much more uncomfortable. Summer also calls for layering down: reconsider the necessity of vests, can a thick cravat be replaced with a sharp bow-tie?, or maybe discard the tie altogether for a casual and really Australian style. Don't worry though, we'll always make sure you look good in the photos.
Do you have any tips for making sure a hot summer wedding is smooth and pleasant? Let us know in the comments.